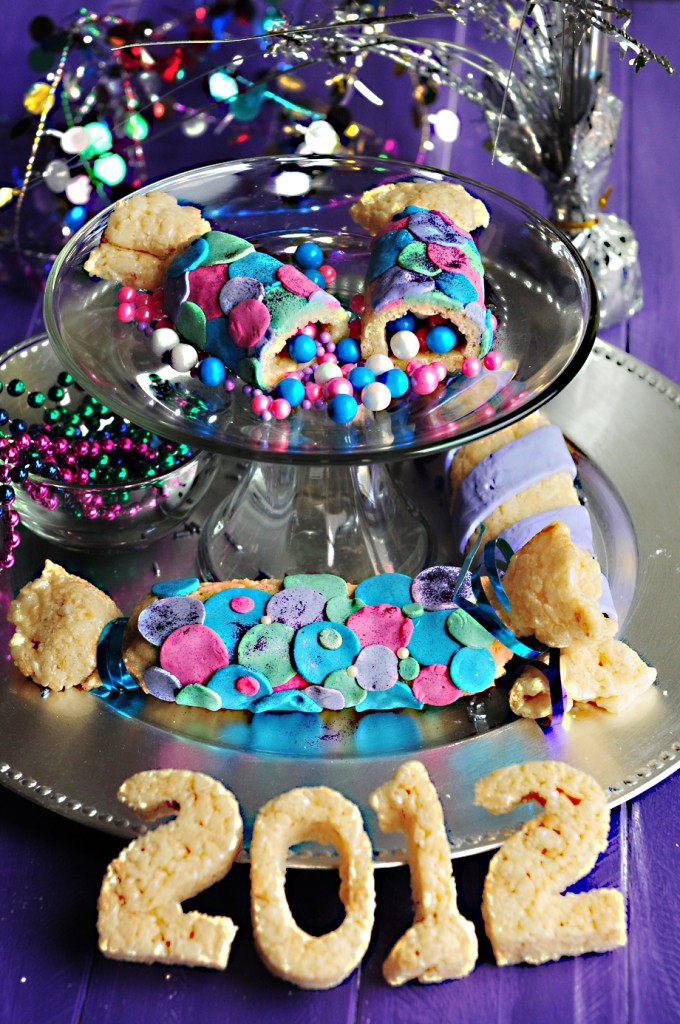 This giveaway is now closed. The winner was Brooke from twolittlekittles.blogspot.com. Congrats to Brooke and thanks to everyone who entered.
2012? What??
It's hard to believe that 2012 is just a few short weeks away, isn't it? The start of a new year means the end of an incredibly fun year of Rice Krispies® Treats creations with Team Kansas City and The Motherhood. Earlier in the year we gave you our Kettle Krispies Treats. Then we had a fun picnic spread with our Tangy Watermelon Rice Krispies® Treats. In the fall we had some spooktacular fun with Cinnamonster Rice Krispies® Treat Snack Mix. Finally, for our fourth and final treat of the year, we bring you Snap! Crackle! Poppers Rice Krispies® Treats.
Snap! Crackle! Poppers Rice Krispies® Treats are our fun take on the traditional New Years Eve "Crackers"… fun poppers that kids crack open to find a special prize or candy. What better way to ring in the New Year than this with this fun activity you can make together then at midnight, crack open together!
$100 Gift Card Giveaway!
Before the recipe, like all of our Rice Krispies Memory Making Challenge posts, my friends at The Motherhood and Rice Krispies want to give you the opportunity to win a $100 gift card! To enter, simply leave a comment on this post telling me how you plan to spend New Years Eve! For an additional entry, tweet the following:
" Celebrate with Snap! Crackle! New Years Eve Poppers on @dineanddish & enter to #win a $100 gift card! http://su.pr/2kQtRP "
Leave a separate comment on this post letting me know you tweeted the giveaway.
All entries must be received by midnight CST on Sunday, December 11th. Winner will be chosen via Random.org and notified via email. All three of my teammates, Kelly from Kansas City Mamas, Jenn from Super Jenn and Julie from My Kansas City Mommy are each giving away their own $100 Visa Gift Card, too.  Visit them for even more chances to win!
Now for the recipe!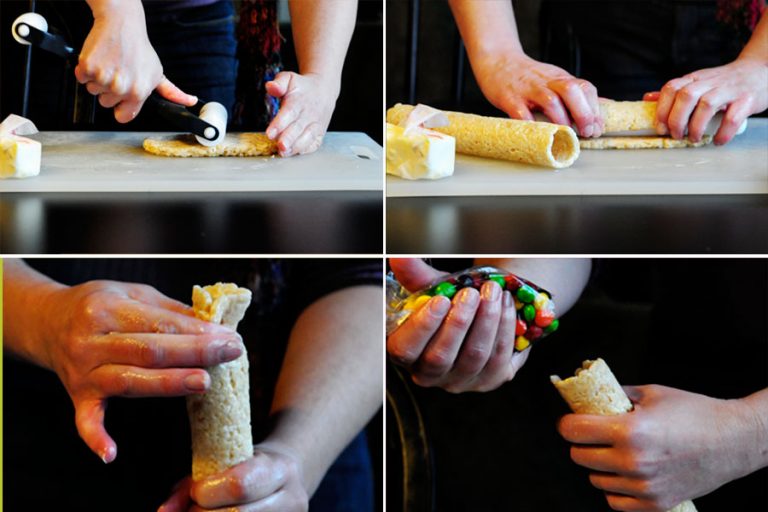 Snap! Crackle! Poppers Rice Krispies® Treats
3 Tbsp. Unsalted Butter + extra butter for "greasing"
4oz.  marshmallows (1/2 bag) – make sure bag is left open overnight
2 c. Traditional Rice Krispies®
Candy of choice to fill
Decorating Supplies (frosting, glitter, stickers – pretty much anything you want to use to make it unique.)

Melt 3Tbsp. Butter in a heavy saucepan over med-high heat.
Add marshmallows, stirring constantly until melted and mixture is smooth.
Add RiceKrispies® to hot mixture in saucepan (this keeps them warm, and thus easier to manipulate, longer). Mix thoroughly.
Butter plastic cutting board.
Place half of marshmallow mixture on cutting board and make into a small loaf. (Around 5″ by 3″.) Try to compact the mixture as much as possible.
Once you have a compact loaf, take a small fondant rolling pin (or other small rolling pin) and roll out the mixture to a 1/4 inch thickness – trying to keep the shape of a rectangle. (You will need to work quickly.  The cooler the mixture gets, the more difficult it is to shape.)
Take rolling pin and "roll" mixture into a cylinder with a 1 1/2″ circumference.
Remove rolling pin and pinch one end to desired look. If going for a tapered end, start about 1 inch in, pinch and crimp the end. Tilt and fill with candy of choice. Pinch other end.
Set aside and let harden for 24 hours.
Repeat with other half of RiceKrispies® mixture.
Decorate once hard with fondant, icing, stickers, glitter, etc. It's all about being fun!

Note: You can make these ahead of time and freeze. Another idea is to put a small fortune, saying, or inspirational quote inside the crackers.

Disclosure: The Motherhood and Rice Krispies have compensated our team for our time and ingredients as part of the Making Memories Challenge. All opinions expressed are my own.