I'm happy to partner with Mighties® Kiwi to bring you this fresh Kiwi and Chicken Salad with Goat Cheese Dressing recipe.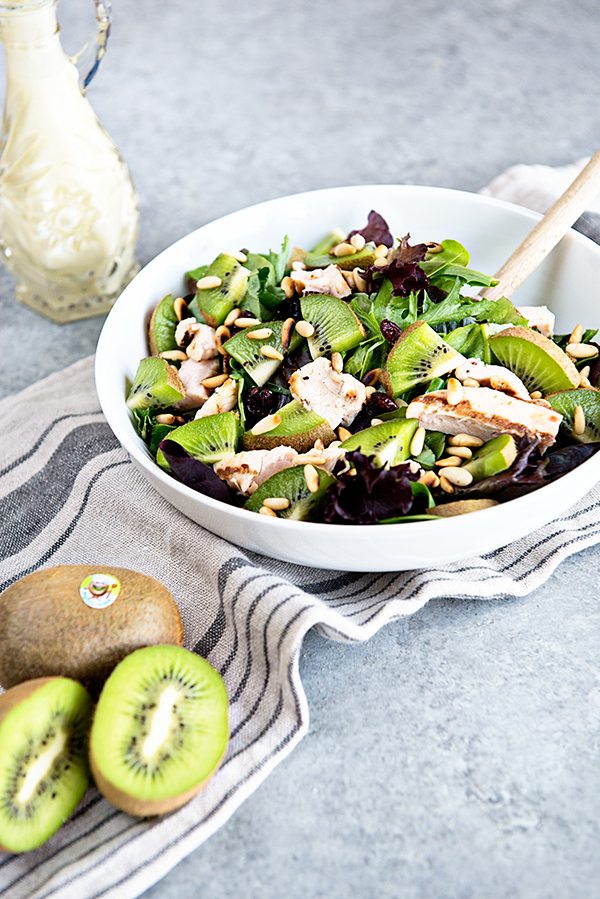 It's that time of year where my self control goes out the window. With all the cookies, candies and cocktails everywhere we look, staying on track to maintain a healthy lifestyle isn't the easiest. I'm horrible at resisting temptation, so I have to make sure that all along the way I have good food options too. That way, making healthy choices is a bit easier.
In addition to all the holiday goodies lying around, I always make sure to have bowls of fruit and vegetables at the ready. Mighties® Kiwi are one of our favorite, healthy staples. Known for being always ripe and ready to eat, Mighties® Kiwi are one of the easiest to eat snacks there is. Around our house, they go into lunch boxes, get taken on the bus to basketball games, are a common after school snack, a healthy side dish at dinner and more. From my 7 year old up to my teens, Mighties® Kiwi are much loved in our home.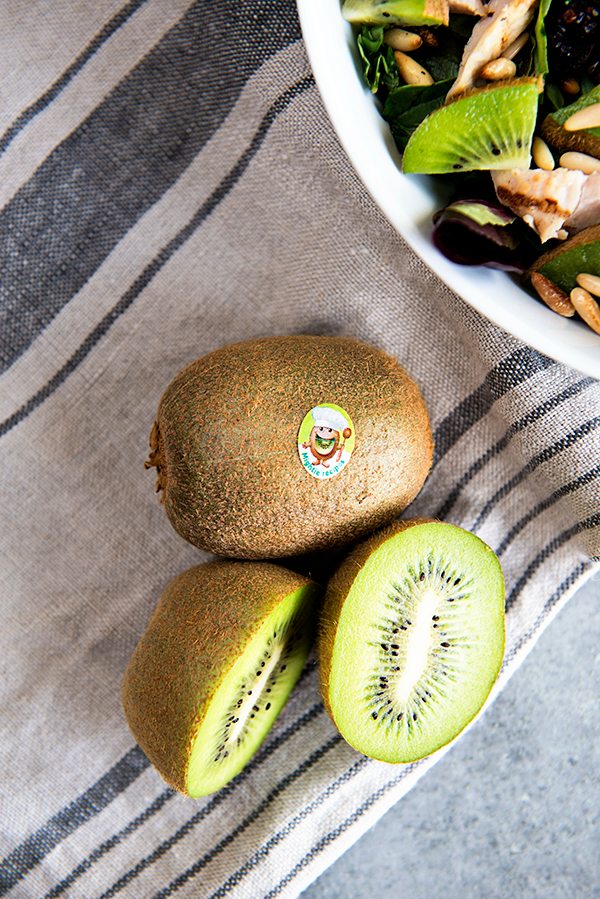 Did you know that Mighties® Kiwi aren't just for snacking? I love to use this versatile fruit in all kinds of recipes too. My most recent favorite use for Mighties® Kiwi is in salads, and this Kiwi and Chicken Salad with Goat Cheese Dressing recipe is an absolute favorite. I could eat it for lunch and dinner every day and be happy. Salads are naturally healthy, but when you add this superfood boost to your salad, you're getting:
More vitamin C than an orange
More potassium than a banana
More fiber than the leading cereal brand
More vitamins E & K than an avocado
Why not throw a sliced up Mighties® Kiwi into your next salad creation and see for yourself how delicious they can be? Do like I do and keep the skin on your kiwi – it's really rich in fiber!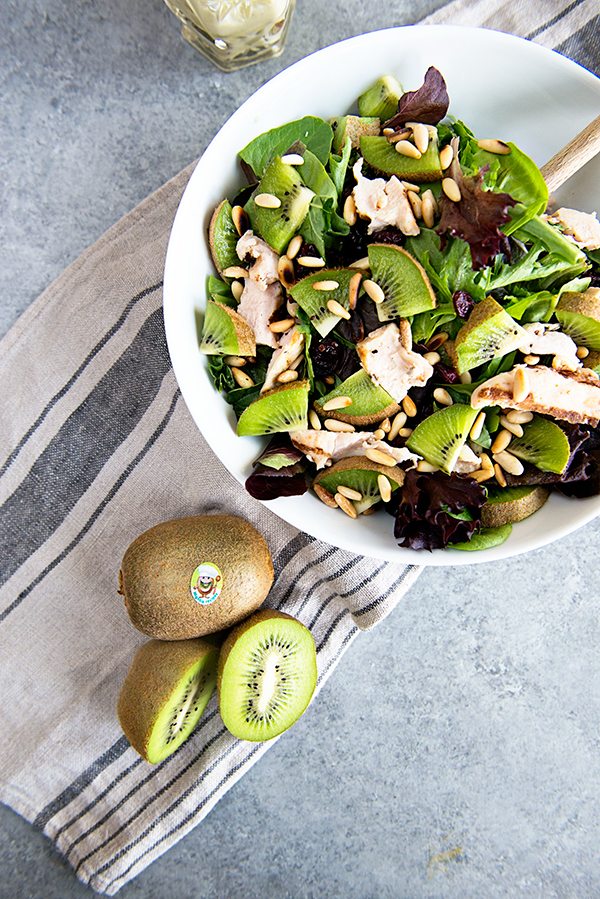 If you are like me and are looking to counter the tempting treats of the season, do so by keeping Mighties® Kiwi on hand during the holidays. From recipes to a quick superfood snack, you'll feel like you aren't sacrificing a thing when you eat a Mighties® Kiwi.
For more recipe inspiration using Mighties® Kiwi, make sure to follow them on Instagram! Be prepared to be inspired.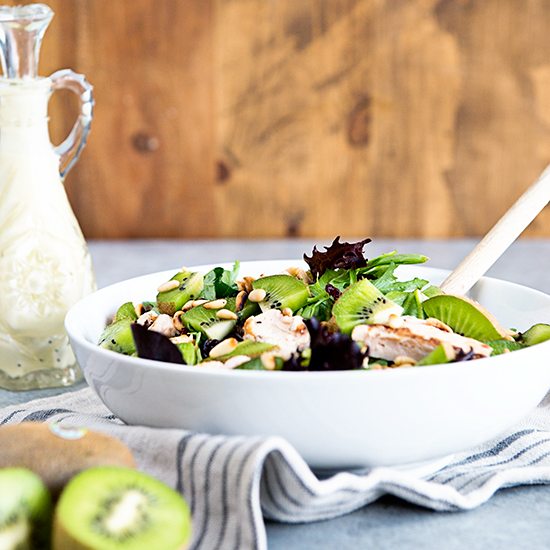 Kiwi and Chicken Salad with Goat Cheese Dressing Recipe
Kiwi and Chicken Salad with a creamy goat cheese dressing is a nutrition packed salad full of great flavors!
Ingredients
For the dressing

3

ounces

goat cheese

crumbled and softened

1/4

cup

whole milk

1

teaspoon

lemon juice

2

Tablespoons

extra virgin olive oil

2

Tablespoons

honey

1

Tablespoon

water

1/2

teaspoon

Kosher salt

1/2

teaspoon

freshly cracked black pepper

For the salad

5

ounces

mixed baby greens

2

Tablespoons

fresh sweet basil leaves

finely chopped

1

cooked boneless skinless chicken breast

cut into bite size strips

1/2

cup

dried cranberries

1/2

cup

toasted pine nuts

2

Mighties® Kiwi

sliced then cut slices into fourths
Instructions
For the goat cheese dressing:

Pour whole milk and lemon juice in a bowl and let set for 5 minutes or until milk curdles.

Whisk together all dressing ingredients in a small bowl until smooth.

For the salad:

Toss together salad greens and basil in a large bowl. Top with chicken, cranberries, pine nuts and Mighties® Kiwi. Drizzle with prepared goat cheese dressing when ready to serve.
Disclosure: I'm pleased to partner with Mighties® to discover the many nutritional benefits of this amazing fuzzy fruit. While this is a sponsored post, the thoughts expressed are my own.