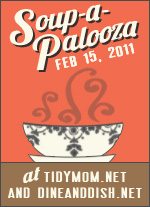 Wow! That's what Cheryl and I had to say as we were watching over 230 soup recipes roll in for Soup-a-Palooza! Thank you all so much for participating. For once, I'm glad that the weather is staying on the chilly side a bit longer so that soup weather is extended. There are so many new recipes that I can't wait to try! If you need a soup recipe, I suggest you check out the Soup-a-Palooza link up selection. There are enough soup recipes there that everyone will find what they are looking for, I'm sure!
So now, for the winners of the wonderful prize packs our sponsors provided! Cheryl and I both used the Random Number Generator to each choose five winners. You can check out Cheryl's five winners on her blog. Without further ado…
Pillsbury generously offered up 4 baskets of goodies to Soup-a-Palooza participants. The 2 winners from my selection are Susie (she left a delicious recipe in the comments section) as well as In the Kitchen with Audrey.
We have a gorgeous apron from The Hip Hostess. The apron is going to Misty from the blog Bake Me Away. Misty, be prepared to fall in love. The Hip Hostess makes some of the most beautiful aprons out there!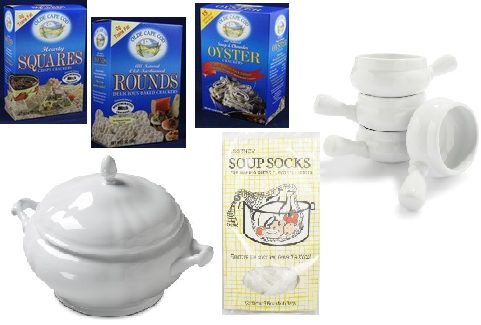 I just finished off my last box of Westminster Crackers…crackers have never tasted so good! The winner of this prize pack is going to have to share their goods 🙂  The winner is, Marla from Family Fresh Cooking!
And finally, my favorite bean company, Bush's Beans, will be sending this prize package to the lucky Steve of the blog, High Plains Drifters.
Thank you again to our wonderful Soup-a-Palooza sponsors and to all of the participants who submitted their favorite soup recipes. We appreciate you all sharing in our love for all things soup!