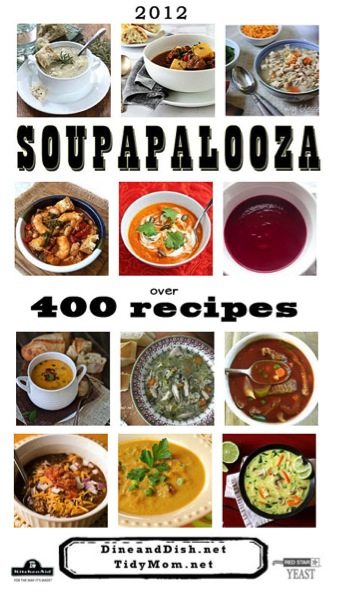 Well friends, you've done it again! For the second year in a row you have proven that you love soup as much as TidyMom and I do! I am so thrilled to share that SoupaPalooza was a huge success, all thanks to you and our great sponsors.
Cheryl and I were blown away that there were 325 soup recipes shared in the link up and over 90 soup recipes shared in the comments section of our blogs. That means for SoupaPalooza 2012 we had over 400 soup, stew, chowder and chili recipes! That is one gigantic soup recipe resource. Thank YOU all for sharing your favorite soup recipes with us!
Congratulations to all the winners of the incredible prizes provided by our sponsors this year. Cheryl and I both used Random.org to choose the winners. Be sure to check out Cheryl's winners at TidyMom because there were two winners for each prize!
We work with some of the nicest sponsors. Thank you again, KitchenAid, Red Star Yeast and Le Creuset for being such an important part of SoupaPalooza 2012!

If you are on Pinterest, be sure to check out the SoupaPalooza 2012 board Cheryl and I are working on putting together. Soon we'll have all the linked up recipes shared on that board!
And how could I forget? The SoupaPalooza that started it all took place last year! Make sure to check out the collection of over 200 soup recipes shared from SoupaPalooza 2011!
Thanks again for your participation and help in making SoupaPalooza 2012 such a great success. We hope to see you next year for more soup!
Thank you, Heidi, from FoodieCrush for the SoupaPalooza collage at the top of the post!
Disclaimer: Thank you to KitchenAid, Red Star Yeast and Le Creuset for providing compensation and prizes for Soupapalooza. The views and opinions expressed on Dine & Dish  are purely my own and based upon my personal experiences with the products and brands.