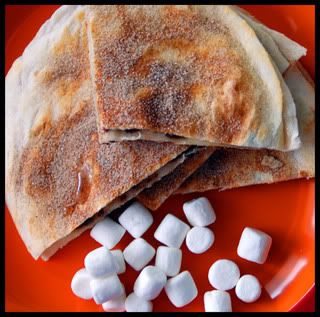 Written for Kids Cuisine on the Well Fed Network
Getting creative at snack time is always a challenge for me. I know that other moms share this struggle as well. It is hard to get out of the cheese and crackers rut. Thank goodness there are resources out there to help us out. One of my favorite places to turn for snack time inspiration is Family Fun Magazine and the Family Fun website. This family of resources is my number one place to turn when I need something creative for the kids…whether it be a craft, party ideas or simple snack solutions.
A couple of years ago, Family Fun Magazine posted a snack recipe that caught my eye. It is a recipe that I make several times a month now for snack. It is simple, the kids can help to make it, we always have the ingredients on hand and it is a tasty snack that they love.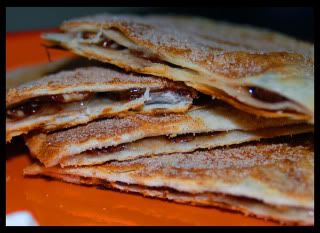 South of the Border S'Mores
Ingredients
2

flour tortillas

8-10 inch

3

large marshmallows

cut in half

2

tablespoons

milk chocolate chips

1/2

teaspoon

cinnamon sugar

mixture
Instructions
Generously coat a medium skillet with vegetable spray and heat it over medium heat.

Place a tortilla in the skillet, then sprinkle the marshmallow halves and the chocolate chips evenly over it.

Top with the second tortilla and spray it with vegetable spray as well.

Cook the tortilla stack for 1-2 minutes or until lightly browned, then carefully flip it and cook on the other side for an additional 1-2 minutes.

Remove the tortillas to a cutting board, sprinkle the cinnamon sugar over the top, then cut the s-more into quarters.
Notes
Note: For more snack time inspiration, subscribe to Family Fun magazine or visit their website www.familyfun.com.