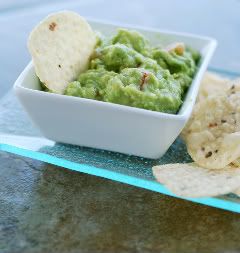 Picture this… three women sitting around a table, enjoying some wine and craving guacamole and chips. I mean, really craving… not just wishing that we had some. C-R-A-V-I-N-G. This was my friends Sara, Kathy and I a few months ago. Sara's husband was always the guacamole maker… he makes some of the yummiest guac I have ever had, but Sara's husband was not home and again… we had a serious craving coming on.
I don't remember who eventually gave in and ran to the store, but it was one of us. And, instead of buying the ingredients to make guacamole, we bought a tub of guacamole and some chips. Happy that we at least had something to curb our craving, we ate away and were perfectly happy until Sara's husband came home. When he walked in the door and saw that we were eating guacamole from a TUB he had words to share. He couldn't believe we had the audacity to eat packaged guacamole. I clearly remember him saying, "Guacamole is so simple to make… why would you bother with the packaged stuff?"
Of course, we went through the night making fun of Sara's husband for being such a food snob. Yeah… the packaged guac wasn't that great and Sara's husbands was sooooo much better, but it was quick, easy, and fixed our craving.
Fast forward to a couple of months later when I was having a guacamole craving. I happened to have a few avacados in the fridge and decided to give homemade guacamole a try. I called up Sara's husband, and asked him what else I needed. He ran through a list of ingredients and gave me some instructions of how make it.
Now, I have to eat crow, because you know what… Sara's husband was completely right. All that ribbing he got that night for being so snobbish about tubbed guacamole had to be retracted by me. Homemade guacamole is easy and is so much better than the tubbed variety! Take it from this non-food snob… fresh is best.
Kind of like Mark's Guacamole (most of this you just have to taste until you get it just right)
Ingredients
3

Avacados

pitted, peeled and chopped

2

roma tomatos

seeded and chopped
season
1

dash

salt

to tast

1/2

a lemon

juiced
Instructions
Take the avacado and mash with a fork to desired consistency. Add the remaining ingredients and mix together with a spoon until all the ingredients are evenly distributed. Serve with chips and enjoy!