Here's our favorite Homemade Baked Chocolate Cake Doughnuts recipe!
Skip the trip to the doughnut shop and make amazing baked doughnuts right at home!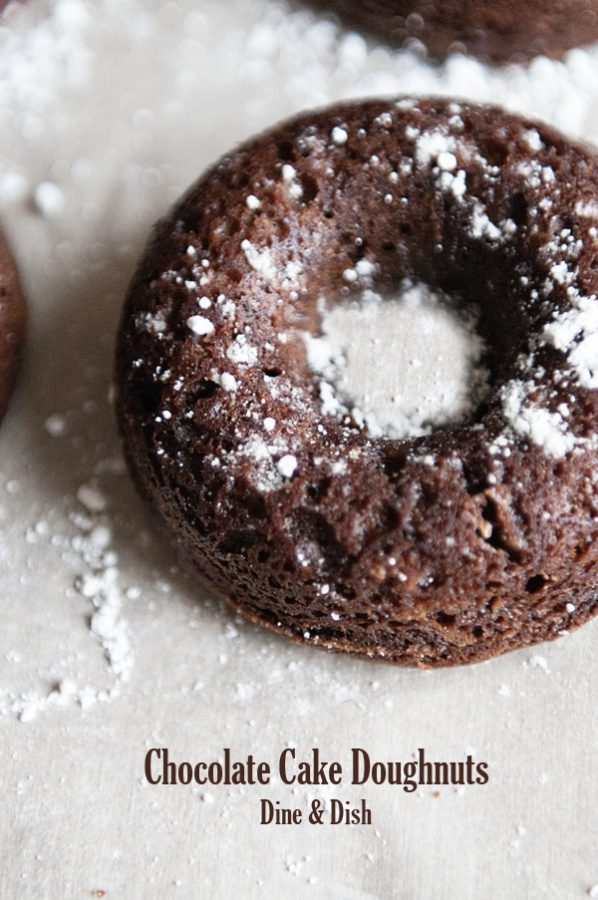 You won't find any spoilers in this post… just wanted to let you know that ahead of time!
Let me start by telling you, I was late to the Downton Abbey wagon. Because of that, I have had to avoid social media like the plague as it is quite the hot topic in my Twitter feed and on Facebook. With the recent Season 3 season finale, it has been even harder! Everywhere I look there are spoiler posts (and posts kindly marked as spoilers, thank you!)… I have had to avert my eyes so many times to not see something that would give it all away. Luckily, I've managed to not read anything… until today.
Yes, today. As I was checking my email, I received what appeared to be an innocent pitch from a brand. As I was reading the pitch, I came upon the big season 3 spoiler. I wanted to scream (and cry as holy cow…so sad).
Seriously, people…. how hard is it to understand that not everyone is up to speed with things? And "well, I'm sorry but it's been all over the news" is not good enough. I have avoided any talk about Downton Abbey simply because I didn't want to have it spoiled for me. I did not expect to find the details of what I was trying to avoid so diligently, laid out so boldly in an email pitch (which by the way, is not even close to anything I write about on Dine & Dish). Grrrrr.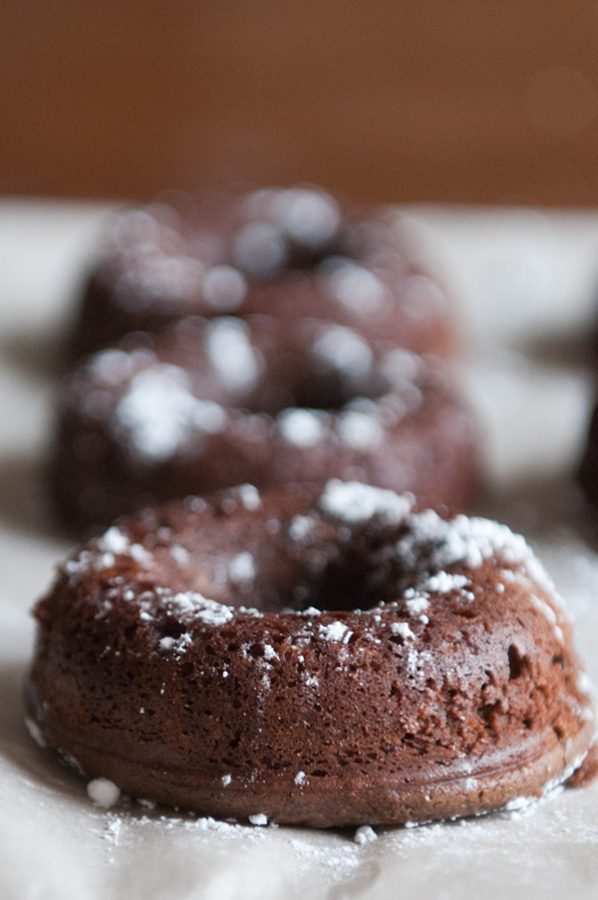 Anyway, what does this all have to do with Baked Chocolate Cake Doughnuts? Besides the fact that I was so mad and sad after that spoiler email that I could have eaten 2 whole pans of these? Not a lot.
Actually, my friend Jenny and I were trying so hard to get caught up (we just started watching in January) that we decided to have a full-on Downton Abbey marathon day this past Wednesday. Our three times a week, while we exercise just, wasn't cutting it. So, I made doughnuts, (I do know the irony that I made doughnuts to eat with my exercise buddy) and we had a season 2 marathon. And it was one of the best days ever… because I love Downton Abbey, I love my friend, and I loved these baked chocolate cake doughnuts.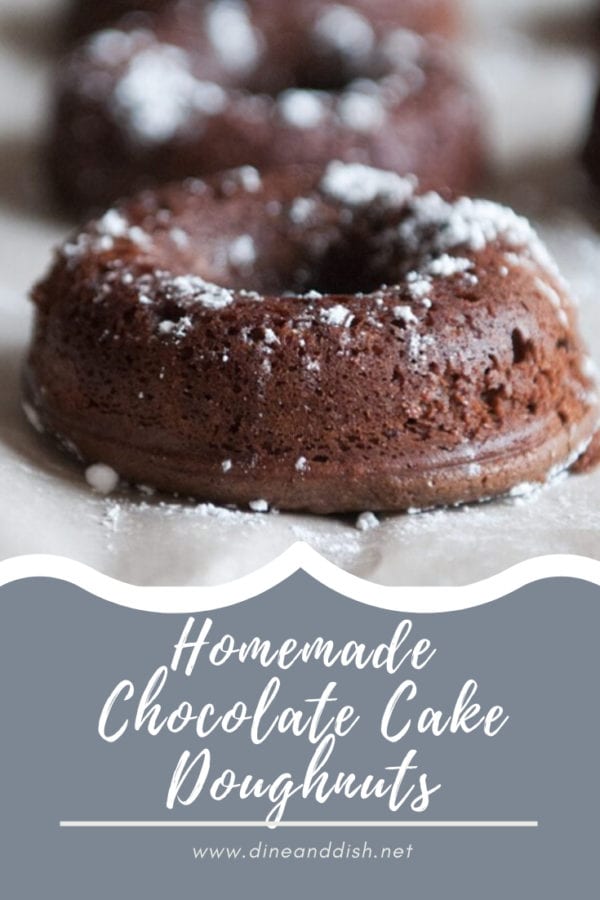 I'll be honest… they may be considered doughnut shaped chocolate cake. We couldn't exactly figure out why they would be doughnuts versus cake, but hey…since you can eat these for breakfast because of their shape without people thinking you have a problem, I say go for it.
The only spoiler you will get from me is if you aren't watching Downton Abbey, do. And make these doughnuts. The end.
Baked Chocolate Cake Doughnuts
Servings
1
dozen doughnuts
Ingredients
1/2

cup

milk

1/2

cup

packed brown sugar

1

egg

1 4

oz

bar Ghiradelli Semi-Sweet Chocolate

chopped, melted and slightly cooled

3

tablespoons

butter

melted

1

teaspoon

vanilla extract

1 1/4

cup

flour

1/2

teaspoon

baking soda

1/4

teaspoon

salt

Powdered sugar

for dusting
Instructions
Preheat oven to 325°F

In the bowl of your stand mixer, add milk, brown sugar and 1 egg. Mix until well incorporated.

Slowly add melted chocolate, butter, and vanilla. Mix on low for 1 minute.

Continuing on low speed, add flour, baking soda and salt. Continue mixing until batter is smooth.

Lightly spray your doughnut pan with non-stick cooking spray.

Fill each portion of the doughnut pan 3/4 of the way full. Bake for 12 minutes or until doughnuts spring back when touched.

Remove from the oven and allow doughnuts to sit for one minute. Then, remove doughnuts from pan and place on a wire cooling rack.

Sprinkle with powdered sugar and serve.
Disclosure: This blog post contains affiliate links. As an Amazon Associate, I earn from qualifying purchases.