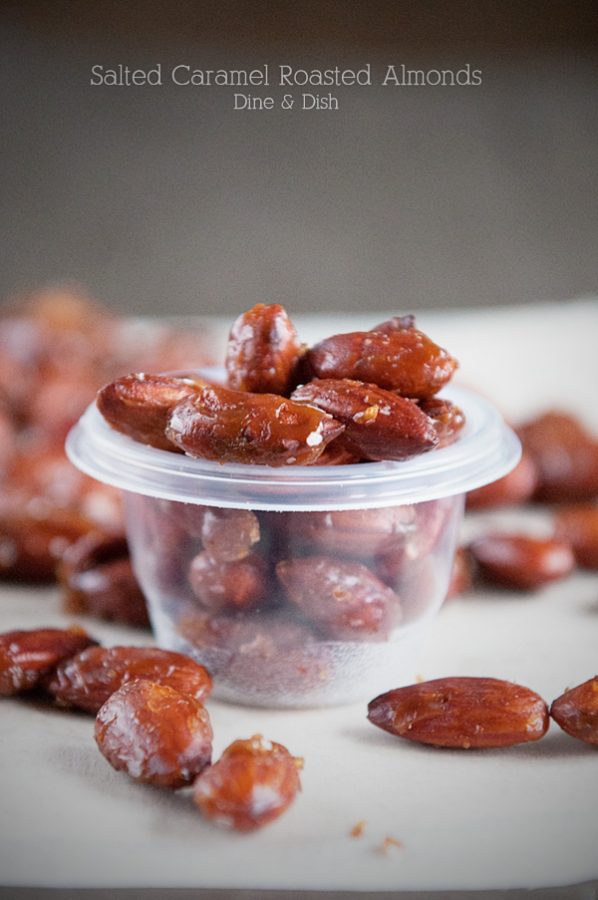 Amazing lunches have never been my strong suit. Dinner? I can do. Lunch? It's always been hard for me to create lunches my kids will enjoy and that won't get thrown out with the trash when lunch is over.
I used to simply do sandwiches for them… I'd add a fruit and some pretzels or crackers and call it good. It was only recently, when my 9 year old started getting in on the lunch making action, that we started to get a little more creative in our lunch time efforts. Here is what my daughter thinks are the keys to making an exciting lunch!

Tips for Creating an Exciting Lunch from My 9-Year Old Daughter
Sandwiches are boring. Wraps are not. Try putting your favorite sandwich toppings in a wrap form instead. We even like this Crabby Dip when rolled up into a tortilla!
We like salads, but not when they are soggy from dressing. Put the dressing in a separate container so we can pour it on at lunchtime. (These Glad To Go Lunch Containers are great for storing your salad and dressing, but keeping them separate! The dressing bowl simply snaps into the lid!)
If you insist on sandwiches, try making them in fun shapes using cookie cutters. I love it when my mom sends me a heart shaped sandwich!
Don't forget the sweets… my favorite part of lunch is the sweet snack that comes with it. Whether it's a brownie or cookie or these sweet Salted Caramel Almonds my mom made, I like having a sweet treat to end lunch with. (Kristen here – I love knowing that even though it's "dessert", they're getting some extra energy-packed protein in with the almonds!).
This isn't necessary, but my mom often sneaks a note or a knock-knock joke in our lunch box. I love finding a surprise like that when I'm eating my lunch!
So there you have it… isn't she a wise one? Really, having Kelly helping with lunch has helped me to realize that lunches don't have to be complicated to be good! I appreciate how companies like Glad, with their re-usable, smart lunching storage solutions, help me to deliver on a lunch that is still as perfect when they eat it as it was when I made it.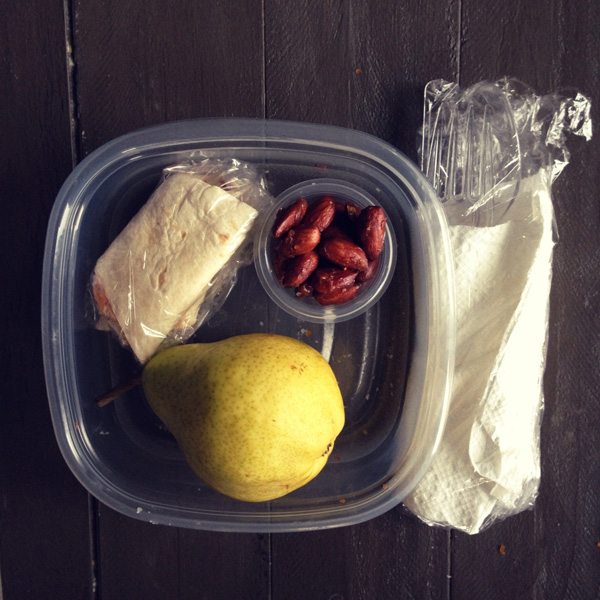 My friends at Glad are currently running a fun promotion on Pinterest with great prizes! Simply go to Inspire your lunch with Glad from 3/18 – 4/28 for details. Once you create your own Pinterest themed board you'll be eligible for a chance to win weekly prizes! I hope you'll check out the promotion and "Inspire your lunch" with Glad!
Steps in entering the contest:
Step 1: Click the Glad photo in the gallery Glad Pinterest Board Contest that most inspires you to get started pinning.
Step 2: Choose "create new board" in the dropdown menu of the Pinterest pop up screen.  Title your new board "Inspired Lunches"
Step 3: Find at least 4 photos anywhere on the web that fits the theme of "Inspired Lunches" and pin them to your new board.  Include #gladinspiredlunches in your photo description.
Step 4: Once you've pinned 5 photos (including one from the Glad Pinterest Gallery) come back to the Glad Pinterest Board Contest and submit your board.
If you make a pinboard in the Glad contest, share your pinboard URL in the comments – I'd love to see what you've done! In addition, I'm always looking for inspiration so tell me how you make your inspired lunches. Visit Glad's page on BlogHer for more ideas!
And, if you are looking for a great "sweet" recipe to pack in your lunches or for snack, I've included the recipe for the Salted Caramel Almonds below. Happy lunching!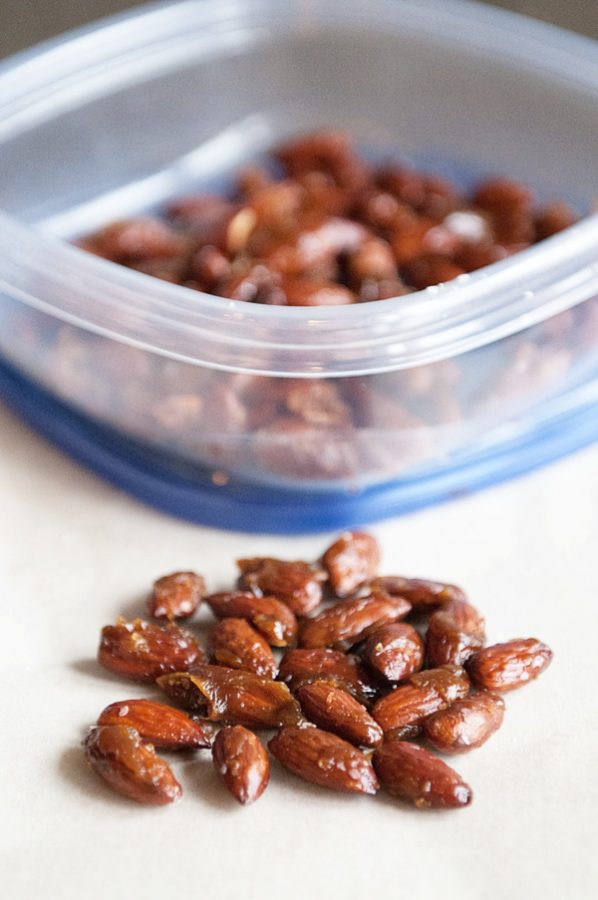 Salted Caramel Roasted Almonds
A protein packed, sweet snack of caramel coated almonds.
Ingredients
2

cups

raw almonds

1

stick butter

1

cup

brown sugar

1/4

cup

light Karo syrup

1/2

tsp.

vanilla

1/2

teaspoon

Kosher salt

1/4

teaspoon

baking soda

Pinch

sea salt
Instructions
Preheat oven to 350°F.

Spread raw almonds on a large baking sheet so that they are just one layer. Roast the almonds for 15 minutes.

Meanwhile, in a large saucepan, bring butter, brown sugar and Karo to a boil for 5 minutes stirring constantly. Stir in vanilla, salt and baking soda. (This will cause the mixture to bubble up.)

Once the almonds are roasted, carefully pour them into the butter mixture. Stir until well coated.

Reduce oven heat to 250°F.

Cover a large baking sheet with foil. Using a slotted spoon, remove the coated almonds from the saucepan and place in a single layer on the baking sheet. (Don't touch the coated almonds with your fingers... the mixture makes the almonds very hot!)

Place in the oven for 15 minutes. Stir, then do another 15 minutes.

Remove the almonds from the oven. Using a spatula, place almonds on a piece of waxed paper until cool. Sprinkle with sea salt.

Store in an airtight container until ready to eat.

Enjoy!
Disclaimer: This is a sponsored post on behalf of Glad. I was compensated for my time, but all opinions expressed are my own.

// ]]>