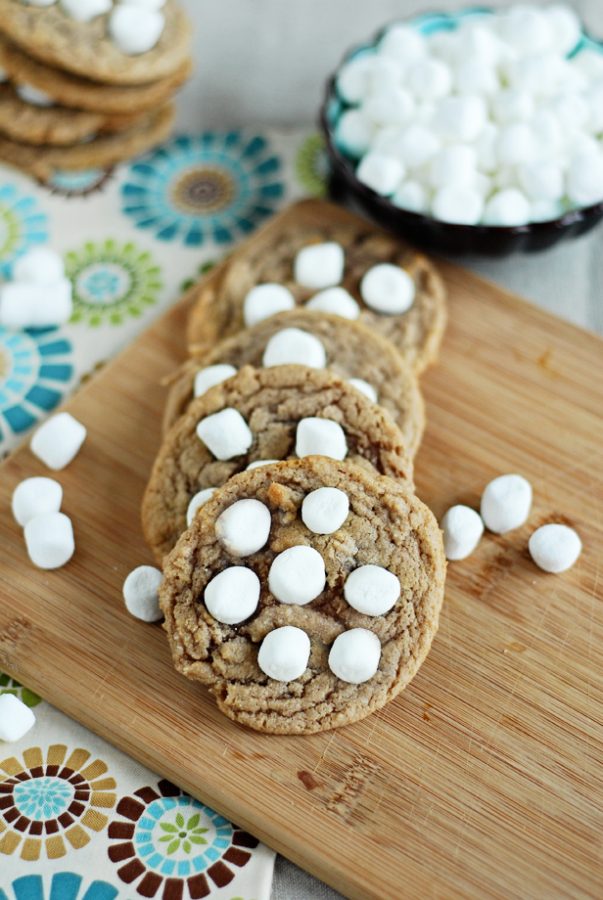 I'm optimistically looking in my pantry and trying to figure out ways to get rid of all the hot chocolate mix I stocked up on during the frigid winter. My hope is that spring is here to stay and I won't need to warm the kids up when they come in from playing outside with hot chocolate anymore. Of course, it just got done snowing, but I'm still eternally optimistic.
I've made Frozen Hot Chocolate, which is such a good warm weather treat. I've also seen Hot Chocolate popsicles , which are on my list to make as well. But what about baking with hot chocolate mix? Surely hot chocolate mix would be a perfect addition to cake or cookies?
Lucky for me, I stumbled across a recipe on Baked Bree that gave me a great starting point for some pretty amazing cookies. I made a few minor changes and the end result was hot chocolate in cookie form with marshmallows… perfect for the hot or cold months.
Pssst – don't forget to head over to the Giveaway for the Kitchen Aid Pasta Press attachment!
Recipe: Hot Chocolate Cookies with Marshmallows (Inspired by Baked Bree)
2 sticks butter
1 cup sugar
2/3 cup brown sugar
2 eggs
1 teaspoon vanilla
3 1/4 cups flour
1/3 cup hot chocolate mix
1 teaspoon salt
1 1/4 teaspoon baking soda
2 cups mini marshmallows
In a mixing bowl, cream together butter and sugars until fluffy. Add eggs and vanilla and mix until well incorporated.
In a separate bowl, stir together flour, hot chocolate mix, salt and baking soda.
Slow add the flour mixture to the sugar mixture. Mix until well blended.
Place by rounded teaspoon onto parchment lined baking sheets.
Bake at 350 for 10 minutes or until slightly firm.
As soon as you remove the cookies from the oven, begin topping with marshmallows.
After cooling for a few minutes on the baking sheet, move to wire wrack until completely cool.
(I even went as far as to use my small kitchen blow torch to "roast" some of the marshmallows – yum!)