Just a quick product recommendation this morning, and then I'll write a longer post about a new Food and Wine challenge I'm undertaking.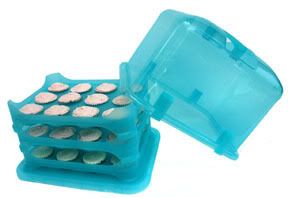 If you have a suburban mom on your gift list… one that is constantly volunteering to bring her yummy cupcakes to the church bake sale, the classroom parties, post soccer game celebrations, etc. you'll want to make sure she gets one of these handy Cupcake Courier's for Christmas. I love baking cupcakes, but transporting them has always been an issue. By the time you get them where they need to be, the yummy frosting is smooshed and sticking to the cursed saran wrap, the decorating that you worked so hard on is foiled, the wrappers are smudged with icing, and frankly, they are an absolute mess.
Imagine, carting your cupcakes around in a tiered cupcake courier!  Even better, imagine arriving at an event with all of your cupcakes in tact… not a drop of frosting smooshed. All of your cupcake making friends will be so jealous and will be begging you to tell them where you got this handy new gadget. It is a cupcake making, saran wrap swearing, mom's dream.
Thank you to Hilary, over at Nosh with Me, for another great post that lead me to a great product!