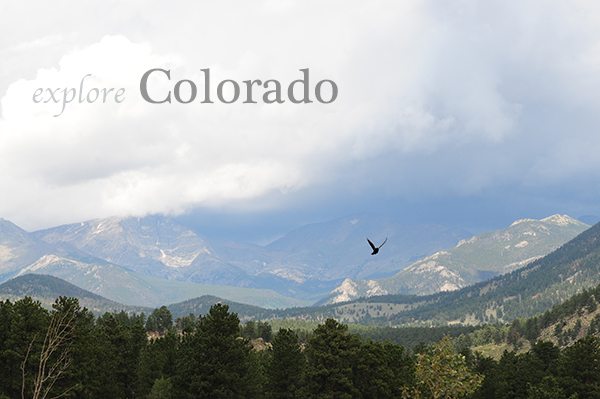 Colorado… oh beautiful, Colorado. As a Kansan, I will say that Colorado is one of the most beautiful states to go to within driving distance for us. It is the perfect vacation spot, especially during the heat of the summer, when you are looking for a place a little cooler for respite from the heat. From the scenic mountains, to the gorgeous lakes and rivers, the amazing food, and the opportunity to get up close and personal with wildlife, Colorado is one of my all time favorite vacation spots around.
I hope you all enjoyed my most recent summer travel series post on Holland, Michigan! Today, I'm continuing the series and am going to share with you details about our favorite place to visit in Colorado…Estes Park. For hiking, biking, viewing nature, enjoying beautiful scenery, and having a great, family friendly time, Estes Park, CO is where it's at.
When you first enter into Estes Park, you MUST stop at the Estes Park sign for a family portrait. From that vantage point, you'll get your first glimpse of how beautiful the town you are entering actually is. Don't do this inside the state park, but at the Estes Park sign, make sure to bring some peanuts, bread or popcorn to feed the chipmunks. We came to Estes Park often when I was growing up, and my favorite memories stem from feeding these little guys, just like my kids had the opportunity to do!
Where to stay in Estes Park, Colorado
The last time we went to Estes Park, we stayed at the YMCA of the Rockies. Nestled in a valley of the Rocky Mountains, the YMCA of the Rockies is such a fun place to stay. We stayed in a dorm type setting with two sets of bunk beds and a queen size bed and bathroom. It wasn't fancy by any means, but it was perfect if you are just looking for an affordable place to lay your head down at night and to clean up after a fun day. The YMCA of the Rockies property itself is luxurious and so much fun! If you want, you could be busy with family activities there from sun up to sun down. Organized activities like archery lessons, craft days, flag football games, family kickball games and more are just some of the things you'll find there. They also have restaurants and snack areas on property that serve great food. Also, if you are looking for something a little more upscale than a dorm room type place to sleep, they have a hotel and individual cabins for rent as well.
There are options all over Estes Park for lodging. Growing up, we always camped at the various campgrounds around, but there are hotels and cabins all around Estes Park for whatever kind of experience you are looking for.
What to do in Estes Park, Colorado
If you are looking for a vacation where your family is out and one with nature, Estes Park is a great choice. Like I said before, I grew up visiting Estes Park, CO but two summers ago was the first time my family vacationed there. My kids still talk about our walks around Emerald and Bear Lake, the knuckle clenching drive up Trail Ridge Road, the hike up to Alberta Falls, riding horses near the Moraine Park Campground and playing in the water at the Alluvial Fan. Make sure to click through the links to find out all about these activities, but check out our pictures below to see for yourself the fun we had. We had the best time and can't wait to go back again soon.
Oh – and when you arrive at Estes and enter Rocky Mountain National Park, make sure to stop at the first rangers office you see and get your kids the booklets to become Junior Rangers and get their Junior Ranger badge. The rangers will give them a booklet of things to do while visiting Rocky Mountain National Park and if they complete it, they can take it back into the rangers office and get sworn in as a junior ranger (and they get a real life ranger badge too!).
Where to Eat in Estes Park, Colorado
OK so where we ate as a family and where Nick and I would actually eat if it were just the two of us are probably in completely different categories. Colorado is rich with cuisine opportunities all over..from fancy to family friendly, Estes Park has so many options. Professional Chef Jennifer Jasinski is a lover and expert on Colorado cuisine. For a glimpse some of the great places to eat in Colorado, make sure to check out her #COmeToLife video where she talks about the good eats in Colorado! In Estes Park, we love Cheesy Lee's for the BEST pizza around, The Rock Inn Mountain Tavern for great steaks and salads (and amazing water… we downed their water like crazy…I know – strange, right?), Summit View Coffee for the friendliest drive-through coffee experience and most creative latte flavors, and The Donut Haus is a MUST for doughnuts, no matter how long the line is! It's worth it!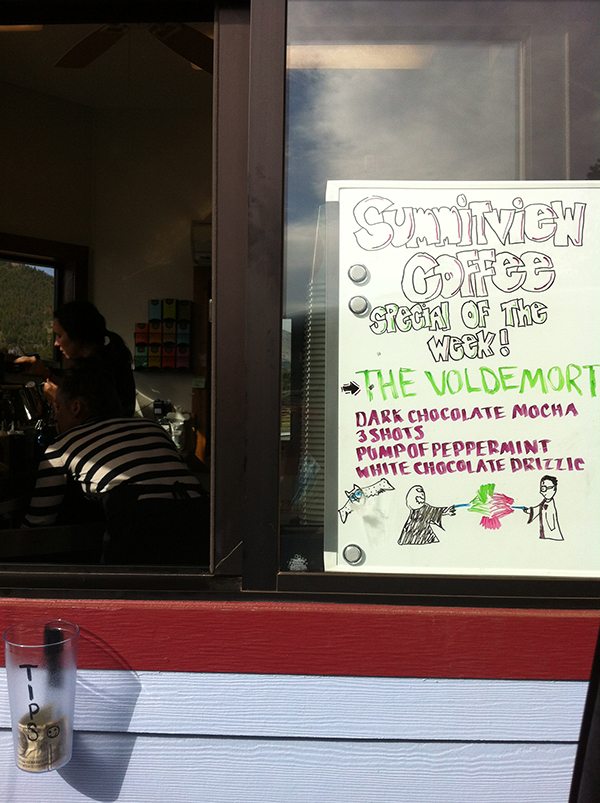 Where to spot wildlife in Estes Park, Colorado
If you want wildlife, Estes Park has it! Elk, deer, moose, bears, and mountain rams are all around the Rocky Mountains… you just have to know where to look! Spend an evening watching the sunset in Moraine Park and you are sure to get an eye full of wildlife. Drive up to Mary's Lake and you'll most likely be stopped by wildlife casually crossing the road. Heck, even outside of your own cabin or tent, you will probably have some encounter with wildlife. Please be safe and smart and make sure to take lots of pictures of the wonderful creatures you encounter. They are pretty magnificent!
This is not a sponsored post at ALL, however my friends at the #COmeToLife campaign have provided a great giveaway for Dine & Dish readers full of great Colorado gear. To plan your very own Colorado vacation, visit the Colorado.com site. Head over to the Dine & Dish Instagram account to leave a comment to enter to win this great backpack full of Colorado goodies! You can find my Instagram account by clicking here.
Thanks for reading and happy travels!