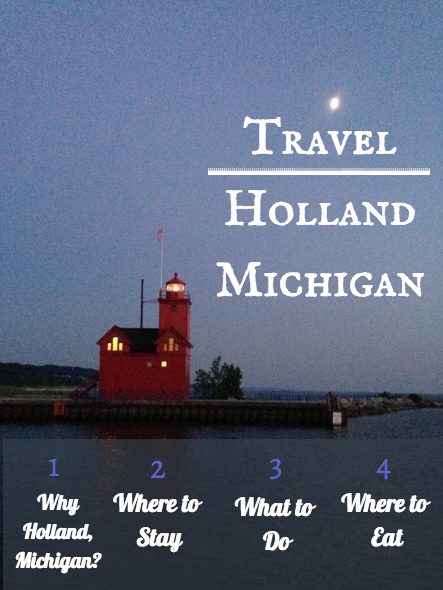 Last summer, I posted on Facebook that my family was looking for a family friendly vacation spot within a one day drive from Kansas City. I expected to hear things like Galveston, TX or Minneapolis, MN, but what I didn't expect was an overwhelming number of people giving the highest accolades to Michigan. People were praising Michigan's white sandy beaches, clear blue lakes, fabulous food, great scenery, fun things to do and more! So many people brought up Michigan as their favorite vacation spot that I knew we had to check it out.
I am so glad we listened to all the praise because in the summer of 2013 my family vacationed in a gem of a town called Holland, Michigan. It was a 10 hour drive from where I live on the west side of Kansas City…pretty much straight highway the entire way. Holland isn't as far as the Upper Peninsula (YOOP) of Michigan, but this little gem of a city is a family vacation destination worth spending some time in. I pretty much insta-hoed our family vacation and took tons of pictures, sharing them on Instagram and Facebook. Several people since have asked me about how we liked Holland, so I thought I'd share some of that today! (Spoiler Alert… we loved Holland and I would seriously go back every single year if I could!)
Now if you are ready, I'll get to the nitty gritty about our vacation!
Why Vacation in Holland, Michigan?
If you are looking for a family friendly, budget friendly, fun filled yet relaxing vacation spot, Holland, MI is the place for you. Especially if you are landlocked in the midwest and are looking to drive to a destination that has white sandy beaches and the most beautiful clear, blue water…which was so ocean like, you'll love Holland. We felt like Holland had the best mix of rest and relaxation as well as fun active options of any vacation we've ever been on. The charm of this city is hard to beat. I'm almost afraid to publish this post because Holland seems a little guarded of their secret… it's an amazing vacation destination! In fact, if I was in charge of Michigan's travel and tourism campaigns, my slogan for Michigan would be "Michigan. Who knew?"
Where to Stay in Holland, Michigan?

I can't speak for the hotels in Holland, but there were plenty to choose from. However, if you want close access to the beaches and lakes, I highly recommend going through a site like VRBO or Airbnb. The lake is not near downtown Holland, where the majority of the hotels seem to be. You keep driving outside of the city of Holland to get to the lake front and near lake properties. We stayed in a charming split level home, just 2 blocks away from the main park access to the beach.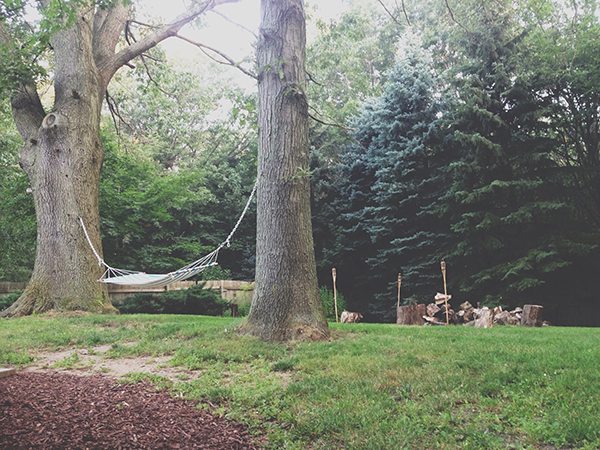 If you want to check out the house we stayed in, click here. The owners of our home are Holland residents, working for the coast guard. They were extremely helpful when we arrived, providing us with information on local activities and what to do in Holland with kids our ages. Our house was perfect for us… it was spacious, quaint, had the most beautiful backyard with hammock and firepit, and they were dog friendly, so Meg got to vacation with us! We've kept in touch with the owners and they have another rental property now too! I can't wait to go back and visit them someday.
I will add that there are plenty of more upscale homes to choose from through VRBO in Holland. Our house was perfect for what we needed and fit our budget well. If you have a larger budget and want lakefront homes or something more upscale, there are plenty of options. 
What is there to do in Holland, Michigan?
There is more than plenty to do in Holland. Our vacation was in mid July, but if you are lucky enough to go in the first part of the summer you'll get to experience Hollands very own Tulip Time Festival! Definitely the things you want to put on your list to do while you are in Holland are:
Visit Holland State Park, home of the beautiful lighthouse called "Big Red". Holland State Park has a beautiful beach with amenities galore. Clean restrooms, volleyball nets, docks for fishing, paths for hiking or riding. The days we visited the beach at Holland State Park were a little busier than other places we had gone, but not overwhelming. What I loved about this area of the lake was that the waves were enough there for my kids to have fun swimming in them, but not so big and scary that I had to keep myself glued to their sides at all time. There is a minimal fee to get in to Holland State Park, but in return you get all of the extra amenities you may not get on a private beach.
Visit Tunnel Park. Tunnel Park is a fun park, with a tunnel that cuts through a giant sand dune and leads to the beach and lake. The house we stayed in had very close access to both the beach here and at the state park and so we visited often. My kids loved playing on the playground equipment, hiking through the tunnel, rolling down the giant sand dunes and more! Tunnel Parks beach had the same amenities as Holland State Park, but fewer people. Tunnel Park was my favorite place to watch the sunsets!
Watch the Sunset, every night! My friend Sheila, a Michigan lover and native, gave me this advice and I am so glad she did. You have not seen a sunset until you've experienced a sunset over Lake Michigan. I didn't miss a single sunset, and each and every one was so full of awe inspiring beauty. One evening at Holland State Park, we had sat down to watch the sunset and take pictures. A small crowd of people had started to form, all with the same idea. Once the big red ball of sun dipped below the horizon, everyone stood up and started clapping. Sunsets in Holland are worth pausing to watch. They are that incredible!
Shop in downtown Holland. Downtown Holland is such a quaint place… I immediately fell in love with the area. There are shops for just about everything in Holland, so if you love to shop, you'll be totally satisfied with the unique offerings shopping in Holland has to offer.
Visit the Holland Farmers Market. This is a must if you visit Holland! We ate at so many great establishments while we were in Holland, but the meals we ate at home with goods from the Holland Farmers Market were the best!
Exercise and sports recreation. Holland has some of the most beautiful running and biking trails, many right along side the lake, around. My husband and I both ran a lot while on vacation as we were both training for half marathons at the time. The running paths were nicely shaded and well maintained. I think I'd run every single day when the weather was nice if I lived in Holland! There are plenty of places to rent bikes and paths to ride them on. In addition, you can rent paddle boards, kayaks, and so much more. There are plenty of establishments around Holland to rent from.
Main Street Kids Entertainment. Holland blocks off Main Street once a week for an absolutely blast of a night with live entertainers. From musicians to comedians, to sculptors, gymnasts, etc. so many talented artists come to Holland to perform and share their talents with Holland locals and visitors. This is a free night of entertainment and was so much fun!
Ride the sand dunes. We actually drove a town over to Saugatuck, Michigan to go on a sand dune buggy ride. This fast paced, high speed, entertaining ride was so much fun! The kids, Nick and I all had such a blast on these rides. It was kind of spendy but so worth it as it was a blast! Note, you do have to make ride reservations and you have to do it in person. So arrive a couple hours before you want to actually ride and buy your tickets for later in the day. While you are waiting, there is plenty to do in Saugatuck to keep you busy as well! (Such a cute, Coastal Living type town!)
My kids were pretty much 100% happy playing in the sand and the water at the lake. That's what I loved about Holland…if we wanted to do something, there was plenty to keep us busy but we could also just lounge around and relax and feel like we were still getting the most from our vacation!
Where Should I Eat in Holland, Michigan?
There are a couple places in Holland that I still crave today, almost a year later. Here is a list of some of our favorite places to eat at in Holland!
So, there we have it! I want to give a special shoutout to my friends Sheila, Liz, Rachel and Rebecca for helping us to plan our Michigan vacation! Visiting Holland, Michigan was one of the best vacation decisions we've ever made. You know if by the end of your week you have alerts set up on Realtor.com for possible summer houses that might come available, you really love a place. I hope you'll all get the chance to visit Holland some day. In the meantime, if you have any questions about planning your own Holland Vacation, just let me know! I'm also in no way affiliated with the Holland, Michigan tourism board, but their website is really a great resource, especially their downloadable visitors guide. Check it out!