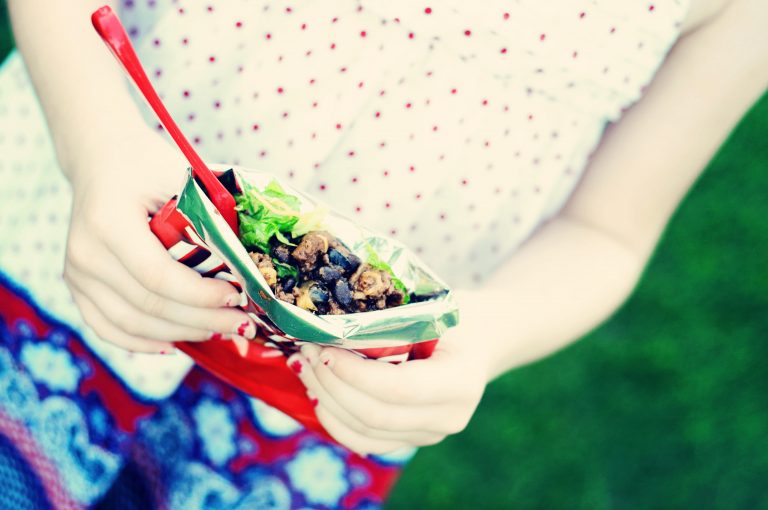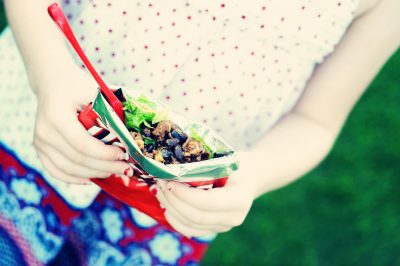 Sometimes it is the most simple of ideas that makes you slap your forehead and say, "Duh… why didn't I think of that?" That is how I feel about this recipe for Walking Tacos. Such a simple idea, inspired by a day at the county fair.
School will be starting again in just a short few weeks, which means that our schedules go from just slightly hectic to crazy always rushing around and hurrying out the door hectic. This holds true for dinnertime during the school year too, which usually has to be eaten around the table really late at night or snatched to eat on the go in the car. I will be 100% honest when I say I value family meal time more than just about any other ritual in our home, but as my kids get older and more involved in extracurricular activities, I recognize that a sit down dinner with all 6 of us together just isn't going to happen every night. The next best thing is a home cooked meal that can be eaten on the go.
No, these walking tacos aren't the healthiest of options, but I bet they are better than what you can get when you make a visit to your friendly neighborhood drive through. Plus, you can add beans, corn, veggies… you can add all kids of things to sneak some healthy into your bag.
The next time you are tempted to just give your kid another sandwich as you walk out the door to the next event, think again and think inside the bag… Walking Tacos. A delicious and hearty dinner that is about as super simple as you can get!
Walking Tacos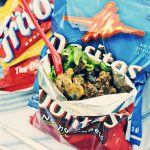 Super Simple Supper (Recipe: Walking Tacos)
Ingredients
1

pound

lean ground beef

crumbled, browned and fat drained

1

package taco seasoning

or I make my own with this recipe here

3

Tbs

water

1

can Bush's Black Beans

drained

6

individual sized bags of Doritos or Fritos chips

Shredded Lettuce

Shredded Cheese

Diced Tomatoes

Diced Avocados

Sour Cream

Basically whatever you like to put on top of tacos or taco salad
Instructions
Directions:

With your browned grown beef still in the skillet, add the Bush's black beans, 3 Tbs of water and your taco seasoning. Heat through.

Gently take each individual bag of chips and crush the chips. Once the chips are crushed, cut open the top of the bag.

Scoop your taco meat/bean mixture into the bag. Top with your favorite toppings...tomatoes, cheese, lettuce, avocados, sour cream...whatever your heart desires.

Take a spoon and stir your chips / taco meat creation together

Head out the door with your walking taco bag in your hand and a spoon and enjoy a hearty dinner on the run!