School is starting and I'm ready to take back my morning routine, with the help of Starbucks!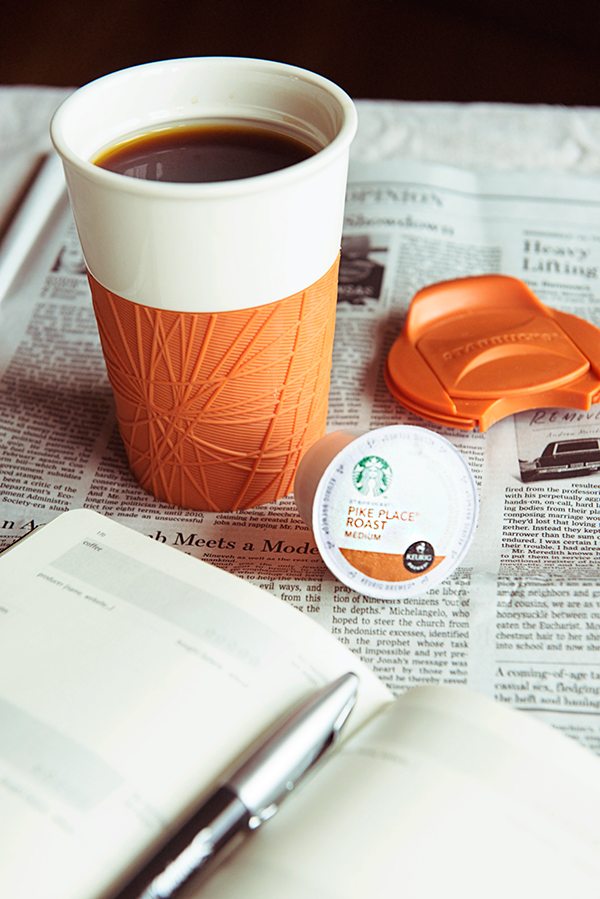 Leah starts school tomorrow and as much as I'm not ready for school to start, there is a part of me ready to take back my mornings. You know, "happy hour"? The time I wrote about way back when where I wake up early in the morning and have an hour to myself before everyone else gets up. I use that unplugged time to drink my morning coffee, read the newspaper, catch up on my happiness book and more. I treasure that time, but will be honest when I say during the summer, when getting up early is optional, sleeping in has won out.
I am slowly starting to take back my mornings. When I wake up early and have that time to myself, the entire household seems to run better. Because of my morning "me time", I feel more organized and on top of it and ready to deal with the chaos that is getting 4 kids ready for school and out the door.
My friends at Starbucks know that a good cup of coffee is an essential ingredient to happy mornings at my house. They sent me a basket full of coffee related goodies…a box of Starbucks Pike Place K-Cups, a Starbucks tumbler and a Moleskine Passions Coffee Journal. I'm excited to let you know, they'd like to give one lucky Dine & Dish reader the opportunity to win the same thing!
To enter the giveaway, simply leave a comment on this post telling me what your favorite part of your morning is. For an additional entry, post a photo of your morning on Instagram with the hashtag #takebackmorning and tag @dineanddish and @Starbucks. (You can also use an older photo… just make sure to tag it with the hashtag and user names mentioned before). Return here and leave an additional comment on this post with your Instagram user name. All entries must be received by midnight CST on Sunday, August 10th, 2014. Winner will be chosen by Random.org and notified via valid email address.
Thank you for entering and good luck!
Disclosure: This giveaway is sponsored by Starbucks. Starbucks provided me a gift basket similar to the one being given away and they are also providing the giveaway items. All opinions expressed are my own. In addition, this blog post contains affiliate links. As an Amazon Associate, I earn from qualifying purchases.