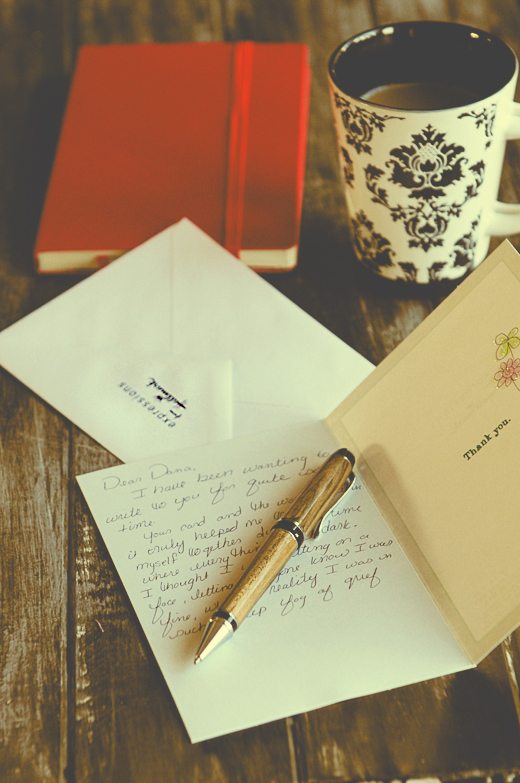 As many of you know, my brother passed away this past August from a brief battle with cancer. I've said a few times on my blog how surprised I was that his passing hit me so hard. What I didn't tell you is that for a few months, I believe I was quite depressed.
I've suffered postpartum depression before, but in the months following my brothers passing I experienced a range of emotions I had never felt so deeply in my life. I was in a fog, crying on a whim, blowing up at situations that normally wouldn't bother me, isolating people around me, not responding to deadlines, ignoring important emails, letting bills pile up, not answering the phone and pretty much expecting my kids to fend for themselves on mornings before school. At one point I was alone in my car after an extremely tough day and the temptation to just drive and keep driving away from everything hit me so hard, I had to pull over and get a grip.
Outwardly, I tried to put on a happy face… talking myself into believing I was alright, that I could put on a front and people wouldn't know anything was wrong. I hid behind a facade of contentment… or at least I thought I did.
So many of you sent me cards, emails, tweets, facebook messages, phone calls, etc during that time. I can't tell you how much I appreciated each and every hand of kindness that was extended to me. There was one card though, sent to me exactly two months after my brother died, that woke me up and essentially pulled me through what was a very dark time in my life.
The card was from a reader named Dana. Among other things, Dana wrote:
"I am writing to you because in many of your recent posts I can hear the pain and grief that you are going through right now. I am so sorry for your loss. Please know that I am praying for you. Your blog really inspired me during a rough patch that I went through and I have always wanted to thank you for that."
In addition, there was a quote: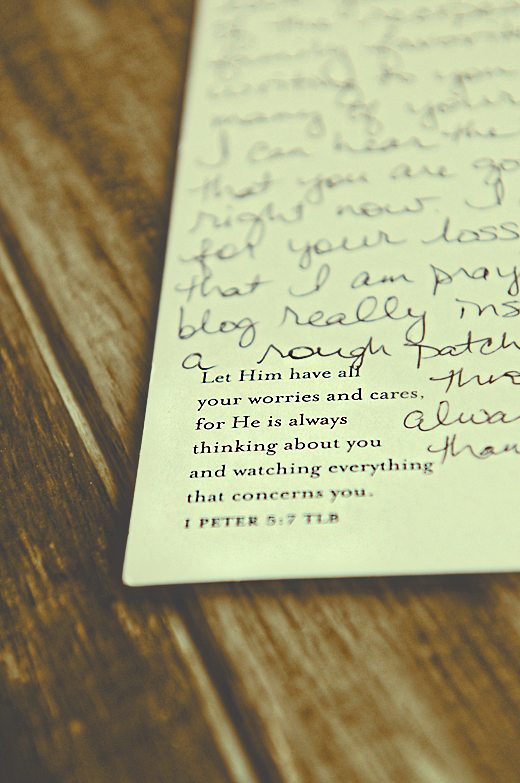 Dana's card, thoughtfully sent to me with words that truly hit home, is one of the things that helped me get through a dark time in my life. The timing of it arriving in my mailbox was such a gift… it was exactly what I needed to hear at the exact time I needed to hear it.
I sat down this weekend to finally write Dana back and to tell her how much her kindness, her words and her thoughts impacted my life. Because of her, I soon realized I wasn't fooling anyone and was then able to come to terms with my thoughts and emotions head on instead of trying to suffer behind them.
I'm happy to say I'm fine now… there are times every day where my heart hurts and tears sting my eyes, but I can say that I am honestly able to see the light now instead of the darkness.
If there is someone on your mind…someone you have been thinking about and meaning to reach out to, I urge you to do so. Tell them what is on your mind through a card. You never know how life changing it can be.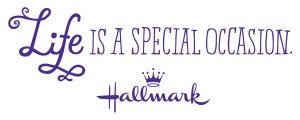 I'm honored to be partnering with Hallmark in 2012 as part of their "Life Is a Special Occasion" campaign. As always, all opinions are my own.