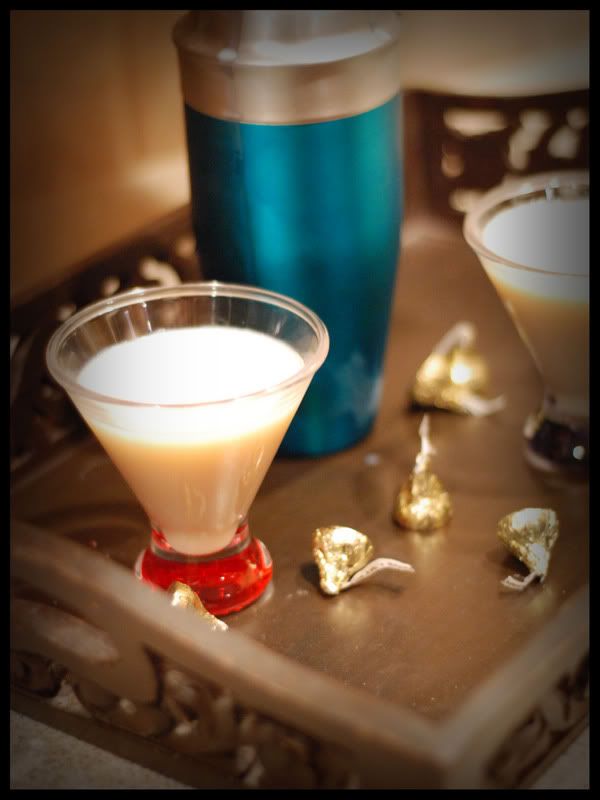 First of all, if you haven't already, make sure you head over to my "Adopt a Food Blogger" post and put your self up for adoption or adopt a fellow foodie! Lots of people have signed up, but we are in need of some more veteran bloggers to join us.
Thanksgiving is upon us. This means glorious food, extreme gratitude, and the abundance of family surrounding us. Family that you are thankful for, but by the end of the long Thanksgiving day, you may find to be grating on your nerves.
If your family is at all like mine, we have a lot of personality and with that comes strong personalities that can sometime conflict. With five of us kids total, and each of us living completely different lives, we tend to put the "dys" in dysfunction. I love my family dearly, and would not trade any of my family members for anything, however it is sometimes hard to get through a holiday without a little help. That help, this year, comes in the form of a Snickers martini. When a glass of merlot just will not do, and you need to really relax at the end of a long holiday, follow this recipe for a concoction that will surely put you at ease. Go ahead and give it a try. You can thank me later.
Snickers Martini
Servings
2
Strong Martini's
Ingredients
4

parts Absolut Vodka

1

part Cream Liqueur

2

parts Hazelnut Liqueur

2

parts White Cacao Liqueur
Instructions
Chill a cocktail glass with ice or in the freezer. Pour absolut vodka, cream liqueur, hazelnut liqueur and white cacao liqueur into a shaker. Fill the shaker with ice cubes and shake it until the shaker is very cold. Empty the cocktail glass from ice and water. Strain the drink into the cocktail glass.
Notes
WARNING: makes 2 strong martinis