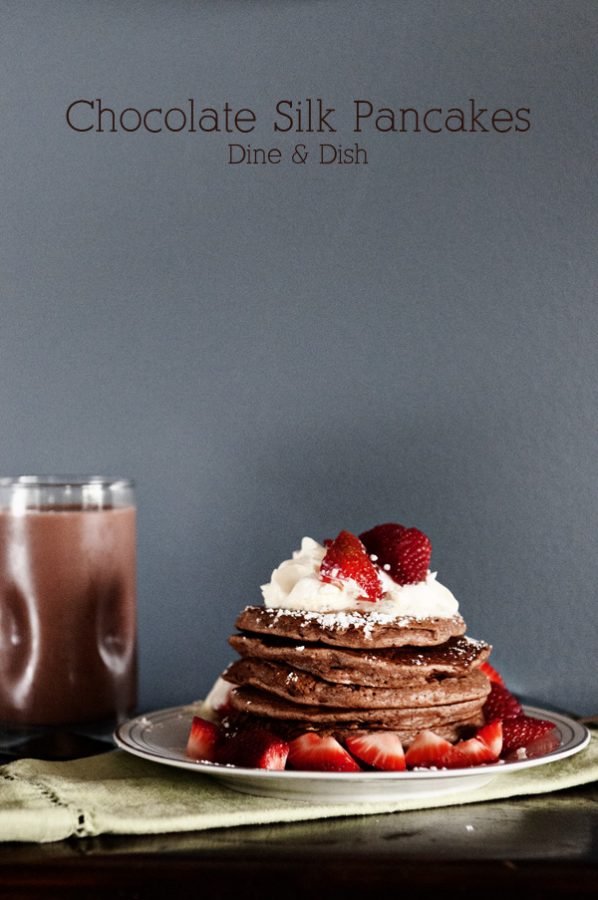 I once traveled across the great state of Minnesota, searching for the best diners in the state. I was in my early 20's, young and carefree and on a mission. I don't know remember what prompted the search, but it was a fun road tripping adventure that I likely will never forget.
My friend and I decided that at each diner, we'd order chocolate milk with our food. We soon discovered an important connection… the diners that served chocolate milk from jugs (you know… the thick, extra chocolatey milk that coated the glass) versus the ones that used white milk with chocolate syrup, were so much better. Their food was generally better, the waitstaff was friendlier, the atmosphere all together was all around better.
I don't know how scientific our study was, but we both found the results quite interesting. I still have to order a glass of chocolate milk anytime I go into a diner!
OK side note for the recipe.. because I don't have a good segue for this one… my parents were in town and my mom has a dairy allergy. I bought a jug of Chocolate Soymilk from Silk for her to enjoy while she was here. Well, this morning when I was making breakfast I noticed we were out of milk but had about a cup of Chocolate Silk left… I decided to whip up some Chocolate Silk Pancakes for our first official day of summer break breakfast!
These pancakes were so good… and although we loved the Chocolate Cocoa Pancakes I made before, these seemed to take over as a favorite recipe for me to continue making! I imagine they'd taste even better with Creamy Chocolate Syrup for Pancakes if you want to really indulge. You can make this recipe with either Chocolate Milk from the jug or Chocolate Silk, like we did. Either way, enjoy!
Chocolate Silk Pancakes
A fluffy, chocolate pancake recipe perfect for a delicious, indulgent breakfast!
Ingredients
1

cup

Chocolate Silk Soymilk or Chocolate Milk

2

Tablespoons

white vinegar

1

cup

all-purpose flour

2

tablespoons

white sugar

1

teaspoon

baking powder

1/2

teaspoon

baking soda

1/2

teaspoon

Kosher salt

1

egg

2

Tablespoons

butter

melted

Whipped Topping

diced fresh strawberries and powdered sugar for garnish
Instructions
Place all ingredients through melted butter in a mixing bowl and blend until well incorporated and smooth.

Heat a large electric griddle to 350° or a skillet to medium heat.

Pour 1/4 cupfuls of batter onto the skillet, and cook until bubbles appear on the surface. Flip with a spatula, and cook until browned on the other side.

Top each pancake with whipped topping, strawberries and powdered sugar.
You'll also love these other pancake recipes from bloggers around the web: