A simple Girl Scout Cookie Fudge recipe. This is the perfect way to use up all those boxes of extra Girl Scout Cookies!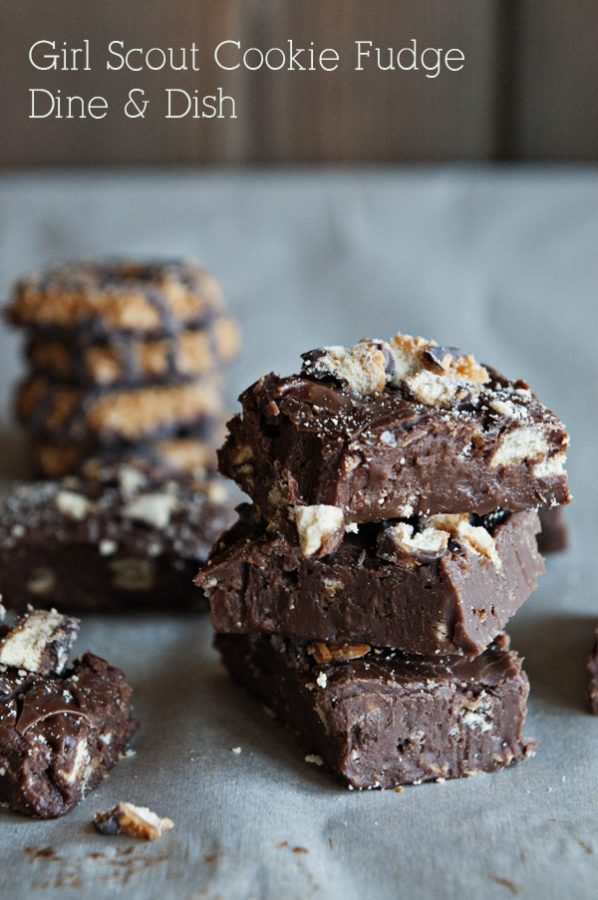 This fudge recipe blog post is for all the moms across the country who have drawers, cabinets and freezers full of Girl Scout Cookies. Yes, you love Girl Scout Cookies, but that isn't why you have a zillion and one boxes of them filling up your house. It is possibly because you received reminder email after reminder email from your cookie leader that the sale date is coming to a close. When the final email comes through, you look lovingly at your little girl scout and realize that you failed to have her rock her cookie sale skills to anyone. Not even grandma and grandpa. Therefore, so she can still get the beloved "Cookie Patch", you buy all the required boxes of cookies… all for her happy heart and a $2 patch.
With four kids, I've discovered a lot of the little details of life are falling through the cracks. Things like cookie sales, canned good collections and spelling bee studying aren't getting done. I can't keep up!
So, Santa… if you're reading, I've been a really good girl this year and I'd love nothing more than more time in the day. Think you can swing it? I know a lot of other people would appreciate that too!
image courtesy of Frigidaire
For some reason, as much as I believe in Santa's magic, I'm not sure he'll be up to the task this year of giving us the gift of time. Luckily, Frigidaire is picking up his slack and offering fans of their brand the chance to win experiences for how they might enjoy some extra time, along with chances to win some of Frigidaire's most efficient appliances.  From now through December 31st 2012, over on the Frigidaire Facebook Page, you can enter daily giveaways, weekly drawings for a Frigidaire Gallery Range with Symmetry Double Ovens and a grand prize of a full suite of time saving Frigidaire appliances. 
Check out how the Frigidaire Gallery Range with Symmetry Double Ovens made me an efficient holiday baker last year. It's as close to a time saving machine as I'll ever find!
Wouldn't you love the gift of more time this holiday season? Head over to the Frigidaire Facebook Page to enter the giveaways, and to learn all about the time saving efficiency their appliances offer.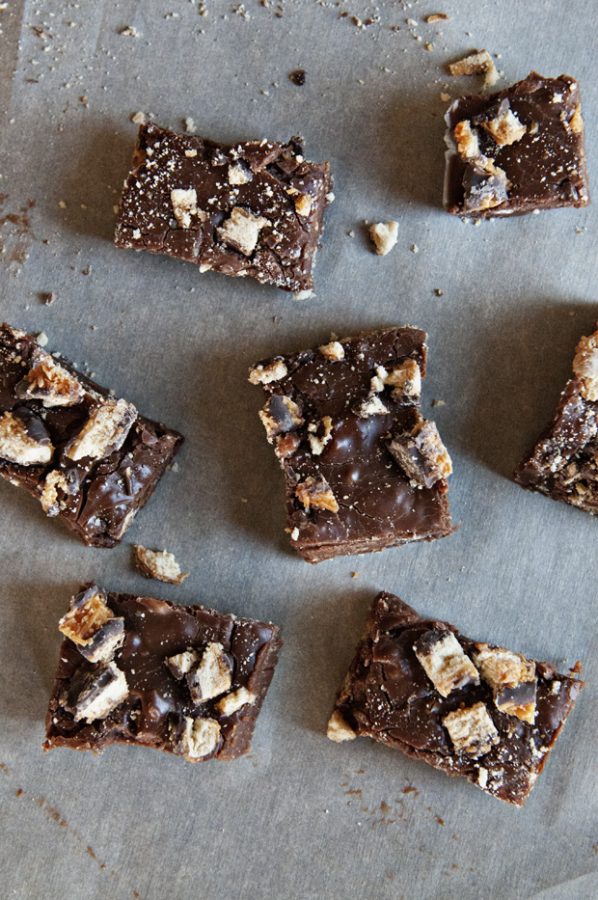 In the meantime, one of my time saving tips for the holiday is to take some shortcuts where shortcuts can be taken. For example, if you have a zillion and ten Girl Scout Cookies in your pantry, learn how to use them in recipes to simplify your holiday baking. This fudge recipe was quick, easy and took some Girl Scout Cookies off my hands. I could have easily switched the type of cookie out for any of the Girl Scout Cookies available, but thought I'd start getting rid of my favorite (aka most tempted by) Caramel Delights. If you have extra Peanut Butter Cookies, you could easily add them to this Peanut Butter Fudge recipe. The possibilities with this Girl Scout Cookie Fudge recipe are endless!
What are some of your best time saving tips for this busy time of year?
Girl Scout Cookie Fudge
A quick and tasty fudge recipe, utilizing any flavor of Girl Scout Cookies your heart desires!
Ingredients
12

ounces

high quality milk chocolate chips

1 14

ounce

can sweetened condensed milk

10

Girl Scout Cookies

any flavor, divided and coarsely chopped

1

Tablespoon

vanilla

1

Tablespoon

butter

softened (for the foil)
Instructions
Line an 8 inch square pan with foil, with ends of foil extending over sides. Lightly butter foil.

In a small saucepan over medium low heat, melt the milk chocolate and sweetened condensed milk. Stir continuously.

Once melted, remove from heat and stir in vanilla and 8 of the coarsely chopped Girl Scout cookies.

Spread into prepared pan. Top with remaining chopped Girl Scout Cookies.

Refrigerate for 2 hours.

Use foil handles to lift fudge from the pan. Remove foil and cut into 1 x 1 inch square pieces.
This post is sponsored by Frigidaire.  I received monetary compensation for my participation, but my review and opinions are my own