Happy weekend, friends! What better time to share a happiness report than the beginning of a weekend. I'm sure there will be lots more happiness happening over the weekend, but for now, here is what's making me happy lately…
The older three kids all got started off to school without a hitch. I was the only emotional one, as I tend to be. They all have had a great first few days and are happy to be back in school!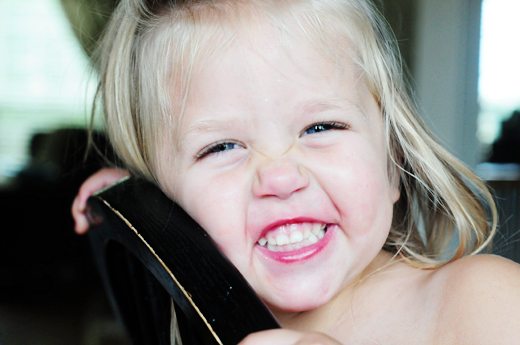 My wild sidekick and I are getting to spend more one on one time together than ever before. Also known as – Leah's getting into everything under the sun and I'm chasing around behind her cleaning up her trail. She's helping me in the kitchen and with cleaning and all of that though. And who wouldn't be happy looking at that sweet smile all day? She makes me laugh, and that makes me happy!
Guess what I spied being carried by Green Mountain Coffee in their online store? It's that time of year again, and that makes me happy!
Getting creative with friends and making Hotel Sangria makes me happy. (For the inside story, visit Heidi's recipe and recap here).
Just a few more random things…
I've fallen head over heels in love with this blog, especially this post…
I'm headed here on a date night with my hubby this weekend…
I listened to Tina Fay's Bossypants via audiobook and laughed out loud over and over…
Shannon Curtis is releasing a new single next week AND is having a private concert at my house! Woo-hoo! (Listen to her new single, Anti-Gravity, HERE).
And I had some great conversations with friends who just "get it"… all that makes me happy!
Now it's your turn to spill the happiness. What's brought a smile to your face this week?
Disclosure: This blog post contains affiliate links. As an Amazon Associate, I earn from qualifying purchases.