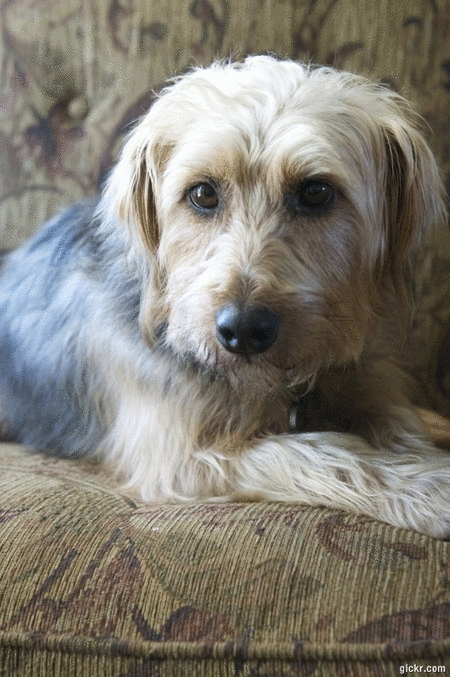 Happy happiness report time, friends! It's my first happiness report of the new year, and I have so much to be happy about!
The absolute first thing on my list is our new dog. I can't tell you how happy she is making our family. When we finally decided to get a dog, and Santa decided he'd bring us one, I was really nervous about how a dog would fit into our lives. Well, I think she is the best thing that's happened to us in a long time. Right this very moment, she's sitting on what she has taken over as "her chair" and snoring her sweet little doggy snore. Heartwarming.
She is an absolutely wonderful dog and has instantly become an important member of our family. Every time she hops in the car to go for a ride, or sits on my lap while I'm working, I smile. She loves the kids so much too, which of course brings me joy. If you are on the fence about getting a dog, I highly recommend taking the plunge! (If you missed the story of Meg's entry into our family, you can find my post about it here).
Your emails, private facebook messages, calls and comments on my post about the struggles we are having with our 6 year old make me happy and feel so much less alone. Thank you all for your support…it totally turned my attitude about it all around. I know it takes a village, and I'm so thankful to have you all in mine!
Getting into a good exercise routine with my friend Jenny is making me happy. We're meeting three nights a week and watching Downton Abbey on DVD while working out. We did have one wine and junk food night instead of our normal workouts, but that's ok, right?
You all know I love books and love to read… well I finally joined a book club so I can talk with friends about the books I love. My friend, Heather, put one together and being a part of it makes me happy!
Have you seen this Bad Lip Reading NFL video? Not only did it make me happy, it had me in tears I was laughing so hard!
Tonight I am going to see Les Mis with my husband. I saw it a couple weeks ago with some friends and loved it so much (go see it!). Date night and a really great movie make me happy!

I accidentally came across this Etsy store this morning with the most gorgeous pottery – think dog bowls, coffee mugs, cookie jars, etc. I loved everything I found in the Symmetrical Pottery site!
This poignant post on blogging from The Little Red House was so good… it made me happy to see someone so honest and open with their words.
Which, I found the above from Shutterbean I Love Lists Friday series, which I love and makes me happy!
I could go on, but I want to hear from you! What's been making you happy lately?
Disclosure: This blog post contains affiliate links. As an Amazon Associate, I earn from qualifying purchases.