In 80 days, I'll be running my first 5K – not walking, but R-U-N-N-I-N-G.
As I've mentioned, I've officially gotten off my sedentary butt and have taken to going to the gym 4-5 times a week since the new year. I have also been exercising at home on my off days. I'm working with a really awesome running trainer who is teaching me how to work within my heart rate zones to run most effectively. He also kicks my butt with strength training and core exercises, which makes me actually look forward to the running portion of the session!
I don't think I've shared this on Dine & Dish yet, but my motivation for finally getting back on the running bandwagon (after about 10 years of being off) was this inspiring blog post by Karen Russell. It's a long one, but read it. Afterwards, if you aren't inspired to get up and move, there might be something wrong with you 😉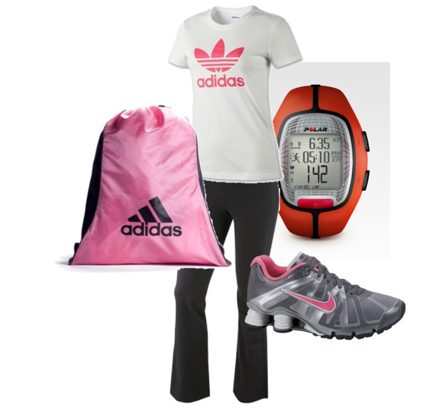 So, here I am now.. with 80 days left to train… I have my fancy, handy, dandy new Purple Polar Heart Monitor (love it), all the right running clothes, a team of friends working with me towards the same goal, and I feel great. So what's the problem?
Well, as most people already know, I've discovered that exercising and running is not enough. My eating habits are horrible and my will power is even worse. Although I have come to enjoy my daily run (I NEVER thought I would say that) I'd like to have the added benefit of dropping a few pounds along the way. It's not going to happen if I don't figure out how runner's eat… because I'm pretty sure it isn't this, this and this!
I'm inspired by the following bloggers who run and love food as well: Courtney from A So-Called Runner, Johnna from 52 Sweets, Jenna from Eat, Live, Run, and Ruthanne from Eclectic Whatnot. If you know of any other bloggers who love food yet manage to stay fit with exercise and balanced eating, please let me know.
In the meantime, I'm doing what I know is necessary… increasing my greens and enjoying more salads like this Spring Salad with Orange Vinaigrette. We love salad around here and know that it is good for us – so I don't know why I feel like I'm "missing out" on something when salad is on the table. Other filling salads I'm drawn to right now are this Asian Chicken Cranberry Salad and this High Protein Caesar Salad.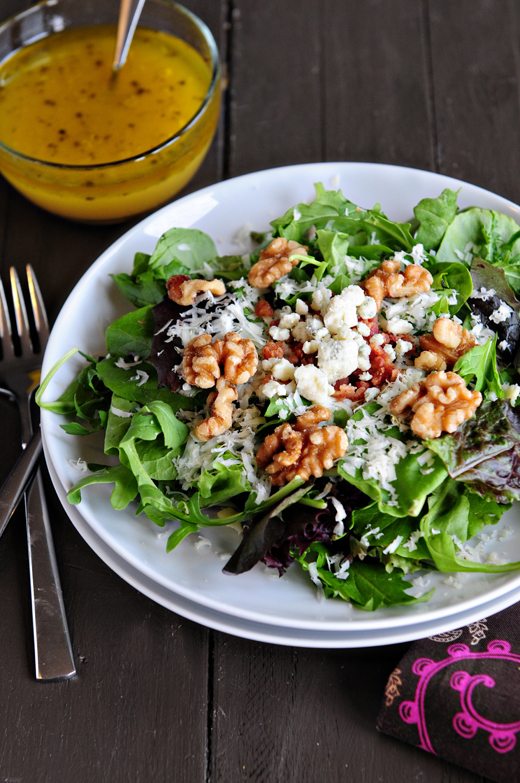 Spring Salad with Orange Vinaigrette
This Spring Salad with Orange Vinaigrette was a recent meal. A filling salad with plenty of protein and flavor… I honestly didn't feel like I was being cheated of anything (except maybe bread) when I was finished eating it. If you have a favorite healthy type recipe or salad recipe, I'd love if you'd share in the comments section. (And don't worry… Dine & Dish isn't going to turn into a health food, no sweets, no carbs, no good stuff kind of blog. I just would love some of your tips to help me get this "running me" in better shape, all around!)
Spring Salad with Orange Vinaigrette
Spring Salad with Orange Vinaigrette
Ingredients
Zest of 2 oranges

1/2

cup

orange juice

2

Tablespoons

balsamic vinegar

2

Tablespoons

honey

3/4

teaspoon

Kosher salt

3/4

teaspoon

freshly ground black pepper

3/4

cup

extra virgin olive oil

10

ounces

pre-washed Dole spring mix salad

1/4

cup

shreded Jarlsberg cheese

1/4

cup

crumbled

cooked turkey bacon pieces

1

cup

chopped walnuts
Instructions
In a large bowl, combine orange zest, orange juice, balsamic vinegar, honey, Kosher salt, black pepper and extra-virgin olive oil. Whisk until well blended and smooth.

Place lettuce, cheese, walnuts and bacon pieces on each individual plate. Drizzle with the blended orange vinaigrette dressing.
Disclosure: This blog post contains affiliate links. As an Amazon Associate, I earn from qualifying purchases.