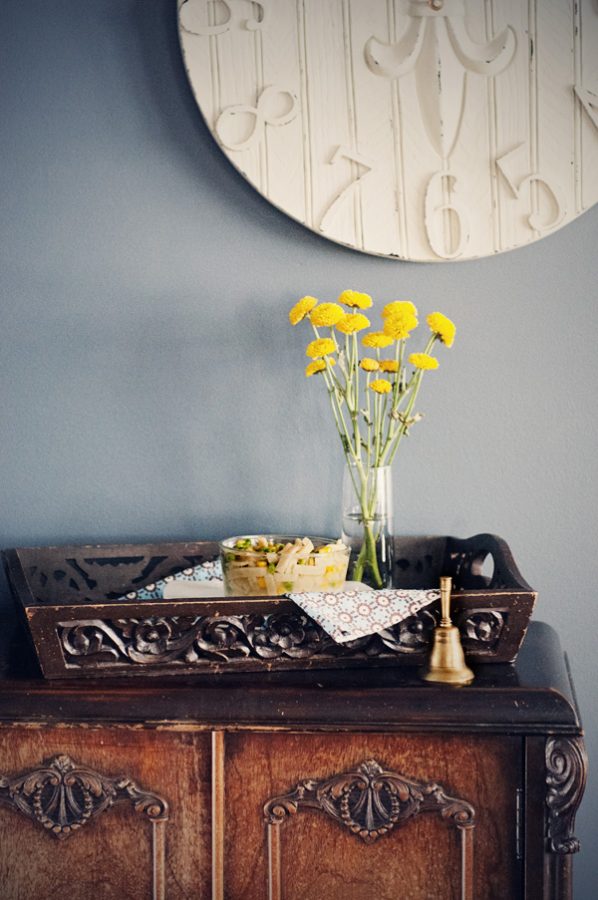 "Ring-a-ling, ring-a-ling"… the sick bell tolls.
"Ring-a-ling, ring-a-ling"… I charge up the stairs, peeking in on the patients who have summoned. "I'm cold, can I have more covers?" "Can I have a popcicle?" "I need a drink." "My tummy hurts."
Naturally, as a parent, when your kids are sick you want to do anything you can to make them better.
I used the very same sick bell to summon my mom when I was sick as a kid. It's one of the few things I've carried onto my family from my childhood. My mom was always so patient when we were sick… bringing us a silver bed tray of hot soup, 7-Up and saltines when we needed it to make us feel better. The sick bell, always on the tray or nearby, was for us to use whenever we needed her. I'm sure, like my kids, I had a tendency to overuse it.
Soup equals comfort and in my opinion has healing powers. I'm not sure if that's really true, but it always seems to make me feel better. Doesn't it you?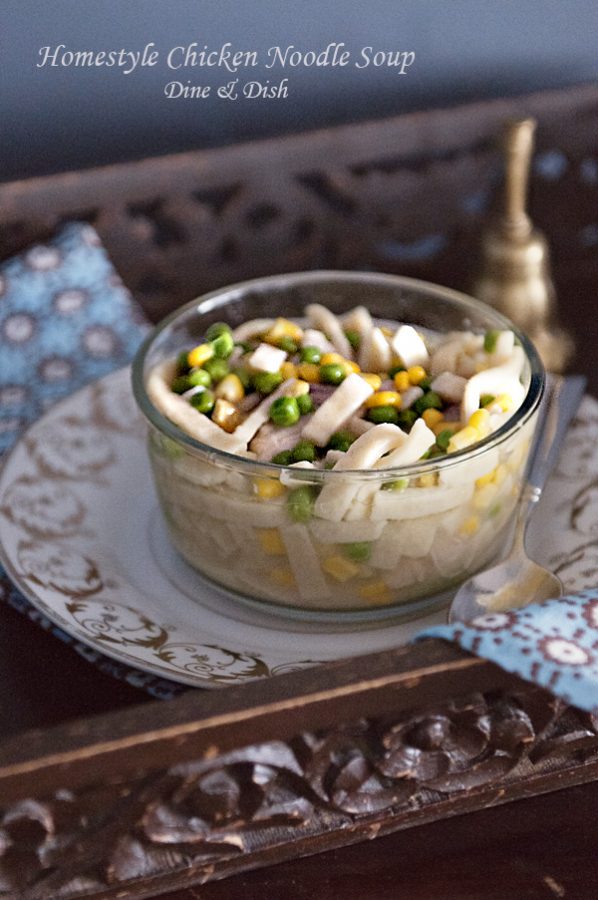 My friends at PediaCare asked me to share one of my favorite recipes I turn to when my kids are sick. That would have to be Homestyle Chicken Noodle Soup… no doubt. Chicken Noodle Soup is what my mom gave me when I had the sick bell by my side, and it's what I share with my kids when sickness hits.
PediaCare also wants to remind parents that when it comes to medicine for sick kids, proper dosing is incredibly important. They've provided this handy dosing chart for you to print to ensure that when using Pediacare Fever Reducer and Pain Reliever for your kids, you have the right dosing information easily accessible. It's a great chart to print off and hang on the inside of your medicine cabinet for easy reference.
I hope you all have managed to stay well this winter. If you need a bowl of comfort, to help you or your loved ones feel better, I'm sharing my recipe below. Enjoy!
Homestyle Chicken Noodle Soup
A heart and warm Homestyle Chicken Soup recipe... it soothes the soul.
Ingredients
12

cups

Chicken broth

2

Bay leaves

1

teaspoon

Italian Seasoning

1

teaspoon

black pepper

1

lb

Chicken

precooked, boneless, skinless

1 24-

ounce

package Reames® Homestyle Egg Noodles

2

cups

cooked corn

2

cups

cooked sweet peas
Instructions
Bring the chicken broth to a boil with the bay leaf. Add the noodles and simmer for 20 minutes. Stir often.

Add the Italian Seasoning, black pepper, cooked chicken, corn and sweet peas. Simmer for 10 minutes or until done. Remove bay leaf before serving.
Disclosure: I am honored to be a 2012 paid brand ambassador for PediaCare. All opinions expressed are my own. For more information about PediaCare products, please visit their Facebook page: www.facebook.com/PediaCare