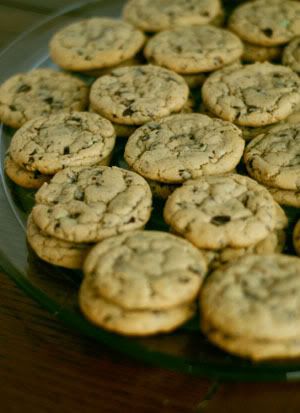 It happens every year. You make your New Year's Resoulutions, which include things like "Lose the 10 pounds I was supposed to lose last year," and "make it to the gym past the first two weeks in January". You are feeling really confident that this is the year that you aren't going to fail on your resolutions. Then, without fail, your doorbell rings. You open it to find a sweet little uniformed girl with a smile so sweet it causes your teeth to ache. She appears innocent, but what you see is the devil hidden behind a green little jumper and girl scout badges. She happily hands you the 20 boxes of Girl Scout cookies you ordered way back in October and at that moment you see all of your New Years resolve vanish.
Why in the world do the Girl Scouts deliver their cookies in January? I would love to have them in December, when I'm pigging out anyway and have people over all the time to share them with. But, nooooo…. they have to come at the very beginning of January, just when you think you may have a chance for success this year.
Unlike some people, I cannot stick the cookies in the freezer and eat them only in emergencies. If they are in my house, they have to be eaten. My kids get to go on a cookie eating binge, eating cookies for breakfast, lunch, snack and dinner simply so I can get the darn things out of my house.
I have taken extra precautions this year so I can be mentally prepared for the Girl Scout cookie arrivial. I've discovered this tasty recipe from the back of the Andes Mint Baking Chips bag. These cookies taste so much like the Girl Scout Thin Mint cookies that I really think I've eaten enough of them to not be nearly as tempted by the real thing when it comes along.  We'll see if it works or not. I'll let you know after the little devil in disguise arrives.
Andes Creme de Menthe Cookies (Andes Mint Cookies)
20 min | 10 min prep
42 cookies
Preheat oven to 350°F.

Blend butter, brown sugar, white granulated sugar, baking soda, baking powder, vanilla and eggs until ingredients are mixed.

Add Andes Baking Chips and mix.

Add Flour and continue to mix until all ingredients are well blended together.

Cover and chill in the refrigerator for 45-60 minutes.

Spoon out approximately 1 oz of dough per cookie.

Form a ball and then slightly flatten.

Place on non-stick baking pans and bake for approximately 8-10 minutes.

Cool on pans for 2 minutes, then remove.
Do you love mint? Check out what these other food bloggers have cooked up!