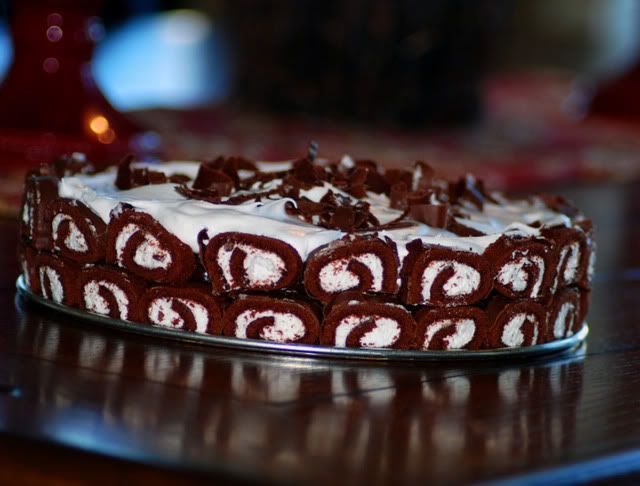 OK – here is the warning right up front. Those of you who turn your noses up at convienence foods, boxed mixes, full of preservatives and sugar packaged snack foods, etc. I am giving you the warning to skip this post all together. What you are about to see will most likely make you want to call Child Protective Services on me. If the Kool-Aid slushes got your goat, this dessert is going to make you wonder what the heck this world is coming to. So, to avoid any unnecessary stress on yourself…just turn your head, plug your ears and yell "La, la, la, la, la" and you can pretend like you never even read this far.
Now, for the rest of you, I am sure that once you saw the picture of this dessert and saw how cute it was, you got right away why I would want to try it out. I just could not resist the sliced up Little Debbie swiss cake rolls and the cuteness factor this dessert has all together. No, it isn't a complicated, gourmet recipe, but it is a lot of fun. Besides the fun-ness factor, this little recipe is really quite delicious. If Child Protective Services does happen to be called on me for feeding my children such preservative and sugar laden foods, I'm sure I can influence them to let me keep my children by bringing out this tasty dessert.
From the most recent issue of Simple and Delicious magazine.
Chocolate Swirl Dessert
Delicious, easy, and fast desert everyone will love.
Ingredients
1

package

13 ounces Swiss cake rolls

2-3/4

cups

cold milk

2

packages

3.9 ounces each instant chocolate fudge pudding mix

2

cups

whipped topping
Instructions
Cut each cake roll into eight slices; set aside any chocolate coating that separates from rolls for garnish. Line a 9-in. springform pan with cake slices, completely covering the bottom and sides.

In a small bowl, whisk milk and pudding mixes for 2 minutes. Let stand for 2 minutes or until soft-set. Pour over cake. Spread with whipped topping; sprinkle with any reserved chocolate coating. Cover and refrigerate for at least 2 hours before serving. Yield: 12 servings.