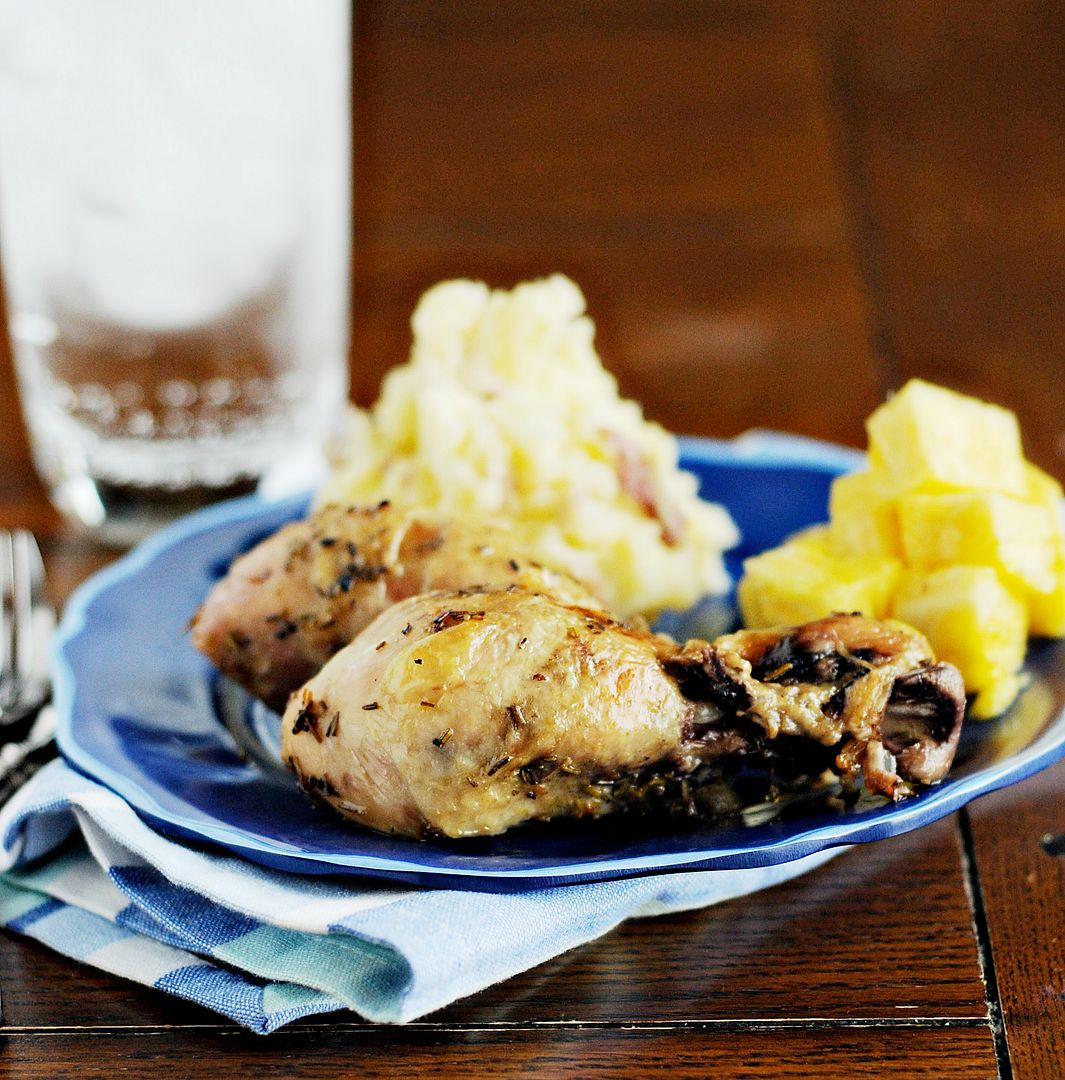 Let's face it everyone… chicken legs are ugly. Really, there is nothing at all picturesque about a chicken leg sitting on a plate. In fact, I almost nixed sharing this recipe with you for two main reasons.
This is a delicious recipe, however it comes no where close to the amazing Oven Baked Chicken Legs I posted awhile back from Chaos in the Kitchen. Don't blame this Garlic Chicken Leg recipe though… nothing I ever bake that has to do with chicken legs will EVER come close to those oven baked chicken drumsticks from Chaos in the Kitchen. It's a fact. I know this before I even try any other chicken leg recipe. Trust me. That is one delicious recipe.
Chicken Legs / Chicken Drumsticks are just plain ugly. Trying to take a pretty picture of ugly food is not at all easy. Try it sometime. It's hard, I say…really hard. My picture above is proof.
Why am I sharing this recipe with you then? Three reasons.
I kind of felt sorry for this picture, sitting alone in my food photography folder, looking at all of the other photos being chosen and wondering "why not me?" Lesson learned…ugly photos need love too.
This recipe is so simple. Like most Crockpot chicken recipes, you can just throw it in the crockpot and run away, leaving the flavors and seasonings to party with the chicken all day and then at dinnertime, you have a tasty and delicious meal.
Last but not least, even though this slow cooker chicken leg recipe is not as good as the baked chicken leg recipe from Chaos in the Kitchen, it is nice to have another recipe for chicken legs to fall back to on those days where we want something different than our current standby. (Although my kids would probably disagree that we ever would need to digress away from the baked chicken legs. That is one recipe that everyone in my family will eat 2nd and 3rds on!)
If you love your Crockpot and you love chicken legs, even though they are kind of ugly, I think you would love this recipe. The chicken legs may not be pretty, but they sure are tasty!
Super Garlic Chicken Legs for the Crockpot / Slow Cooker (Adapted from Food.com – and yes… this die hard Recipezaar user is having a hard time adjusting to the site change, in case you are wondering!)
6 chicken legs (more or less as needed)
20 garlic cloves (papery skins left on)
1 teaspoon dried rosemary
1/2 teaspoon salt
1/2 teaspoon pepper
1/4 teaspoon red pepper flakes
1/2 cup chicken broth
3 tablespoons oil
Place garlic cloves in crock pot.
Mix spices together in med bowl.
Pour oil into separate med bowl.
Dip chicken legs in oil, then roll around in spice bowl, until chicken is nicely coated in spices.
Place chicken legs in crock pot with garlic cloves surrounding it.
Pour chicken broth over all ingredients.
Cook on Low for 8 hours.
After removing the chicken legs from the Crock Pot, I placed them on a cookie sheet brushed with olive oil and put them under the broiler on high for 5 minutes. This helped to crispy up the outsides some.