If you love Snickerdoodle Cookies, you will absolutely love this simple bar recipe!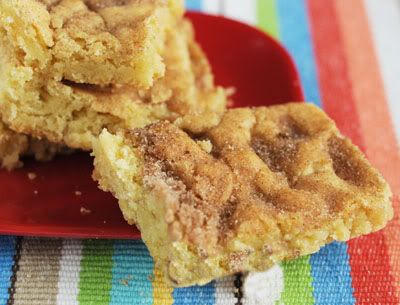 As you already know, we leave for our Spring Break vacation tomorrow morning. This morning a friend of mine graciously offered to watch my girls so I could pack and get things ready to go. I had two hours… two hours to sort through clothes, get car ride activities together, figure out what food to take, wrap up any loose ends before we leave. What do you think I did with those two hours? Well, I did pack the road snacks (which is essential when you are going to be in the car for 16 hours!) After that, I didn't do a darn thing to get ready for vacation. Nope, instead I baked some more bars! As if we did not have enough to eat on the way there, I decided my free time would best be used by baking.
I don't know what it is about me and that last minute pressure to get things done, but I thrive under it. With my deadlines for work, I cannot seem to really hammer out a great story until I have that deadline looming over my head. With housecleaning… I can get more done in the hour before my husband comes home than I do all day long.
If you are a last minute person like me, these Snickerdoodle Cookie Bars are the perfect thing for you. They take no more than 5 minutes to mix up and baking time is around 15. They are quick, so if you are into the thrill of the pressure that comes from procrastinating and realize you need to whip something up for your Bunko group tonight or for a bake sale at church this afternoon, skip running to the store to buy something from the bakery and trying to dress it up like it was your own creation. Instead, give these Snickerdoodle Cookie Bars a try… they are the procrastinators friend!
Snickerdoodle Cookie Bars
Snickerdoodle Cookie Bars (from Something Sweet)
Ingredients
1½

cups

flour

1

tsp.

cream of tartar

½

tsp.

baking soda

½

tsp.

salt

½

cup

butter

softened

3/4

cup

sugar

1

egg

1

Tbsp.

sugar

½

tsp.

cinnamon
Instructions
Preheat oven to 350F. Grease either a 9x9. (Depending on how thick you want them to be)

Whisk together the flour, cream of tartar, baking soda, and salt; set aside.

Cream butter and sugar until light and fluffy. Add egg. Gradually add flour mixture. Spread into pan.

Combine sugar and cinnamon in a small bowl; sprinkle over dough.

Bake at 350F for 14-18 minutes, or until golden brown (or a toothpick inserted near center comes out clean). Let cool in pan. Cut into bars.