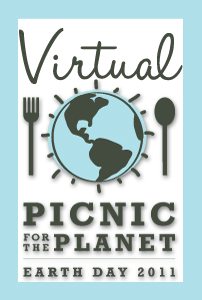 When was the last time you have been on a picnic? Not just grabbing a bucket of food at the closest fast food restaurant then heading to the park, but a real picnic… where you pack a basket, lay out a blanket under the trees, and eat a nice, slow meal together enjoying both food and nature?
This year in honor of the wonderful Earth we share, The Nature Conservancy is encouraging all of us to eat out – pack your picnic basket and enjoy lunch or dinner outside. I have teamed together with some of my blogging friends for a Virtual Picnic for the Planet. We've shared some of our favorite picnic recipes so that you, too, can plan the perfect Earth Day picnic.
White Peach Sangria might not be the perfect family picnic beverage, but I was thinking how nice it would be to have a picnic dinner party with some of our favorite friends. Wouldn't that be fun? For a picnic party with friends, this flavorful, fruity cocktail is the ideal beverage to pack.
So, lay out your blanket and get your picnic started. Pack your virtual picnic basket with all of the goodies my friends have cooked up, or create your own picnic meal. Whatever you do, get out there today and enjoy your family, friends and our beautiful planet!
Simple Bites | Pressed Sandwiches
My Baking Addiction | Mixed Berry Cheesecakes in a Jar
Bluebonnets & Brownies | Nanny's Potato Salad
Gourmande in the Kitchen | Honey Ginger Lemonade
Dine & Dish | Sangria
Add A Pinch | Herbed Tortellini Salad
Bakers Royale | Fruit Recipe Roundup
Three Many Cooks | Black and White Caviar
Food for My Family | Homemade Potato Chips and Avocado Ranch Dip
Sugarcrafter |Apple Hand Pies
Tickled Red | Tangy Potato Salad
What's Cooking with Kids | Kale Chips
Confessions of a Cookbook Queen | Mini Lemonade Cakes
TidyMom | Picnic Pies in a Jar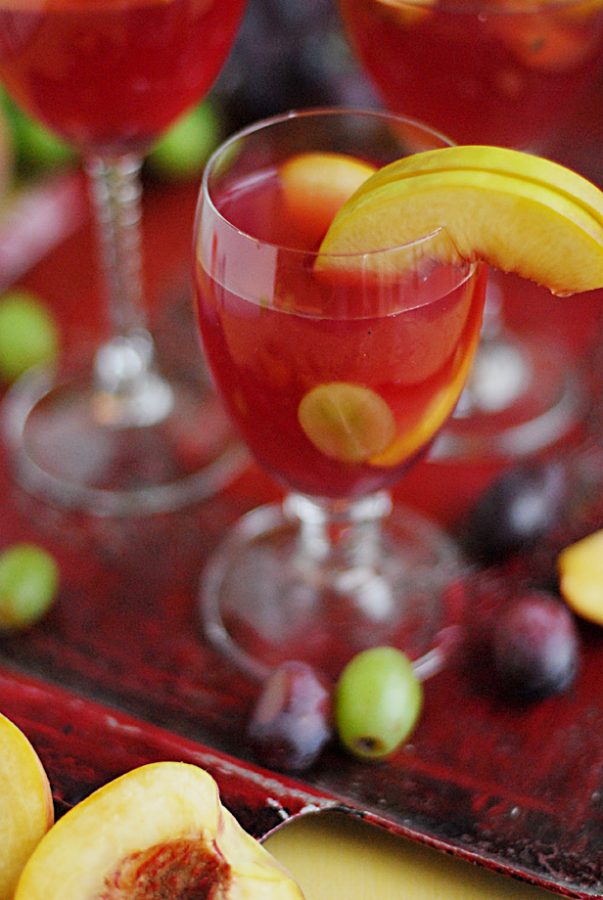 Recipe: White Peach Sangria (perfected by FoodIncs on AllRecipes.com)
1 (750 milliliter) bottle dry white wine (I used a rose Pinot Noir instead)
3/4 cup peach flavored vodka
6 tablespoons frozen lemonade concentrate, thawed
1/4 cup white sugar
1 pound white peaches, pitted and sliced
3/4 cup seedless red grapes, halved
3/4 cup seedless green grapes, halved
In a large pitcher, combine dry white wine, peach vodka, lemonade concentrate and sugar. Stir until sugar is dissolved. Add sliced peaches, red and green grapes.
Refrigerate sangria until well chilled, at least 2 hours, or overnight to blend flavors. Serve over ice, and use a slotted spoon to include sliced peaches and grapes with each serving.