A simple and satisfying Weight Watchers recipe. 
I wonder if I searched Dine & Dish, how many times over the past 11 years I have mentioned joining weight watchers? I'm guessing at least 5. Here I am again, admitting that I've joined Weight Watchers. Over the past couple of years I've lost 35 pounds, then gained 45. Now I am desperate to stop this darn cycle of struggling with my weight.
I lost the 35 pounds by being on an incredibly restrictive, low calorie, low carb, high protein diet. After losing the weight (and my hair – wierd) and reaching my goal, I realized that although the weight loss wasn't all that hard to do, sticking with that restrictive of a diet for the rest of my life was not feasible. I missed wine. And bread. So in typical Kristen all or nothing fashion (remember me talking about that before?), I went full on the opposite plan, and gained all the weight I lost and more. Ugh.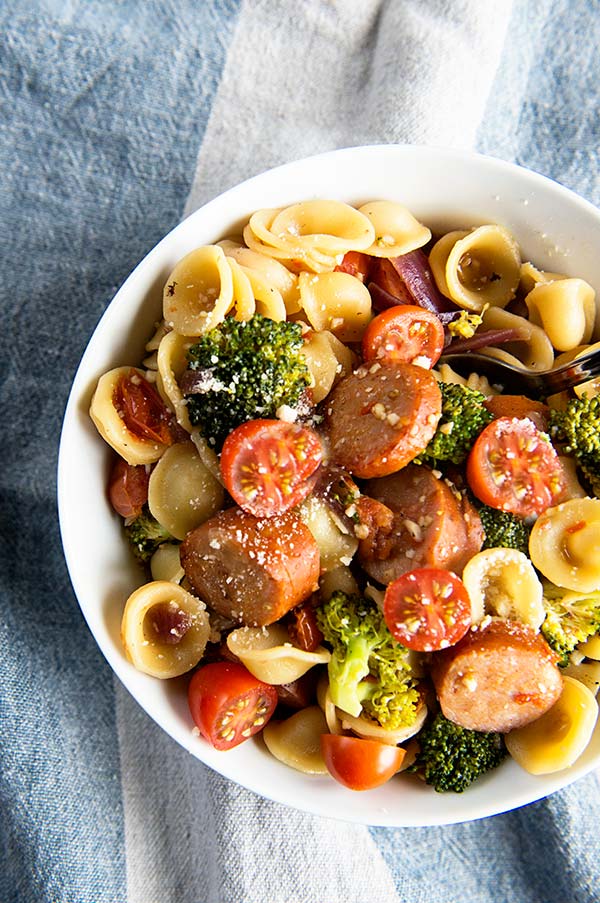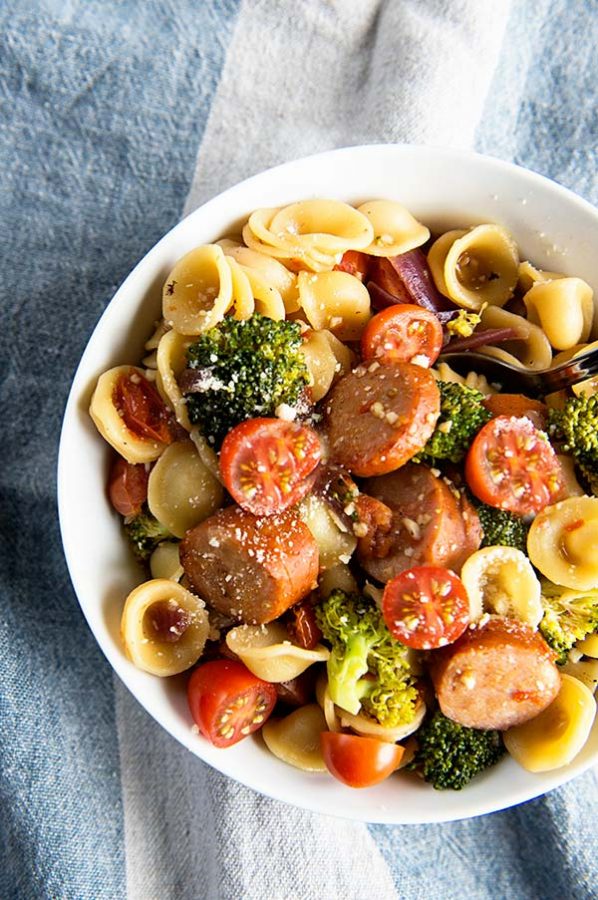 Yesterday, I found myself sheepishly stepping on the scale at my new Weight Watchers meeting, wondering if they have an award to give out to the person who has started and quit Weight Watchers the most times. That'd be me. Oh well, I'm back and feel more motivated than ever before. I've found wonderful support and resources for disordered eating from a local Kansas City blogger, Beautiful Broken Journey. If you struggle significantly with your relationship with food like I do, you'll definitely want to check her out. I especially appreciate this post, this post and this post.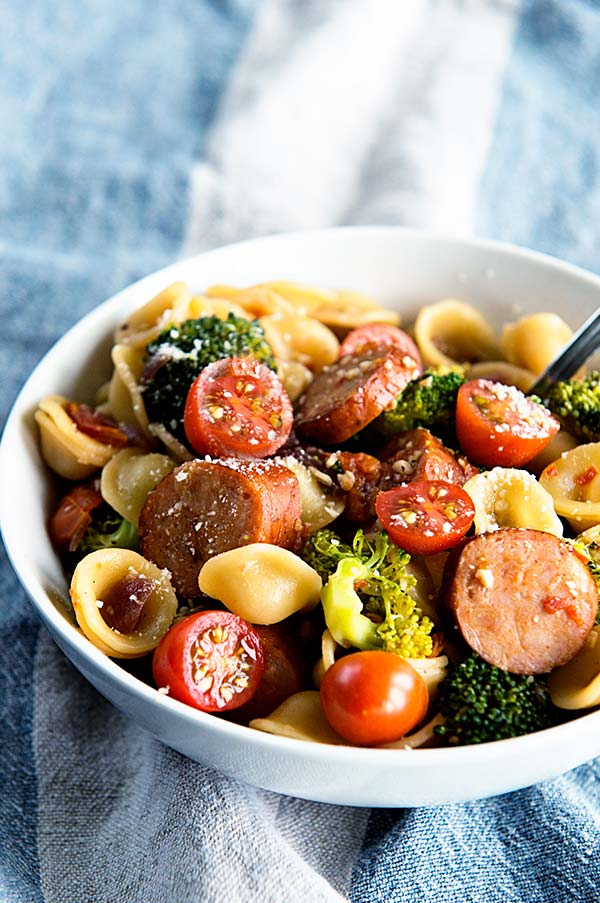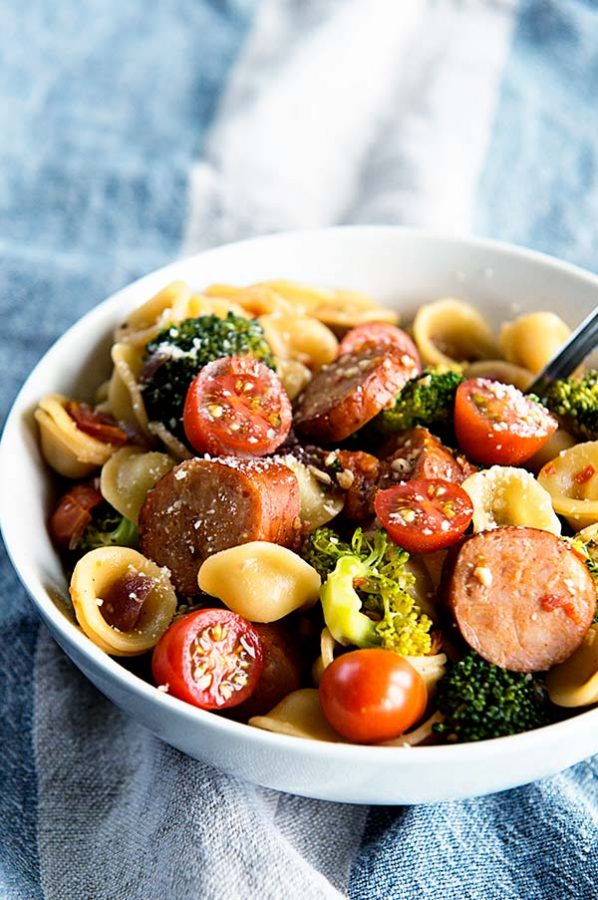 One of my favorite things about going to the actual Weight Watchers meetings versus being just an online member is 1) the in person support and 2) the little weekly digests they hand out. They always have a recipe and 99% of the time it's one I want to make right away. (Here are some other Weight Watchers weekly recipes I've shared).
Yesterday's weekly had a Weight Watchers recipe in it for Lemony One-Pan Orecchiette with Sausage and Broccolini. I decided to switch up their recipe a bit and make my version today. Here's that version and let me tell you – it's so so so good! I didn't feel one bit deprived and my family raved that they'd love to eat it again soon! With only 8 Weight Watchers SmartPoints per serving, you can bet I'll be making this often! Enjoy!
(Click here to find the original version of this Weight Watchers recipe on WeightWatchers.com).
Weight Watchers One-Pan Orecchiette with Sausage Recipe
A simple and fulfilling one-pan Weight Watchers recipe. 8 SmartPoints per serving.
Ingredients
1/2

teaspoon

coconut oil

1

pound

Andouille Chicken Rope Sausage

I used Johnsonville, sliced into small coins

1

large red onion

diced

1/2

teaspoon

table salt

3

cloves

garlic

minced

1/8

teaspoon

crushed red pepper flakes

3

cups

low-sodium chicken broth

8

ounces

orecchiette pasta

2

cups

chopped broccoli

1/4

cup

grated Parmesan cheese

divided

2

Tablespoons

lemon juice

1

cup

grape tomatoes

halved
Instructions
Warm coconut oil in a large, nonstick soup pot, over medium high heat.

Add sliced chicken sausage and cook, stirring often, until warmed through (about 6 minutes). Remove sausage to a bowl (keep warm) until later.

Add red onion and salt to the pot; cook, stirring often, until onion is softened.

Stir in garlic and red pepper flakes; cook for 1 minute.

Add broth, bring to a boil over high heat.

Add pasta to the broth and cook, stirring frequently, for 8 minutes.

Add the chopped broccoli and cook and additional 4 minutes, stirring occasionally.

Stir in cooked sausage, 3 Tablespoons of grated Parmesan cheese and lemon juice.

Garnish with halved grape tomatoes and remaining Parmesan cheese.

Yields 6 1 1/2 half cup servings.