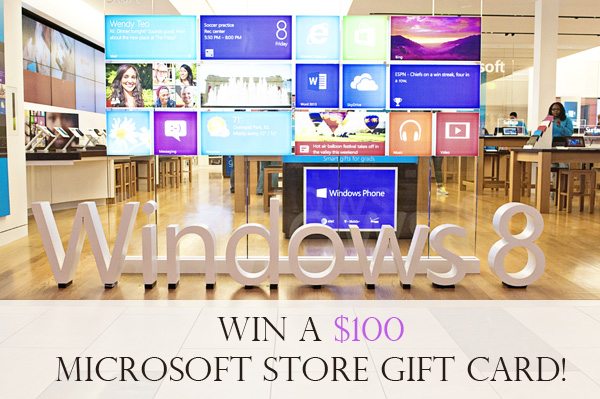 Disclaimer: This is a sponsored conversation and giveaway on behalf of Microsoft and The Motherhood. As always, all opinions expressed are my own!
You may have seen them in your mall… the new Mega Microsoft Stores popping up around the nation? If you are like me, you've probably walked by your local Microsoft Store a dozen times, have been curious, but have never gone in. I always assumed they were just for people looking to buy computers. Little did I know what all the new Microsoft Stores had, well, in store!
Last week, I had the opportunity to sit in on a webinar explaining all the features the new Microsoft Stores have to offer. I also visited the local Microsoft Store here in Kansas City and was so impressed! Moms and dads with kids home for the summer, get ready for the low down… I have a feeling you'll be wanting to spend a lot of time here this summer!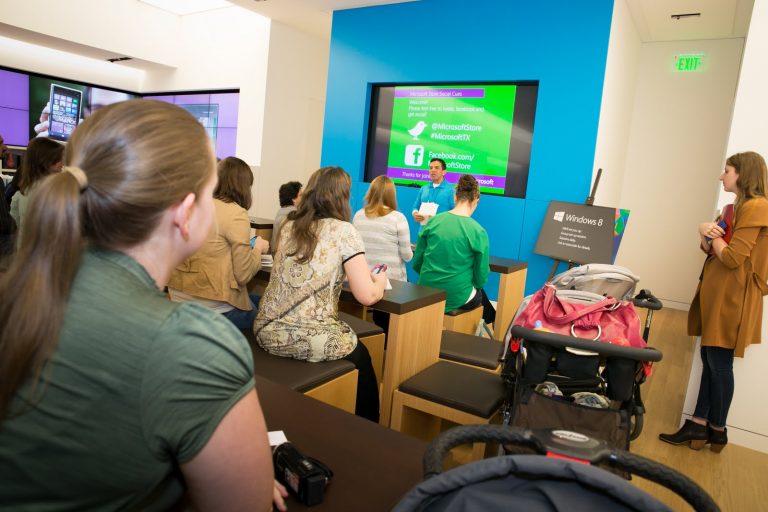 First of all, did you know that many of the Microsoft Stores offer FREE camps for kids during the summer? Isn't that awesome? The Youth Spark Summer Camps begin June 3rd and are for kids ages 8-13. They are held Monday – Friday for 2 hours a day and cover different topics like Digital Movie Madness, Digital Art Smart, Gamemasters, Storyteller Studio and more! Some of the stores even offer App Builder classes for kids 15-18! I don't know about you but I know my oldest kids would really love to learn this kind of technology – and I love that it's free! Check out the Microsoft Store Community Pages to see what's being held in your area.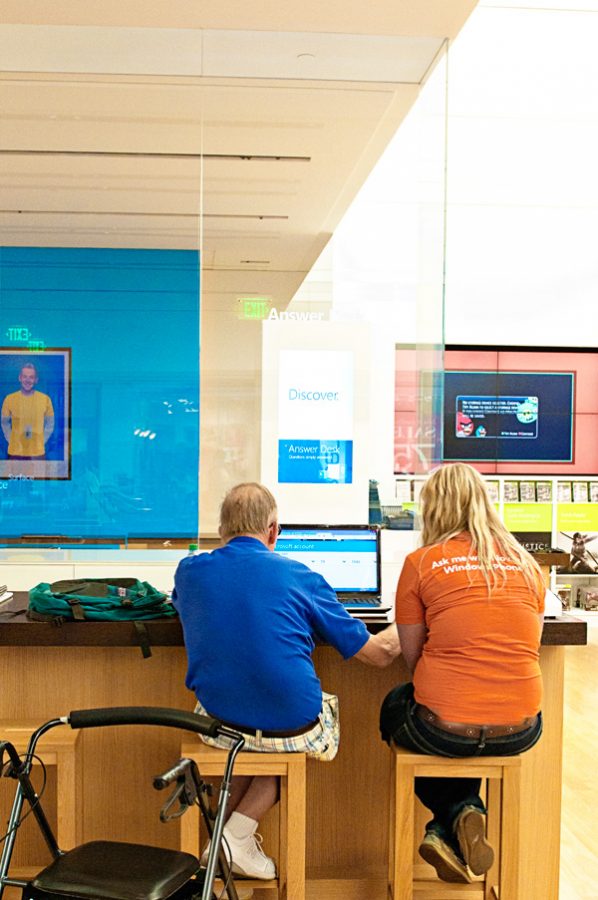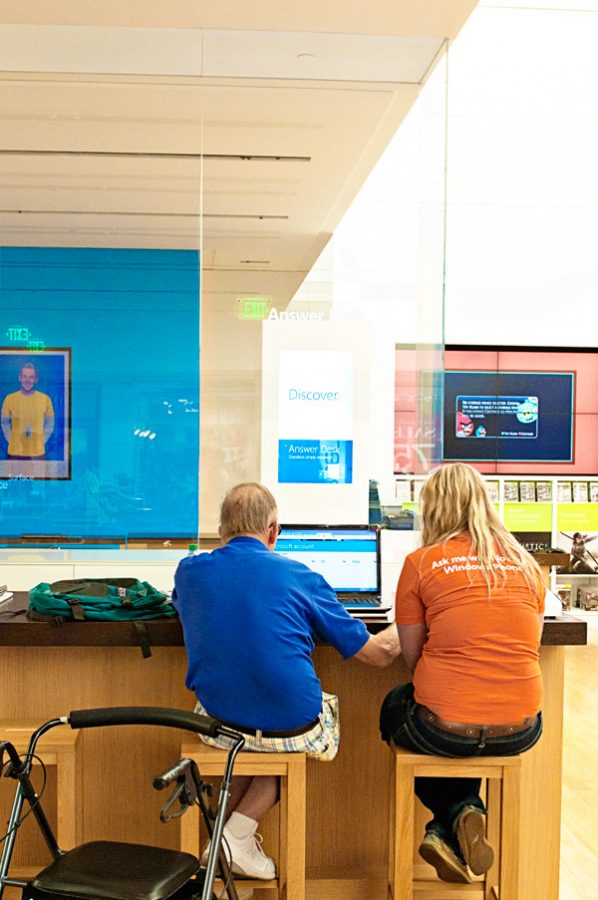 Technology can be confusing, especially when you are learning something new. The Microsoft Stores offer an in person "Answer Desk" where anyone can enjoy worry free technical support and protection. Answer Techs can answer your questions, resolve your problems, and help safeguard your new device. From your X-Box, to your Windows Phone to your Surface Tablet… you can get hands on technical support…that's a very cool thing! Again, it's FREE!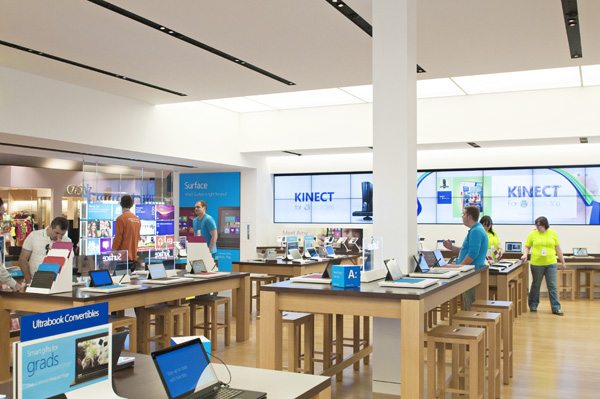 There are 35 full line Microsoft Stores across the country that have a "Theatre" space that can be reserved for small groups.  The theater space can be used for many different things: birthday parties, social networking and other events (food and drink are allowed). Those interested can tailor-make workshops, whether you're a homeschool group or blogging group, anything, to whatever meets your needs. . You can even request to come in and learn a specific curriculum! And guess what the cost is? FREE!
For gamers, for mom's night out, for technical help and so much more, the Microsoft Store has so much to offer beyond just being a retail space. Stop just passing by… next time, make sure you stop in, say hi, play an X-Box game or browse the newest technology Microsoft has to offer (like The Surface tablet or the Windows Phone… so much fun!).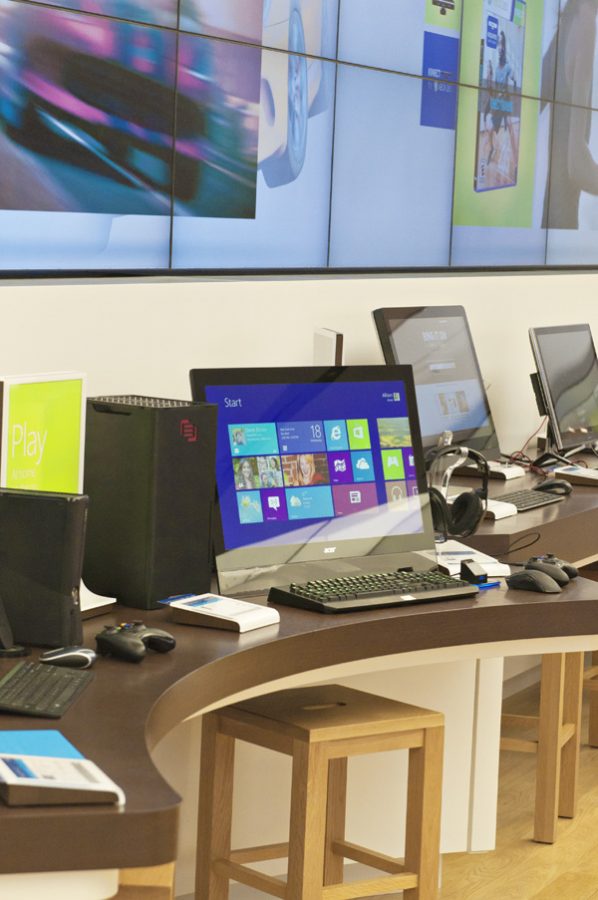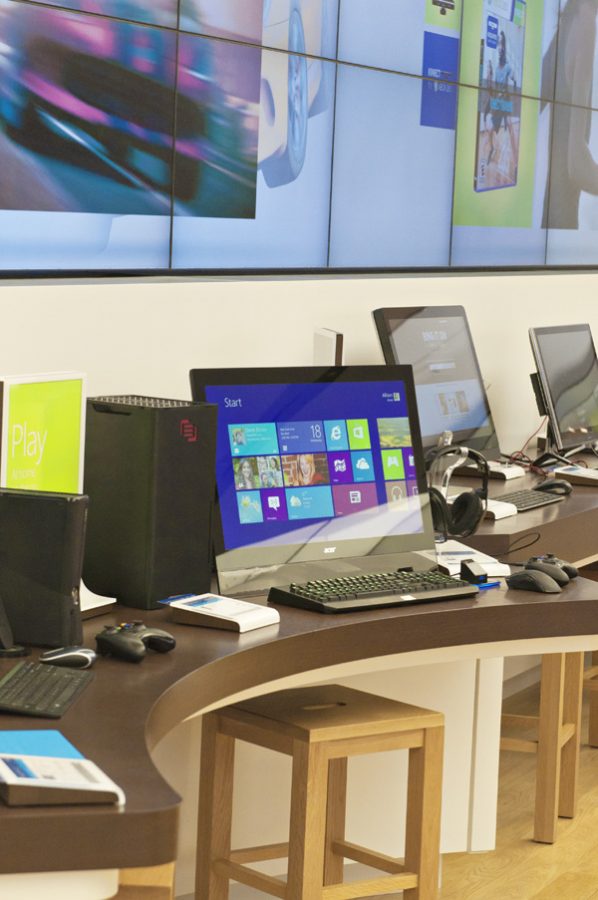 $100 Microsoft Store Giftcard Giveaway!
In the meantime, Microsoft would like to give one lucky Dine & Dish reader a chance to win a $100 Microsoft Store Gift Card!
To enter the giveaway, simply leave a comment on this post telling me what you like the most about the new Microsoft Stores.
For additional entries, share a link with info about this giveaway on any of your social media outlets. Return to this post and leave a comment letting me know where it was shared. Each place you share it will grant you an additional entry. Pinterest, Twitter, Facebook, Google+, etc are all great places to spread the giveaway love! You can easily share by using the buttons at the end of this post.
Entries must be received by midnight CST on Monday, May 20th, 2013. Winner will be chosen via Random.org and notified via valid email address.
For more fun and prizes, make sure to join us on Twitter for a party! Details below.
When: Tuesday, May 14, at 1 p.m. ET (the party will last one hour)
Where: We'll be on Twitter – follow the #GoMicrosoft hashtag to track the conversation. You can see the details and RSVP via this Twtvite:  http://twtvite.com/GoMicrosoft
Prizes: We will be giving away six prizes to randomly selected winners. Five winners who answer trivia questions during the party will receive $25 Microsoft retail store gift cards, and one grand prize winner will be chosen for a $500 Microsoft retail store gift card!
Disclaimer: This is a sponsored conversation on behalf of Microsoft and The Motherhood. As always, all opinions expressed are my own!