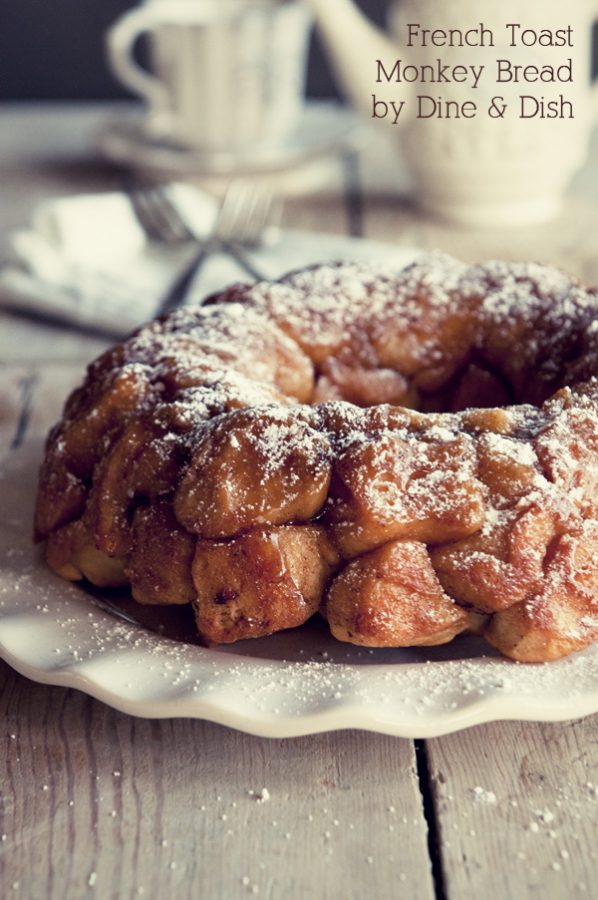 There are things I do when no one is watching that I'm not so proud of. Today, I took a giant swig of my coffee creamer.. by itself… WITHOUT the coffee.
I couldn't help it though. Have you tasted the International Delights Cold Stone Creamery Sweet Cream coffee creamer? Holy cow, that stuff is good. I mean really, really good.
I've also been known to take a nibble of KerryGold butter, by itself. We won't get into that now though.
Back to the creamer, meant for coffee…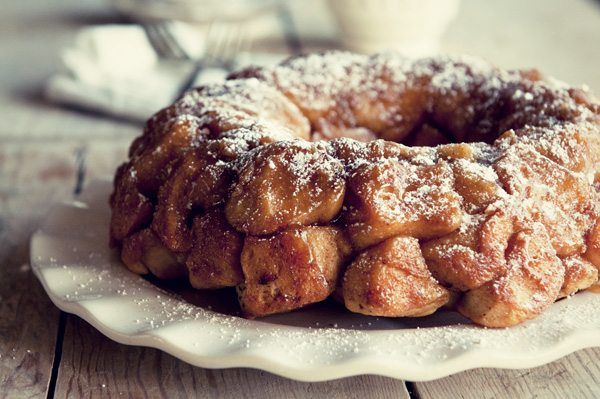 I have it bad for the creamer. So bad that I knew I couldn't have it around or I would be sneaking drinks of it, without my coffee, more often than I'm willing to admit. But, what could I make with coffee creamer to eliminate its temptation? That was the question.
As I was pondering, my mind went back to the time I made Eggnog French Toast. That was soooo good. And coffee creamer is kind of like eggnog, right? It's thick and creamy and flavorful. But, I didn't want French Toast. I wanted Monkey Bread. So I did what any normal person would do and made what I am calling French Toast Monkey Bread, and used my International Delight tastes so good it should be illegal coffee creamer to up the ante on this creation.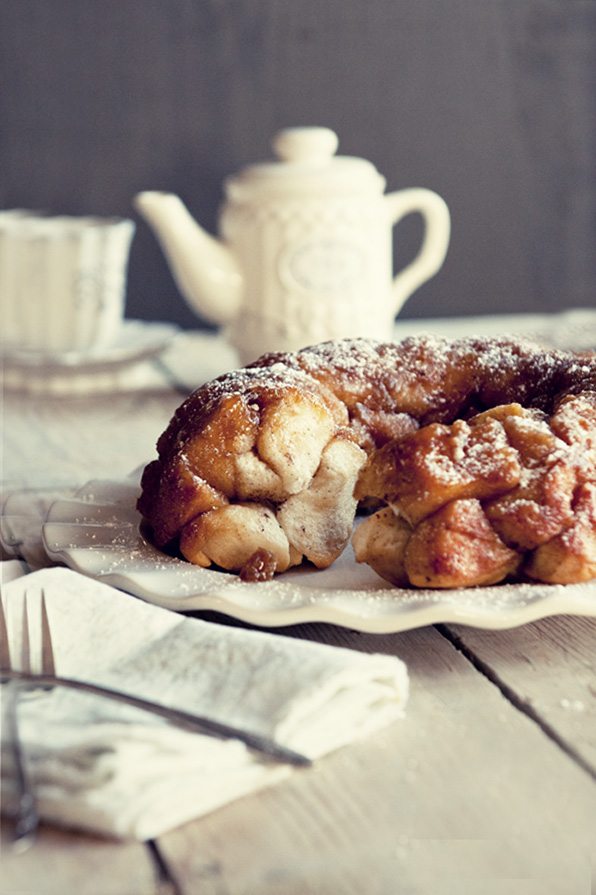 This Monkey Bread isn't actually toasted…but each piece is dredged in a thick and creamy egg custardy situation, with cinnamon and brown sugar and all that's good in the world.
Who knows what you'll do when no one's watching with something this good around?
Naturally, this can be made with regular whipping cream instead of coffee creamer (but why would you?). I topped mine with a buttery brown sugar mixture, but I wonder what would happen if you used a maple syrup concoction instead, for a more "French Toast" topping flavor? I'm going to find out soon and will let you know!
Also there's a regular, non-"French Toast" version of Monkey Bread recipe over here.
French Toast Monkey Bread
A unique twist on an old favorite - French Toast Monkey Bread! Great for breakfast or for snack!
Ingredients
1

cup

heavy whipping cream or International Delight Cold Stone Creamery Sweet Cream coffee creamer

2

eggs

beaten

2

Tablespoons

ground cinnamon

2

Tablespoons

vanilla

2

cans of Pillsbury buttermilk biscuits

1/2

cup

butter

melted

1

cup

brown sugar

Powdered Sugar

if desired
Instructions
Heat oven to 350°F. Lightly grease 12-cup fluted tube pan with shortening or cooking spray.

Whisk together cream, eggs, cinnamon and vanilla.

Cut each biscuit into quarters. Dip each biscuit in the cream mixture and place in the fluted tube pan. Continue until biscuits are all coated and evenly distributed in the pan.

Combine the butter and brown sugar and pour evenly over biscuit pieces.

Bake 28 to 32 minutes or until golden brown and no longer doughy in center. Cool in pan 10 minutes.

Turn upside down onto serving plate and sprinkle with powdered sugar; pull apart to serve. Serve warm.