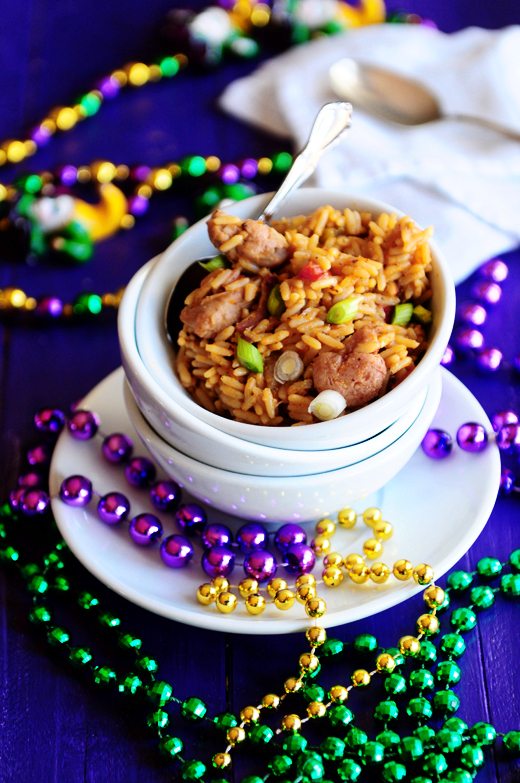 I mentioned in a Project 365 post a couple weeks ago that I had recently returned from spending a few days in New Orleans with Zatarain's. I've been meaning to write about my trip since then, but have honestly had a really hard time trying to condense what I want to share with you into a post worthy of the experience.
Photo courtesy of Laura
Let me start off by introducing you to the 2012 Zatarain's Blogger Ambassador Krewe… most of us started off as strangers but after a few fun days together, we became fast friends. We all have different personalities and our styles all vary, but we meshed together so well. It was a perfect fit all around. From left to right: Jim, Manyana, Rachel, Laura, Steph and Myself.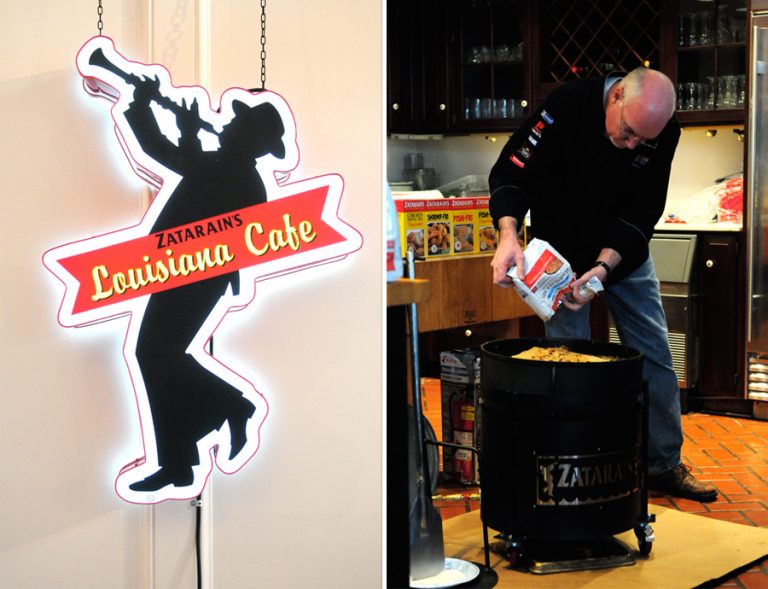 Zatarain's, a signature part of New Orleans cooking for over 100 years, invited us to New Orleans for a complete immersion experience. They wanted to bring us into the company to learn all about them as well as immerse us in the culture of New Orleans. What I discovered is the two go hand in hand.. one isn't possible without the other.
Zatarain's is a company with heart and soul, just like the city it is located in. We all know Zatarain's as a leader in the spice, seasoning and rice mix market, but what stood out to me the most was Zatarain's strong values and family centered focus. The sense of family and values was loud and clear every where you turned. How many company's this size do you know who stop midday and eat lunch together "as a family"? Right… that's pretty rare, isn't it?
I was surprised to find New Orleans to be the same way.. a very family centric city. As someone from Kansas, I imagined New Orleans  to be a booze loving, shirt lifting, do anything for beads kind of town. Sure… there is some of that, but for locals, the absolute heart of New Orleans and the Mardi Gras season is family and community.
Well, family, community and food. I have never been to a city with such a vibrant food scene like this one. Rich in history, rounded in tradition, and centered on quality, New Orleans is a food lovers dream land. Thanks to New Orleans own Chef John Besh, we experienced an afternoon and evening of eating and drinking like nothing I've ever been a part of. Experiencing the restaurants Borgne, Domenica and August are a must if you visit New Orleans. If you go, you can expect wonderful hospitality and some of the most amazing food you'll ever taste. Come hungry because you will leave stuffed!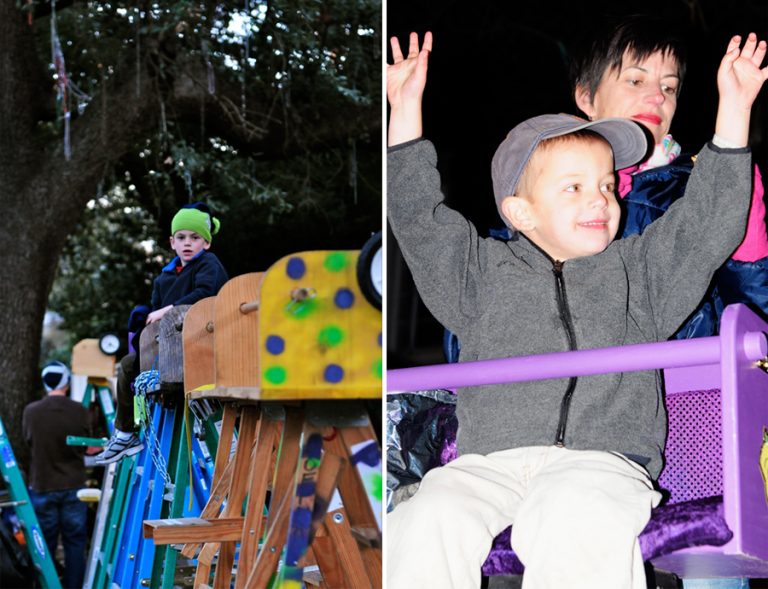 I feel honored to have been welcomed into the Zatarain's family and to be embraced by the kindhearted people of New Orleans. We experienced some Mardi Gras parades while we were there and I cannot wait to take my kids someday. I can't put into words this experience but can tell you that a Mardi Gras parade with the family and community of New Orleans is like nothing I've ever experienced… in a very good way. It's a vibrant, fun filled, surreal experience.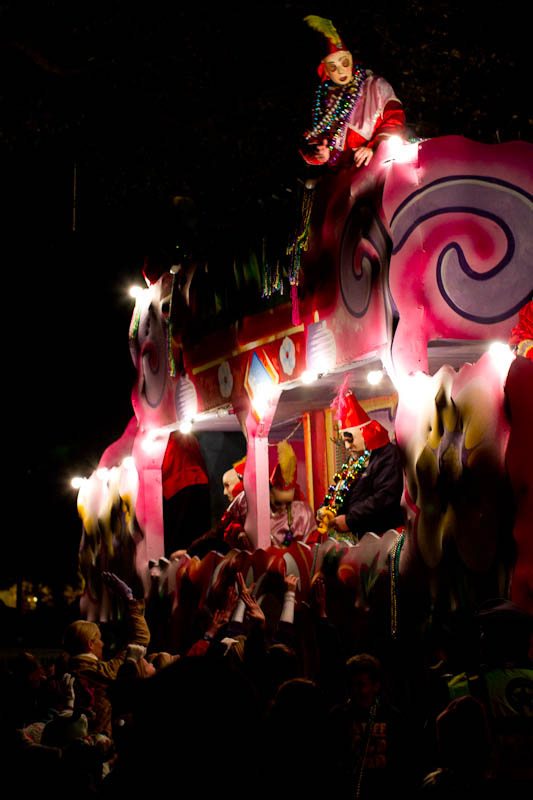 Photo courtesy of Steph
A special thanks to Zatarain's for opening my eyes and heart to your great company, to Chef John Besh for stuffing us full of food and drinks and for the great hospitality of your chefs and staff, and to the city of New Orleans for just being you… I fell in love.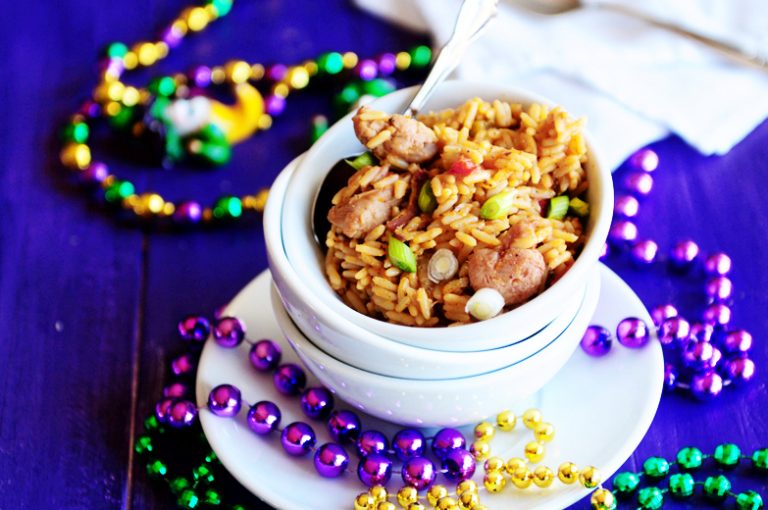 I'm sharing a recipe today that was served for lunch while we were at the Zatarain's headquarters. This recipe comes from the Zatarain's kitchen and is a "Jazzed Up" version of Zatarain's boxed Jambalaya. It is seriously the best Jambalaya I've ever tasted. Enjoy!
Recipe: Zatarain's Jazzed Up Jambalaya
1 80z box Zatarain's Jambalaya Mix
2.25 cups water
4 ounces bacon
12 ounces smoked pork sausage (cut in moons)
12 ounces bite size pieces chicken thighs
4 ounces creole seasoning
1 yellow onion, chopped
1 stalk celery, chopped
1 bell pepper, chopped
2 cloves garlic, minced
1 quarter cup green onions
In a medium sized pot, fry down bacon until cooked, remove bacon (leave drippings). Add smoked sausage, cook unitl it starts to get brown, then remove.
Rub chicken thighs with creole seasoning. Add chicken thighs to the pot and cook till pieces are starting to brown. When finished add back the sausage and bacon with the vegetables. Cook for around 5 minutes.
Add water and bring to a boil. Add the Jambalaya Mix and stir and cover.
Bring back to a boil and reduce heat to a simmer and cook for around 20 minutes (or until most of the water is gone) stirring occasionally. When done turn off heat, uncover, stir in green onions, recover and let stand for 5 minutes. Serve and Enjoy.
 I am a compensated member of the Zatarain's Blogger Ambassador Krewe. As always, all opinions expressed are my own.
I am linking this post to I'm Lovin' It on TidyMom!