A classic Banana Cream Pie recipe, topped high with homemade meringue is just like the pie my grandma used to make.
There is one thing I've discovered as I have learned to make homemade pie. The more I do it, the more I miss my grandma.
As I was beating the egg whites together for the meringue of this banana cream pie, tears sprung to my eyes .
Grandma was our family pie maker. She made the absolute best pies. She would make dozens of pies for every family gathering. No matter what, she would always cater to everyones favorites. From apple, to pumpkin, to pecan, to my favorite banana cream pie, if there was a pie someone wanted, Grandma would bring it. I can only imagine how much work went into her epic pie baking days.
I always remember her pulling up to our house on family occasions, with copy paper boxes full of homemade pies. It would take several trips from her car to our house to bring all the pies in.
Grandma pulling up to our house would stop everyone in their tracks. We all couldn't wait to see how many of our favorite homemade pies she would bring this time. Once the pies were in the house and displayed on their pie plate, it took every ounce of willpower to not take a nibble. Often times, we'd find pieces of meringue picked off the pies with a chorus of "it wasn't me" when confronted.
Grandma Sumner has been gone for 13 years now, but I can remember her pies like it was yesterday. I think she'd be really proud of me. I wish I would have learned to love making pie sooner. I'd love so much to make my favorite banana cream pie alongside her. Although, I have no doubt she's right here beside me anyway. With every fluff of meringue, I'm quickly taken back to those times when she was still with us.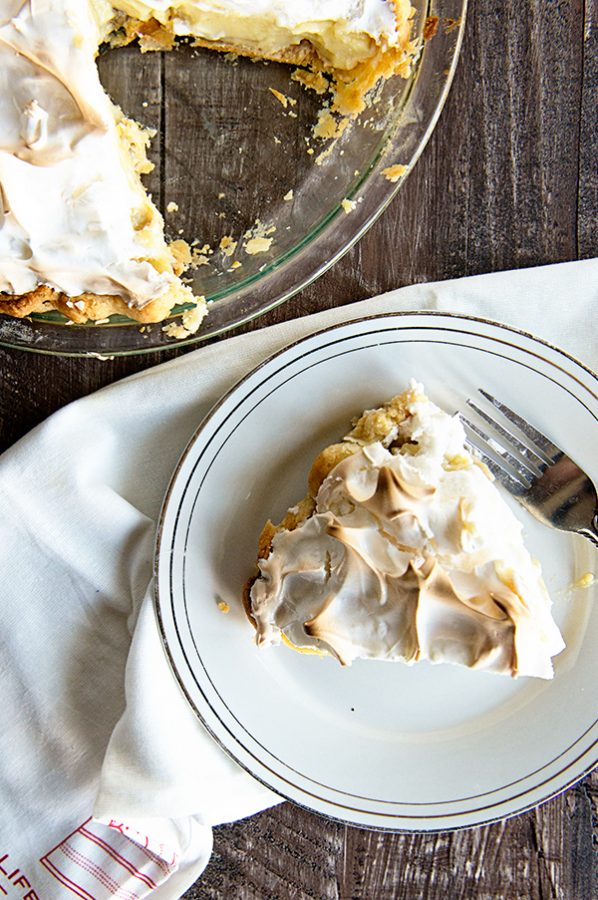 This banana cream pie recipe is the one my Grandma Sumner used to make, my mom makes and now I make. It's a classic recipe from the most used cookbook on my bookshelf…the Better Crocker's Cookbook. I actually think this was the first cookbook I have ever owned.
The page this recipe is on is full of the recipes Grandma used for her homemade pies. It is so splattered and worn, you can tell it's a great recipe. Grandma always said, a messy cookbook page is the map to find the absolute best recipes. With this banana cream pie recipe she was especially right.
Above all, there's a reason this recipe is a staple. Its rich, creamy full of flavor banana pudding pie filling can't be beat. Add to that the most perfectly fluffy homemade meringue and you have homemade pie perfection.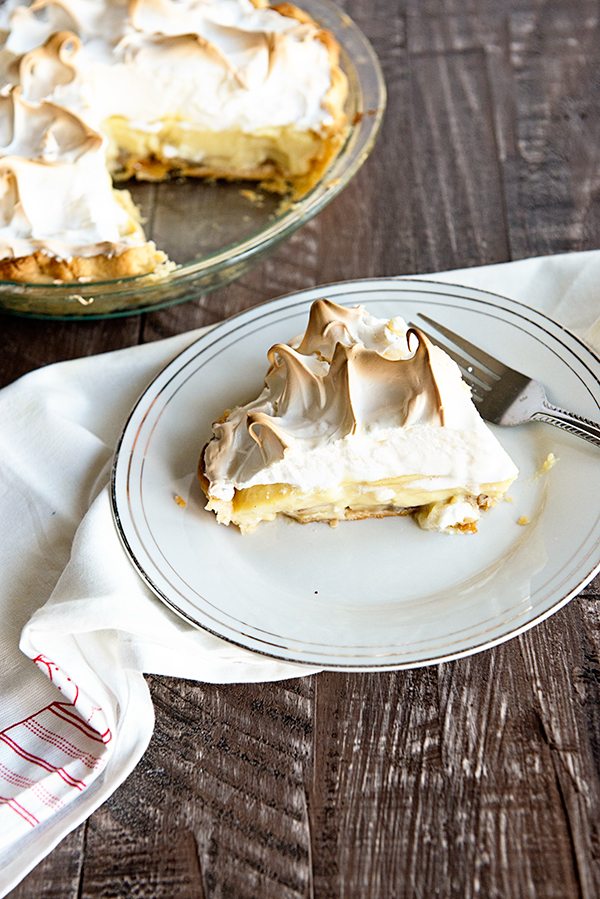 Banana Cream Pie is my absolute favorite and is a must have for dessert on both Thanksgiving and Christmas. I think this pie should be come a tradition in your family too! I hope you'll give it a try. Enjoy!
For tips and and a recipe for perfectly flaky pie crust, visit my video tutorial post.
Making the perfect pie crust has always been the one thing keeping me from making pie. The post linked above will teach you how to easily make a perfectly flaky pie crust. In fact, there's a special tip that my friend DeLynn taught me that made all the difference. I'll tell you now, the secret is in the paste. Wonder what I mean? Make sure to check out the video tutorial! It will change how you make pie crust from here on out. For
For this pie recipe you'll want to blind bake the crust at 400°F for 12-14 minutes, until light brown.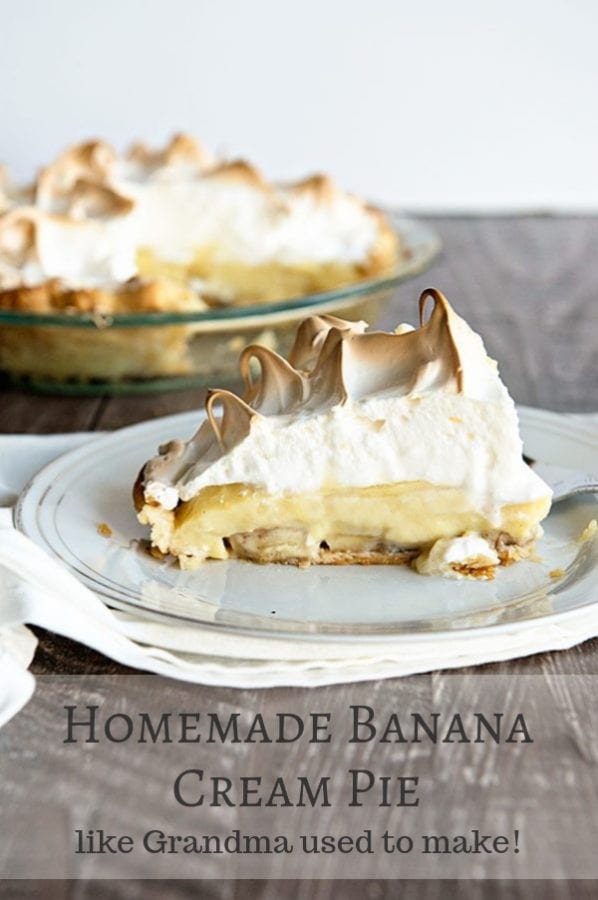 Tips and tricks for making Banana Cream Pie
Fully ripe, sliced bananas make for the best banana flavor. Bananas that aren't quite ripe don't have the same full flavor, so choose ripe bananas for this recipe.
Separating egg yolks from the egg whites is a pain. This egg seperator tool makes it such a simple task for high volume recipes like this one.
The biggest challenge with this recipe is remembering to be attentive when cooking the pie filling. Stir the mixture continuously, as milk products have a high tendency to burn easily. The last thing you want is little bits of burnt pudding ruining your banana cream pie.
If you aren't a fan of meringue, an alternate topping would be fresh whipped cream. If you make this substitute, just skip the meringue steps in the recipe below. I recommend topping the pie with homemade whipped cream right before serving.
Although I love banana cream pie with traditional pie crust, you can easily make graham cracker crust instead.
Finally, if you want to skip the pie for a simple dessert, this Banana Pudding Recipe would be a great alternative.
Banana Cream Pie Recipe
A classic Banana Cream Pie just like my Grandma Sumner used to make.
Ingredients
For the pie filling:

1 9-

inch

pre-baked pie shell

follow my instructions here for a perfect pie crust

2/3

cup

sugar

1/4

cup

cornstarch

1/2

teaspoon

salt

3

cups

milk

4

egg yolks

slightly beaten (reserve the egg whites)

2

tablespoons

butter

softened

1 1/2

Tablespoon

vanilla

2

large bananas

sliced

For the meringue:

3

egg whites

1/4

teaspoon

cream of tartar

6

Tablespoons

sugar

1/2

teaspoon

vanilla
Instructions
For the pie:


Mix sugar, cornstarch and salt in a saucepan. Gradually stir in milk. Cook over medium heat, stirring constantly, until mixture thickens and boils.Boil and stir 1 minute.

Stir at least half of the hot mixture gradually into egg yolks. Stir into hot mixture in saucepan. Boil and stir 1 minute; remove from heat.

Stir in butter, vanilla.

Place sliced banans in single layer in the pre-baked pie shell

Pour pudding mixture into the pre-baked pie shell over the bananas.

For the meringue:


Beat egg whites and cream of tarter in the bowl of an electric mixer until foamy. Beat in sugar, 1 Tablespoon at a time; continue beating until stiff and glossy and stiff peaks form. Do not underbeat.

Beat in vanilla.

Spoon meringue onto hot pie filling. Spread over filling, carefully sealing meringue to the edge of crust to prevent shrinking or weeping. Using the back of a spoon, gently press down on the meringue and lift lightly to form peaks all over the top.

Place in a preheated 400°F oven and bake for 8-12 minutes or until meringue is lightly browned.

Cool pie and slice to serve. Refrigerate any leftovers.
Notes
Adapted from the Betty Crocker's Classic Cookbook
Finally, our Disclaimer: This post may contain affiliate links. As an Amazon Associate, I earn from qualifying purchases. For more information about our site policies, visit our disclosure and site policy page here.