Pumpkin Pancakes, just like the ones they serve at your favorite local pancake house. But now you can make them right at home with this recipe!
This pumpkin pancakes recipe was originally posted on Dine & Dish on 12/23/2008. I gave it new life with fresh photos on 11/5/2020.
I seem to be out of words tonight, but luckily sometimes there are things that don't need much of an introduction. This Copycat Pumpkin Pancakes recipe is an International House of Pancakes ® copycat recipe. You wouldn't think that a couple of measly little tablespoons of pumpkin and cinnamon would change the flavor of a simple pancake that much, but these are absolutely divine. Fluffy, melt in your mouth, full of pumpkin flavor delicious!
IHOP is one of my favorite places to eat pumpkin pancakes…they certainly know how to do this awesome breakfast food well, don't they? I guess that should be expected since they do have the word "pancakes" in their name! It'd be quite a shame if they struggled with making a decent pancake.
One of our favorite things to do as soon as it turns fall is to head to IHOP for our annual Pumpkin Pancake Breakfast. After that one initial time in the fall, we skip heading out to the restaurant and instead make this recipe instead. It tastes almost exactly like the pumpkin pancakes you find at IHOP, but you don't have to leave your house or even change out of your pajamas. You can enjoy making this pumpkin pancake recipe right from the comfort of your own home, and they are much more affordable, I'll add.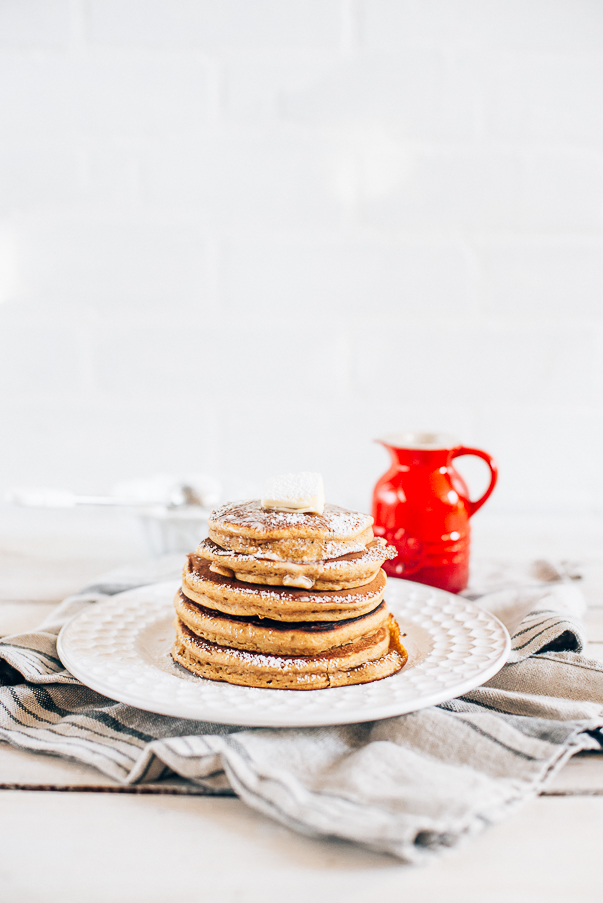 Are you ready to crack open a can of pumpkin this season to make the most perfect fall breakfast? If you are and are a fan of pumpkin pancakes, definitely give this IHOP Copycat Recipe a try! We've been making this recipe since 2008 and it's always the one we come back to time and time again. Enjoy!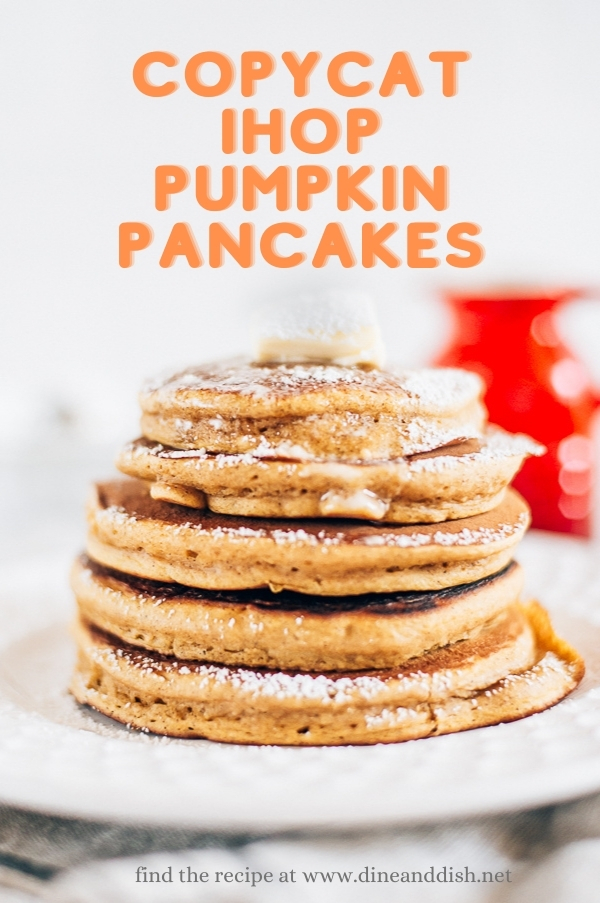 Copycat Pumpkin Pancakes
This copycat pumpkin pancake recipe delivers the same tender pancakes you'll find at your favorite pancake house in the fall!
Ingredients
2

eggs

1 1/4 

cups

buttermilk

4 

tablespoons

butter

melted

3 

tablespoons

canned pumpkin

1/4 

cup

granulated sugar

1/4 

teaspoon

salt

1 1/4 

cups

all-purpose flour

1/2 

teaspoon

baking powder

1/2 

teaspoon

baking soda

1/4 

teaspoon

cinnamon

1/4 

teaspoon

pumpkin pie spice
Instructions
Preheat a skillet over medium heat. Coat pan with oil cooking spray.

Combine eggs, buttermilk, butter, pumpkin, sugar, and salt into a large bowl. Use an electric mixer to blend ingredients.

Combine remaining ingredients in a small bowl. Add dry ingredients to wet ingredients and blend with mixer until smooth.

Pour the batter in 1/4 cup portions into the hot pan. Should form 5-inch circles.

Flip the pancakes and cook other side for the same amount of time, until dark brown.
Are you looking for some more recipes utilizing pumpkin? Check out what these food bloggers are cooking up!