A Hot Buttered Rum recipe gets a fall like twist with spiced rum and pumpkin spiced butter!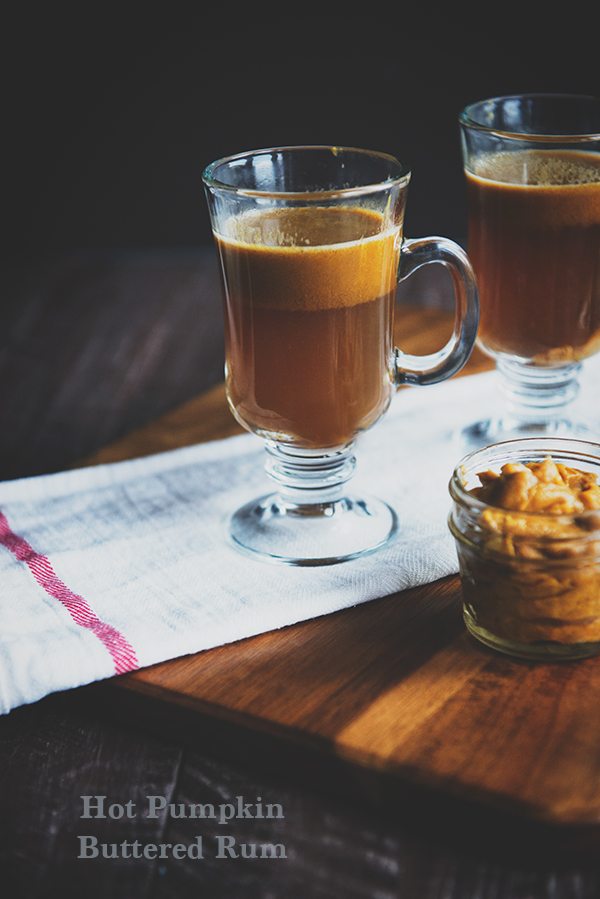 Hot Buttered Rum… I can't think of a better cocktail to curl up with on a cold, fall day. I actually hadn't had Hot Buttered Rum before until a few weeks ago. I was visiting a friend one evening and as I sat down, she handed me a cup of this steamy, warm, smooth and buttery beverage. I was instantly hooked…and was also wondering what took me so long to get this concoction into my life. It was love at first sip, as it totally warmed me up from the inside, out.
When I think of cocktails I often think of my friend, Jessica, from the How Sweet Eats blog. I'm sure you all know Jessica. And I'm sure you all know that she is expecting a baby very soon! What you may not know is that Jessica continued to post cocktail recipes even after she found out she was pregnant just so her internet friends wouldn't suspect something was up. That's some serious cocktail dedication!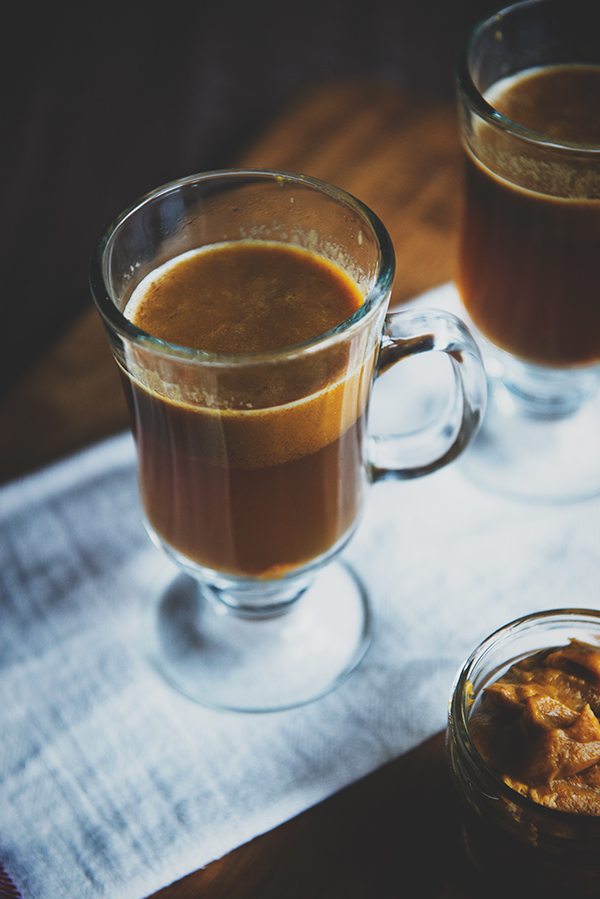 When I was invited to share a "trashed up" recipe for Jessica's virtual baby shower, I knew that it had to be a cocktail. And after my first sip of Hot Buttered Rum a few days ago, I knew that my cocktail was going to be a trashed up version of my new favorite drink.
I wouldn't necessarily say adding pumpkin puree and pumpkin spice to a hot buttered rum cocktail is trashing it up… it may be very much the opposite. It's more like a natural marriage of fall like flavors with the sole purpose of being together. It's a very good thing.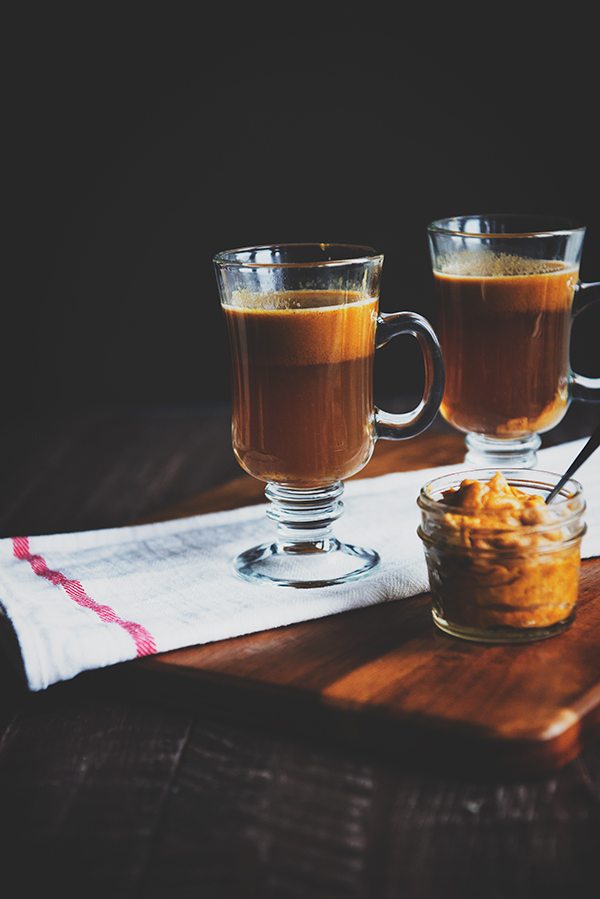 I hope you all will join me in wishing Jessica a very happy and simple transition into motherhood. And Jessica, I can't wait to be texting with you about your baby the way we text about all of those other internet babies we love. You are going to be a great mom, and I'm super excited to meet your little bundle of chubs! Much love to you, friend!
Join me in celebrating Jessica from How Sweet Eats Virtual Baby Shower!
Visit the blogs below to see what great things they've cooked up and scroll below to the bottom for my trashed up Hot Buttered Rum Recipe!
trashed up salads
Gimme Some Oven – Asian Broccoli Salad with Peanut Sauce
The Lemon Bowl – Brussels Slaw with Tahini Dressing and Za'atar Crostini
With Style & Grace – Kale Salad with Apple, Hazelnuts & Bacon
trashed up cocktails
Dine & Dish – Hot Buttered Rum Cocktail
Food For My Family – Cranberry Orange Dark and Stormy Cocktail
Minimalist Baker – Bourbon Pumpkin Milkshakes
Stylish, Stealthy & (sometimes) Healthy – Apple Cider Shandy
A Spicy Perspective – Preggy Punch Mocktail
Girl vs. Dough – Boozy Maple Peanut Butter Cup Milkshake
Honestly Yum – Maple Bacon Pisco Sour
Cookin Canuck – Pink Grapefruit Margaritas
A Thought For Food – Mezcal Citrico Cocktail
A House in the Hills – Pomegranate Rosemary Spritzer
The Novice Chef – Ginger Bourbon Apple Cider
Bran Appetit – Citrus Cider Punch Floats
trashed up burgers
trashed up tacos
trashed up desserts
trashed up pizza
Hot Pumpkin Buttered Rum Cocktail
A traditional hot buttered rum cocktail gets a fall update wtih the addition of pumpkin puree and pumpkin pie spice!
Ingredients
1/2

cup

butter

softened

1/2

cup

dark brown sugar

1/2

Tablespoon

pumpkin pie spice

1/2

cup

pumpkin puree

1

cup

dark spiced rum

3

cups

boiling water
Instructions
Beat butter, brown sugar, pumpkin pie spice and pumpkin puree in a blender on medium speed until combined, about 1 minute.

Whisk together 2 tablespoons spiced pumpkin butter with 2 ounces dark rum in each of 4 heatproof glasses. Pour 3/4 cup boiling water over each, and stir.

Serve warm and enjoy!