I started training to run a 5K back in mid January. Mid-January I went from being pretty much sedentary, to getting my body moving.
During my training I learned all about pace, heart rate, strengthening your core, etc. I worked hard, lost weight, gained energy and confidence and felt better about myself than I honestly could ever remember. Running made me feel strong, competent and mentally tough. I was happier, more focused, my marriage was strengthened and I became a better mom…all because of running.
I ran my first 5K race on April 14th and again… as much as I can't believe this is me saying this… I loved it. I loved the feeling I had when I was done. I loved being able to say I finished and ran the whole way. I loved the sheer amount of emotion that overcame me as I gathered together with hundreds of other people to do something good for our bodies, minds and souls. I, at that moment, loved running.
2 weeks later, my trainer I had been working with left the gym I was going to and I broke 2 toes on my foot. I felt a bit lost without my trainer and the toe breaking thing was a major setback. I obviously couldn't run, so what did I do? I stopped exercising and being active all together. Since April 14, I have ran 4 times… and it's been hard. I'm not loving it. I'm not able to run as far and as fast as I was, but I remember how good it felt to be able to say "I'm a runner" and to have the strength and endurance to do this. I want to feel that way again.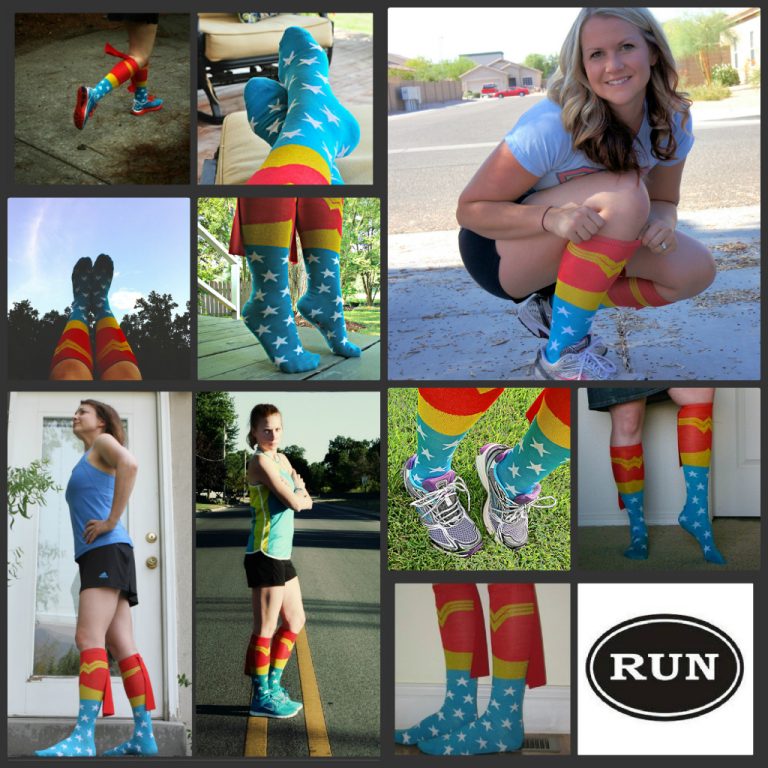 The fearless Red Faced Runners in our Super Hero socks (not in order pictured): Cindy from Once Upon a Loaf , Dara from Cookin' Canuck, Amy from She Wears Many Hats, Bridget from Bake@350, Lori from Recipe Girl, Katrina from In Katrina's Kitchen, Robyn from Add a Pinch, Carolyn from All Day I Dream About Food, Krista from Budget Gourmet Mom, Shawn from I Wash…You Dry
I have been so blessed to have found my virtual running team through a silly little comment I left on Twitter one day about being a "Red Faced Runner". Other "red faced runners" came forth, and over the last few months, we have found strength and support in each other, even though we are all thousands of miles away from each other. Each of us is at different stages of running, run different speeds, have different running goals… but the most important thing is we cheer each other on and support each other. Something, I believe, you definitley need if you are a runner.

We want to pull YOU into our fold. Are you up for it? Let's train and run a 5K together! I would love to have you join us.
On September 8th, we have all chosen 5K's in our own towns to run. We'd love to encourage YOU to run with us! Pick a 5K in your hometown and let's train together to do it! Are you in? Good!! That makes me happy!!
To find a 5K race where you live visit Running in the USA or Active.com. Once you've chosen your race, will you please come back and tell me which one you are doing? Also, please share your progress as you go along and I will do the same. We've created a Red Faced Runners 5K Challenge hashtag… tag any photos or tweets with #RFR5K 🙂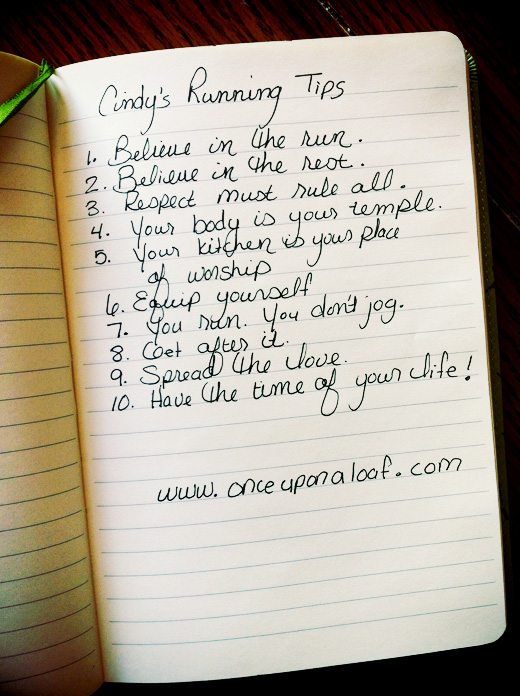 I am so lucky to have bumped into Cindy from Once Upon a Loaf during my journey to running. She is a brilliant, kick butt runner who is all about helping the rest of us get to the level we want to be. If you are a running newbie or as experienced as they come, I guarantee you can learn from Cindy! She has shared a GREAT post over at Dara's site (including a training plan) that you MUST go read. In that post she hammers out her top 10 tips for running and shares incredible bits of wisdom for runners at all levels.
Please leave a comment on this post if you plan on joining our challenge. I'd love to keep in touch and keep tabs on each other throughout! I know it's scary and you are probably thinking of all the reasons you CAN'T, but trust me… you CAN!
It's all about support… I'm glad to have yours and can hopefully be a source of support for you as well. Thanks all and happy running!!
Disclosure: This blog post contains affiliate links. As an Amazon Associate, I earn from qualifying purchases.