When simple is what you want, these soft and chewy vanilla butter cookies do the trick!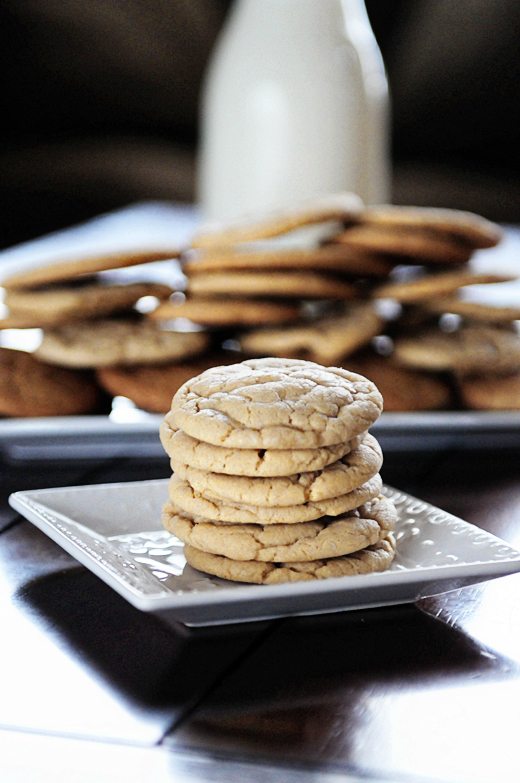 If you haven't noticed by browsing Pinterest or your favorite food blogs lately, Valentine's Day is right around the corner. It seems the entire internet has erupted in a fit of red and pink!
I wouldn't say I love Valentine's Day. I learned long ago, after a little phone chat with a famous TV Doctor, that piling up huge expectations on your loved one for Valentine's day is not the greatest idea in the world. I found that even though my husband treats me awesome, does really nice things for me all the time, does the laundry, helps with the kids, works really hard so I can stay home to work and care for our kids, helps clean house, buys me nice things, runs errands, deals with my occasional high maintenance moodiness, helps out with dinner, etc, etc, etc. I was often becoming disappointed on the one day out of 365 that he wasn't quite hitting the mark.
Seems a little backwards, doesn't it? Don't get me wrong, I think it is fantastic that there is one special day out of the year to go out of your way to show someone you care about them, but putting all your expectations and hopes on that singular day is not what it should be all about. Look at what your Valentine does for you every other day of the year and I imagine you'll find they measure up beyond what a dozen roses or a new necklace would be worth.
I'm pretty lucky that my Valentine is a simple guy. His favorite cookies, a bowl of ice cream and a back rub and he's a happy camper. So, this is why I'm presenting to you my simple Valentine's day recipe… my husbands favorite cookies. Soft & Chewy Vanilla Butter Cookies are exactly what their title says. They may not be red, heart shaped, or elaborate but sometimes keeping it simple is the best way to hit the mark.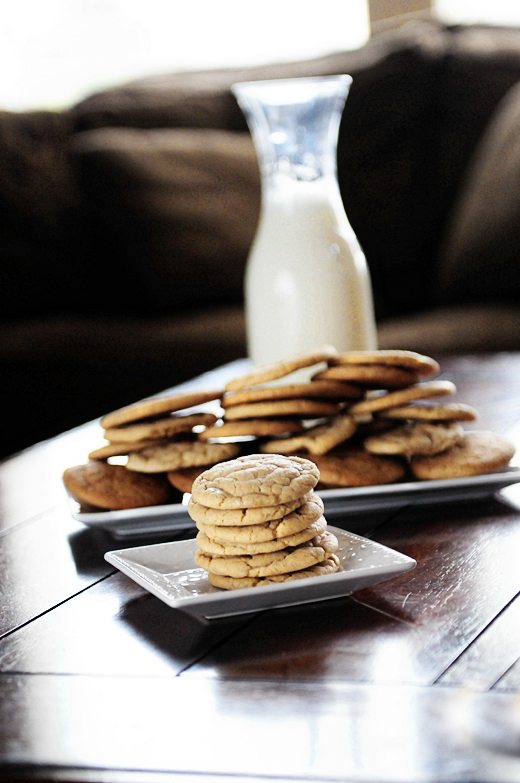 Tips for amazing Soft & Chewy Vanilla Butter Cookies
These Vanilla Butter Cookies are so simple, but that doesn't mean you should skip some of the most important parts. First of all, make sure you chill the dough. Definitely do not skip this very important part of the recipe. I know it's really hard to wait sometimes, especially when you are craving cookies, but chilling the dough will help these cookies to come out incredibly soft and chewy, just the way you want them.
To get the most intense vanilla flavor, use a good quality vanilla. You also make your own homemade vanilla extract, which will give these cookies awesome flavor as well!
In addition, don't overcook these cookies. The best way to make sure your Vanilla Butter Cookies are soft and chewy is to take them out of the oven when they still looking a tad bit underdone. If you take them out and let them rest on the hot cookie sheet for a few minutes, they will finish baking right up and will be absolutely perfect! Enjoy!
Soft and Chewy Vanilla Butter Cookies
You might think it is ironic that these butter cookies don't actually have butter in them. I've tried experimenting with butter and have found that I can't get the same softness and chewy texture with butter as I can with butter flavored Crisco.
Ingredients
1

cup

Butter Flavor Crisco

1

cup

sugar

½

cup

brown sugar

2

eggs

1 ½

tablespoons

water

1

teaspoon

vanilla

1

teaspoon

butter flavor extract

optional

3

cups

flour

1

teaspoon

baking soda

½

teaspoon

salt
Instructions
Preheat oven to 375°F.

In a large mixing bowl, beat together Crisco, sugar, brown sugar, eggs, water, vanilla and butter-flavored extract until well mixed.

Add the flour, baking soda and salt to the mixing bowl and mix well.

Cover and refrigerate dough for 30 minutes.

Roll dough into 1 inch balls; slightly flatten and place on a parchment lined cookie sheet.

Place in preheated oven and bake for 8-10 minutes or until light brown. (Do not over bake. The key to these cookies is to take them out when they still look slightly under cooked. Allow them to cool and firm up on the cookie sheet for 5 minutes before removing to a cooling rack.)