This Orange Juice Cake is bursting with citrus flavor in every bite! This quick and easy recipe can be prepared in 20 minutes. Then it's baked for an hour in the oven, filling your home with a warm citrus aroma.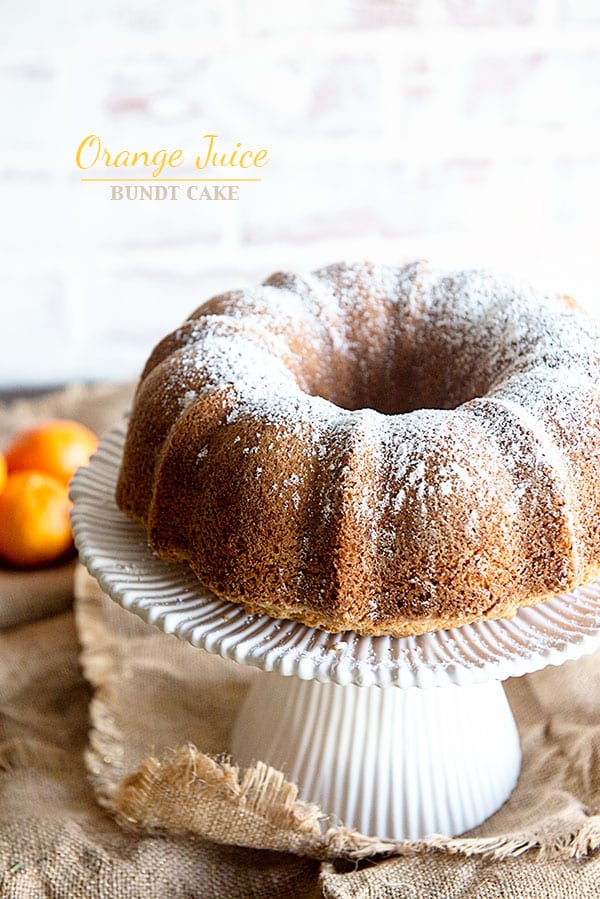 Every winter when the weather turns frigid, I start craving citrus. You would think these cravings would arrive in the summer months, but no. There's something about cold weather that makes me crave what I call "sunshine food". You know, those citrus foods that taste like bursts of sunshine in every bite? This Orange Juice Cake is the perfect "Sunshine Food" example. Made with orange juice and orange zest, the citrus flavor is perfectly intense.
Let me tell you something about Orange Juice Cake. First of all, my family asks me to make it often. Maybe it's because it is one of the few cakes I allow them to have for breakfast. It's not really a breakfast cake, but I think it could pass for coffee cake. And coffee cake is more than allowed for breakfast, right? I mean really, when you make a bundt cake it's almost like a giant muffin. Muffins are acceptable for breakfast so cake should be as well.
Secondly, Orange Juice Cake is one of the easiest cakes to make. You just need a few minutes of incorporating the ingredients together with an electric mixer, and you're good. Once you pour batter into the prepared pan, setting your timer and forgetting it for an hour is your only job. However, good luck forgetting it. The scent of this cake, bursting with orange flavor, will make you unable to think of anything else.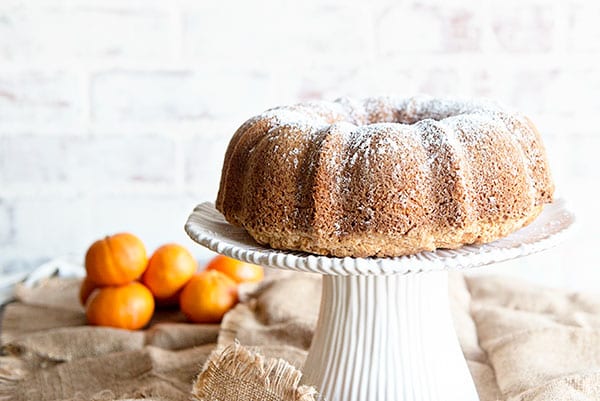 I hope you'll decide to make this cake soon. If you do, allow me to share a few tips to help your Orange Juice Cake be 100% perfect.
Tips for the Best From Scratch Orange Juice Cake
1. Prepare your cake pan
This tip is first because it's the most important. Spray the bundt cake pan thoroughly with Pam Baking Spray. Taking your beautiful cake out of the bundt pan, only to have it stick and fall apart is a travesty. Prepare the pan so the cake slides out easily when baking is done.
Lisa at The Bearfoot Baker has a brilliant "at home" hack for replacing commercial baking spray. Check out her instructions for Substitute Cooking Spray. A mixture of vegetable oil, shortening and all purpose flour is all you need. Use a basting brush to apply it to your pan, and boom, the pan is greased and floured. You'll have a bundt cake that releases easy, without fail.
2. Substitute your citrus
This is called Orange Juice Cake and Orange Juice and Zest are some of the main ingredients, but that doesn't mean you have to stick to orange. Substitute the zest for any variety of citrus. Consider grapefruit, lemon, clementine or lime zest. Truly, zest from any of these citrus fruits pairs so nicely with the orange juice.
If you need an inexpensive zester that works well, I really like this wide citrus zester from Oxo.
3. Slice and cover
To keep the Orange Juice Cake moist and delicious, once you make the first slice, cover what remains with plastic wrap. This cake is so tender on the inside, but if it isn't covered it does dry out quickly on the edges.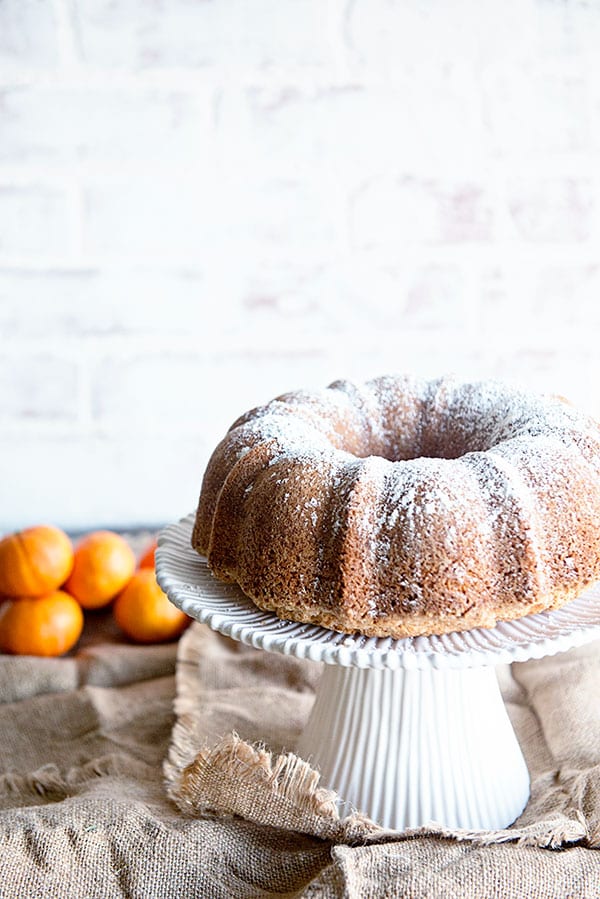 Orange Juice Cake Topping Ideas
A simple topping of sifted confectioners sugar makes this quick and easy cake complete. However, if you'd rather have a glaze, the citrus glaze from these Orange Drop Cookies can't be beat. It would be a perfect addition to the burst of citrus flavor already found in each bite of cake.
In addition to glaze, Orange Juice Cake served with homemade whipped topping is an option. Especially when sliced warm, a cake like this with whipped cream is delectable. I think homemade whipped topping is a great way to finish off any bundt cake!
I hope you will give this from scratch Orange Juice Cake recipe a try today. It's a wonderful way to add a bit of sunshine into your life when the days are a little dull and dark.
Craving more? Check out these cake recipes: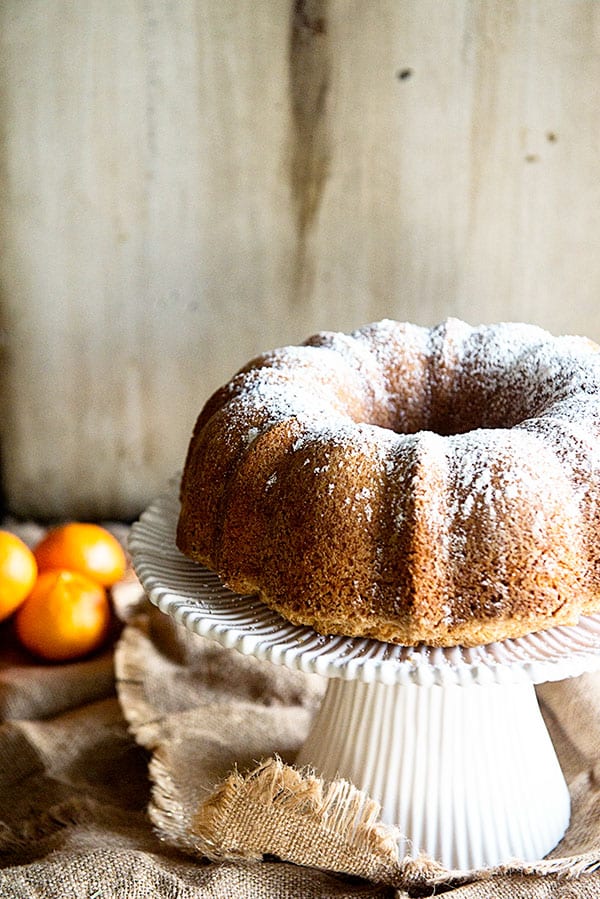 Thanks for reading. Here's the Orange Juice Cake recipe for your baking pleasure! I hope you'll give it a try and enjoy!
Orange Juice Cake with Powdered Sugar
Orange Juice Cake is a moist, delicious cake bursting with citrus flavor in every bite!
Ingredients
3

cups

all purpose flour

2

cups

granulated sugar

3

teaspoons

baking powder

1

teaspoon

salt

4

large eggs

1/2

cup

vegetable oil

1/2

cup

applesauce

(1 cup vegetable oil total can be used instead of applesauce)

1/2

cup

orange juice

1

Tablespoon

vanilla

1 orange or 3 clementines

zest of
Instructions
Preheat the oven to 350°F. Prepare a 10 inch fluted cake pan by spraying with baking spray (or using the homemade version mentioned above).

In a large bowl, combine all the dry ingredients. In a separate bowl, combine eggs, oil, applesauce, orange juice, vanilla and zest. Stir the wet ingredients into the dry ingredients and mix on medium low, just until combined.




Pour the batter into the prepared pan. Bake at 350°F for 60 minutes or until a toothpick inserted into the center comes out clean.

Allow cake to cool in the pan for 10 minutes before gently removing from pan onto a wire rack to cool. Once cooled, carefully place cake on a cake stand and top with sifted powdered sugar. Enjoy!
Disclosure: This blog post contains affiliate links. As an Amazon Associate, I earn from qualifying purchases.