This Spicy Almonds Recipe is so easy and makes the most flavorful salad topper.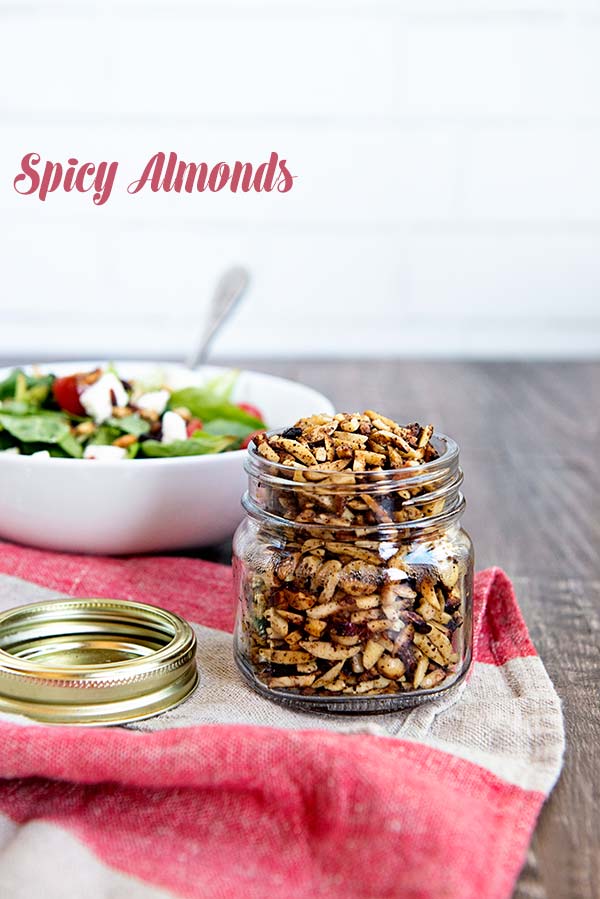 Here we are, the first part of December, and in typical Kristen fashion I'm not posting a holiday treat or festive recipe. I suck at this blogging thing sometimes! Reality is, if I have all the festive treats around, I will eat them all. And although Weight Watchers has changed their program to the new Freestyle plan, I'm pretty sure that doesn't include eating every sugar cookie and cake ball in sight.
So, here I am today, with a Spicy Almonds recipe that is not sweet or festive, but is what I'm eating now and loving. My friend Aggie said she thinks a jar of these would make a great gift. Now that she mentions it, I totally agree. Let's pretend this is a festive, holiday related post keeping the gifting ability of these spicy almonds in mind. Okay?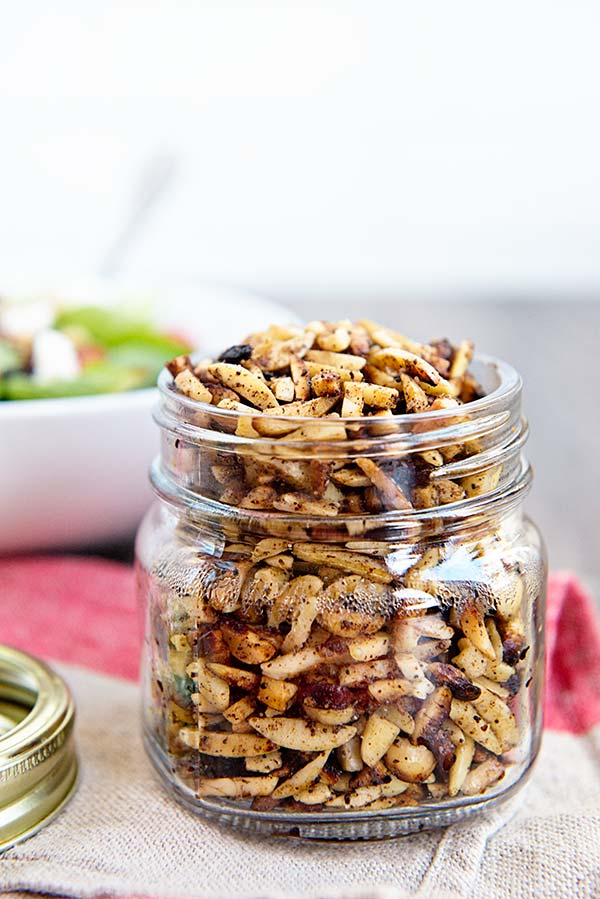 Here's what I love about this spicy almonds recipe:
Number 1, it is so easy. Incredibly easy. In just a few minutes and with one small skillet, you can have spicy almonds as a salad topper.
Number 2, did I mention they make a great salad topper? I'm trying to pack my salads with more veggies and taking a cue from my 11 year old daughter and skipping the dressing. Having a salad with crunch and spice without dressing is awesome! I top my lunch time salads with a couple spoonfuls of spicy almonds just about everyday.
Number 3, put into a pretty jar, these make a great gift 🙂 Hehehe. But truly, how awesome would it be to receive a gift that was different than the usually cookie tray? A jar of almonds would be something different and appreciated by many, I'm sure.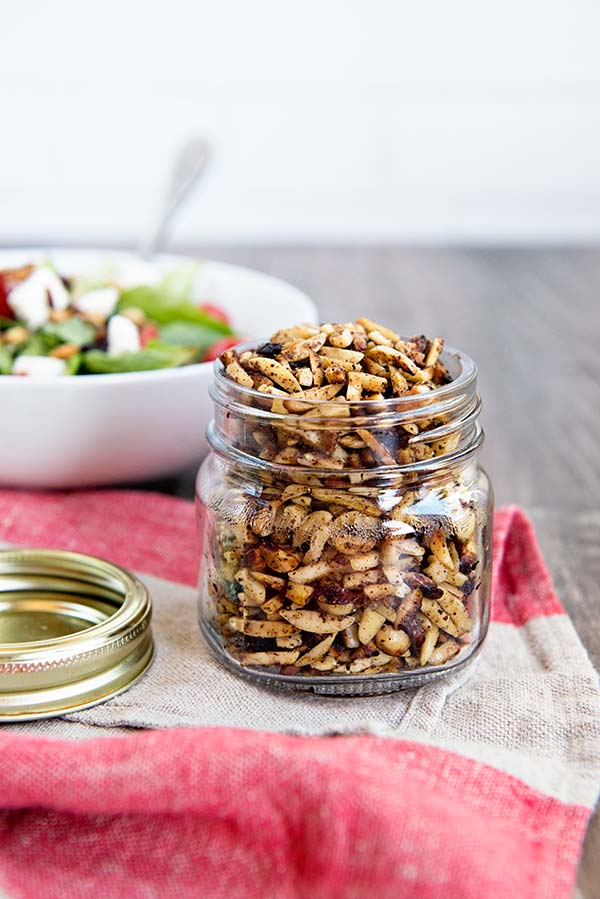 Whether you're making this spicy almonds recipe for your own use and salad toppings, or you are going to do something a bit different this year and give them out as gifts, I don't think you'll be disappointed. They are so good you just might want to keep them for yourself. Enjoy!
Spicy Almonds Salad Topper Recipe
A simple spicy almonds recipe that makes a great salad topper or gift!
Ingredients
2

Tablespoons

butter

10

ounces

slivered almonds

I use these

1/2

teaspoon

Worcestershire sauce

1/2

teaspoon

garlic salt

1/4

teaspoon

ground mustard

1/4

teaspoon

chili powder

1/8

teaspoon

ground cumin
Instructions
In a large skillet over low heat, melt butter.

Add the almonds and Worcestershire sauce and cook over low heat for approximately 5 minutes, stirring occasionally.

Meanwhile, in a small bowl, stir together remaining ingredients.

Place almonds in a large Ziploc bag and top with seasoning mixture. Seal the bag shut and shake until almonds are covered.

Cool. Stir in an airtight container at room temperature.