If you are looking for a festive cocktail to impress your chocolate loving friends this holiday season, look no further than this Godiva Mini Mudslide recipe. Fun, festive and perfect to spread the holiday cheer!
This post was originally shared on December 6th, 2011. Since it's one of my favorite holiday cocktail recipes, I wanted to share it with you again!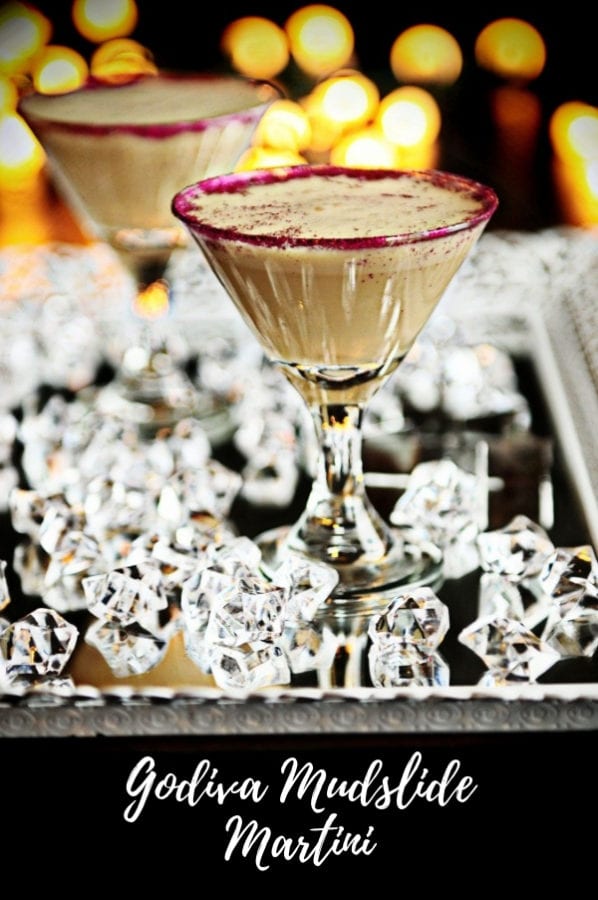 So, I kind of made a cocktail for a BRUNCH party! It was an innocent mistake, honestly. When I signed up to participate in the Virtual Holiday Potluck with some blogger friends, I failed to notice the word "BRUNCH" in the title. I just was thinking holiday, friends, chocolate, cocktails! What's more fun than sharing a Godiva Mudslide Recipe for a festive holiday occasion? Not much, I say…not much.
I'm going to just pretend that our holiday brunch was so much fun that everyone stayed until late in the afternoon, and it was THEN that I served the cocktails. Not at normal brunch time. That's it. That's what happened.
Plus, mimosa's shouldn't get all the brunch time fun, right? Why can't a mudslide, margarita, pina colada or martini be an acceptable brunch time cocktail? I think it's time right now to change what cocktails are acceptable at brunch, starting with this Godiva Mudslide Recipe!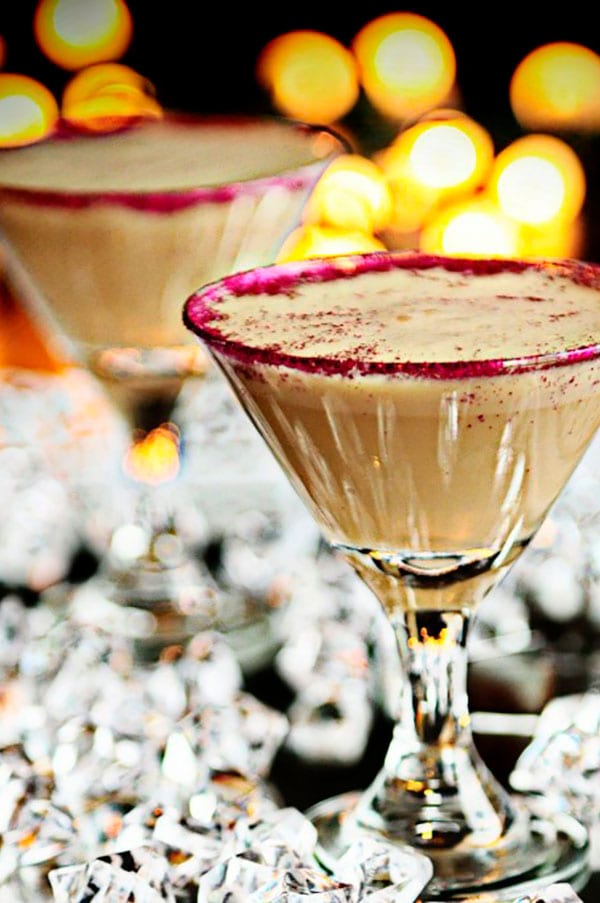 We have a great lineup of brunch recipes for you to check out! You can see all the submissions below the recipe. Most of them are very holiday BRUNCH appropriate. I hope you'll visit all the blogs and see what tasty treats they contributed.
In the meantime, here is my Godiva Mini Mudslide Recipe. If you are feeling guilty for serving a mudslide recipe at brunch, don't worry. You can go ahead and serve the cocktails in tiny martini glasses to make you feel better. However, since I think mudslides are perfectly acceptable for a brunch cocktail, I say serve 'em big! Enjoy!
Keys to Perfecting This Godiva Mudslide Recipe
First things first…you've got to use quality ingredients for this mudslide recipe to be the absolute best. Godiva has a chocolate vodka that's perfect for this cocktail. I wouldn't stray away from it, to be honest. Also, you can't go wrong with Bailey's Irish Cream liqueur for that dreamy creamy flavor.
For the chocolate syrup, you can definitely use traditional Hershey's syrup. However, if you want truly decadent flavor, I can't recommend this Ghiradelli Chocolate Sauce enough. This sauce adds a dimension of richness that really takes this mudslide recipe up a notch. If you prefer a homemade recipe, I believe Annetta's Hot Fudge Sauce is the best there is.
Now, for the vanilla ice cream, choose a brand that uses real vanilla beans vs vanilla flavor. You may not think there's a difference, but the end result will prove there is.
Finally, this mudslide recipe is slightly different than a traditional, fully frozen mudslide. It's creamier and sip-able. No straw needed! Because of this, you'll want to make sure the cocktail is well blended until smooth. This may require you to do a "double blend" for perfect results.
Edible glitter is a fun and festive garnish, but a dollop of whipped cream will do as well. Or heck, try both! This edible glitter in Ruby Red is an excellent choice for your holiday cocktails.
OK friends, that's it for my tips for nailing this Godiva Mudslide Recipe! I hope you enjoy sipping on these and sharing them with friends over the holiday season. While you are here, make sure to check out the Virtual Holiday Brunch Potluck recipes below. There's definitely something for everyone! Happy Holidays!
Godiva Mini Mudslide Recipe
If you are looking for a festive cocktail to impress your chocolate loving friends this holiday season, look no further than this Godiva Mini Mudslide recipe. Fun, festive and perfect to spread the holiday cheer!
Ingredients
2

ounces

chillded Godiva Chocolate Vodka

2

ounces

chilled Bailey's Irish Cream liquor

1

ounce

cold milk

2

scoops vanilla ice cream

2

Tablespoons

Chocolate Syrup
Instructions
Place all ingredients into a blender. Blend until smooth.

Pour into mini martini glasses. If desired, dust rim with edible glitter (found at most baking supply stores)


Here's the full menu for our Virtual Holiday Brunch Potluck!
The Drink
Main Dishes
Side Dishes
Dessert
Party Favor/Hostess Gift
Disclosure: This post contains affiliate links. If you choose to purchase something through one of the links, we may receive a small commission. There is no extra cost to you. Thanks for supporting Dine & Dish in this way. For further information, please view our site policies here.